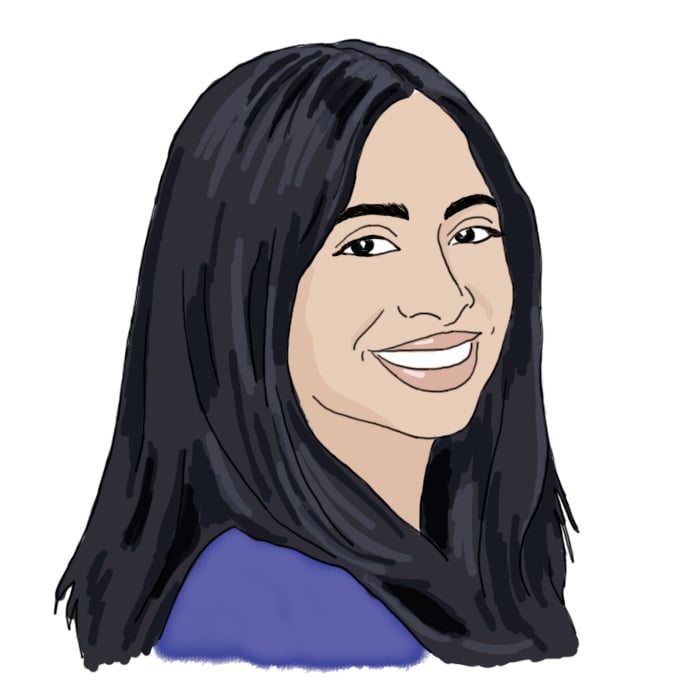 an unnecessarily long post on how much i like spotify

by Nisha D. '21
why did i ever think iTunes was good
EDIT: Petey mentioned in the comments that we should make a blogger playlist, and we did. Here it is – listen to it while you read this post!
This summer, I've come to realize my love for a certain being that has brought a lot of joy and happiness into my life.
If you've read the title of this post, you'll know that this being is no other than Spotify and oh boy this is by far the best piece of technology I interact with on a regular basis.
I love music. I played various instruments for 13 years of my life before coming to college and pursuing my interests in a cappella and guitar. I listen to different music depending on how I feel a certain day, and am passionate about a few very specific genres. With all of this said, I have no idea why I didn't get a Spotify account sooner. Some of my friends started a family plan in second semester that I hopped on not really knowing what I was in for. And granted, for the first few months, I didn't really use Spotify much differently than I used iTunes, although it was nice to have premade playlists in genres that I liked.
This summer, though, I've been gifted with some free time and also the occasional bout of boredom at work. And hence, I discovered the magic of Spotify playlists.
Throughout the summer, I've been making playlists that pretty much correspond to every time of day I have. Sometimes, the premade Spotify playlists will suffice, but there are some days that just call for certain playlists.
Here are some of the playlists I've made over this summer:
"""middle school"""- exactly what it sounds like, with plenty of Adele, Owl City, Taylor Swift, and Lady Gaga
good 80's music – mostly Bon Jovi and random 80s hard rock songs
bad 80's music – Complete with every catchy, overplayed song from the 80s that you can think of
ec party – I made this in a fit of nostalgia for East Campus parties and it's pretty much just a basic party playlist, with EC's signature songs added in
inexplicably EC – Arctic Monkeys, Cage the Elephant, Portugal the Man, and all the other indie bands that remind me of EC
wistful, nostalgic – the description is "a playlist to make me cry"
"im having a classical day" – i.e. a day on which I want to listen to classical music and feel all kinds of emotions. The entirety of Mozart's Requiem is on here
catch my heart, go swim – (a Cigarettes After Sex lyric) the sort of quiet, romantic music I like to listen to as I fall asleep
(there are a few other playlists that I cannot include on this site for Reasons)
There's also a playlist I made titled, "MIT freshman year". All the songs on it have some specific significance to people I met, adventures I went on, and feelings I felt in first semester. I made the playlist without really thinking through the significance of the songs; I just knew that they were significant to my freshman year in some way. So for this post, I wrote down all the songs and why they mean something to me. It was a very pleasant jog down memory lane and I hope to keep making a playlist for every year that I'm at MIT.
Lone Digger by Caravan Palace – This song vaguely brings to mind my hall's Walcott Lounge (one of two lounges in the East Campus east parallel; more often referred to as Walounge) in first semester and one of my friends spinning poi (he did a routine to this song, but I never saw him perform the whole thing). It's a pretty fire song.
You Can't Hurry Love by Phil Collins – I remember listening to this song a lot in empty classrooms very late at night during second semester when I was absolutely drowning in work and had to distance myself from my friends to get anything done. I was usually pretty sad and confused regarding a lot of things in my life in second semester, and this song is peppy and encouraging enough that it normally cheered me up.
Future Days, Black, and Sleeping by Myself (all by Pearl Jam) – I learned these songs on guitar to sing for somebody :)
Gas Pedal by Sage the Gemini – I have very distinct memories of JAMMING to this song with two members of my a cappella group when we requested it at EC parties.
The Parting Glass by The Wailin' Jennys – During first semester, when I was still too scared to join a cappella because the idea of auditioning terrified me, some of my friends taught me this song while we were hanging out in Lobby 7 at night and we sang it together. The Lobby 7 acoustics are really something, and it sounded magical.
Emperor's New Clothes by Panic at the Disco and Talk Dirty by Jason Derulo – I sang these songs with the MIT Ohms after joining a cappella second semester. If you've heard us perform either of these arrangements, they're absolutely LIT.
Mr. Brightside by The Killers, The Bad Touch by Bloodhound Gang, and Don't Stop Believin' by Journey – These are all East Campus party songs, meaning they play at each and every single EC party that I've ever been to. In particular, we have a special dance to The Bad Touch, and Don't Stop Believin' is the last song played at any party. And of course, to quote a Tumblr post I saw recently about this song: Mr. Brightside just "fucking slaps".
Electric Love by BØRNS – I have a very distinct memory of my friend who lived a couple of rooms down the hall from me playing this song on repeat for days on end sometime around November. It's really catchy and I started listening to it on repeat as well. Music is contagious.
The Last Ship by Sting – My hall refers to this song as the "1E hall song", although this is a very unofficial designation. The lyrics are painted along the trim in our Walounge, and we play it at the end of every party hosted by 1E. It's kind of a meme, but I still would like to teach it to any interested freshman who decides to live on 1E in the fall.
American Pie by Don Mclean – This is one of those songs that you can break out any time on guitar, and I did that plenty of times this year, with many different groups of friends.
Phantom of the Opera by Andrew Lloyd Webber – I love this song, and made it a point to dramatically sing it whenever I was around all my a cappella friends. Usually, they joined in.
Feel It Still by Portugal the Man – I actually had no idea that this song was so mainstream (I heard it on the radio while I was at home and was thoroughly confused), but it's on this playlist because I think of East Campus as a whole whenever I hear it.
Crazy Rap (Colt 45 and 2 Zig Zags) and Because I Got High by Afroman (lol) – Some friends and I had a tradition of playing Sweat or pool in the East Campus basement almost every night during first semester, and we played these two songs a lot during our games. They're really dumb songs and definitely NSFW, lol.
The Room Where it Happens from Hamilton – I used to listen to this song while walking/running/scootering to fencing practice to make myself go faster :P
The Man Who Sold the World by Nirvana – Towards the beginning of the year, I had a debate with somebody over whether the original David Bowie version or the Nirvana cover of this song was better. I'm a big Bowie fan, so I staunchly supported the former, but eventually the Nirvana cover won me over. It's on this playlist in concession to that.
Ashes to Ashes by David Bowie – This is another song that I listened to a lot when I was sad and hosed during second semester. It didn't really make me feel better per se, but it's a thoughtful song and I lay in bed a lot thinking about what it might mean.
Kuch Kuch Hota Hai from the Bollywood movie of the same name – My friend and I went through a really bad Bollywood phase first semester and would stay up till 4 am in Walounge singing songs from our childhood. I'm pretty sure we annoyed everybody who lives next to the lounge.
Main Theme on Final Fantasy VII by Nobuo Uematsu – This song is pretty much on every playlist that could describe my life, lol.
The Dragonborn Comes from Skyrim – Whenever my roommate wasn't around, I would play this song really loudly and sing to it and feel like a badass. There are some days you just can't get through without feeling like a badass.
Cigarette Daydreams by Cage the Elephant – I associate this song with one specific friend playing her music in Walounge, and I knew this song before I even knew what it was called or who it was by.
Convoy by C.W. McCall – This song is on my friend's roadtrip playlist and I remember her playing it on a camping trip we took to New Hampshire in the spring. It's also a pretty big meme and all the people who know it refer to it as, "Andrea's trucking song".
Do I Wanna Know by the Arctic Monkeys – I would play this song on repeat to fall asleep after long nights of psetting.
I really love that Spotify gives me an organized place to put all the music that brings back memories of friends and the adventures we had together. I highly recommend getting Spotify Premium if you don't have it already.
Bonus: Since I love personal data and stats, here's a list of the top songs/artists I've listened to in the past month (you can view your personal stats here!), a list of my Spotify Daily Mixes, and three songs that I've been listening to on repeat for the past few weeks :)