On Friday, I'd had it. I was coming off of one of those weeks that will just run you absolutely ragged, and at around noon, I snapped. I ran into Killian Court and flipped the bird. I gave everyone the finger as crowds amassed on the sidelines to see what the commotion was about.
But instead of a police presence, and maybe a trip to MIT Mental Health, I was greeted with cheers and pom poms and a strange ghostly feeling rising in my mind that I've forgotten how to put in words.
Fu….Fun? Ah yes, that's it––fun!
As you can probably surmise from Matt's entry, there's a class called 2.009 that is one of the Mechanical Engineering Capstone courses, and it has to be the best class at MIT by a long shot. You might have also seen this picture on Matt's entry: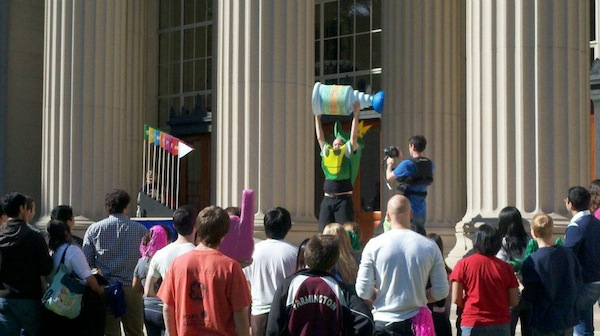 Wait a minute…..what's that? Can we enhance the image?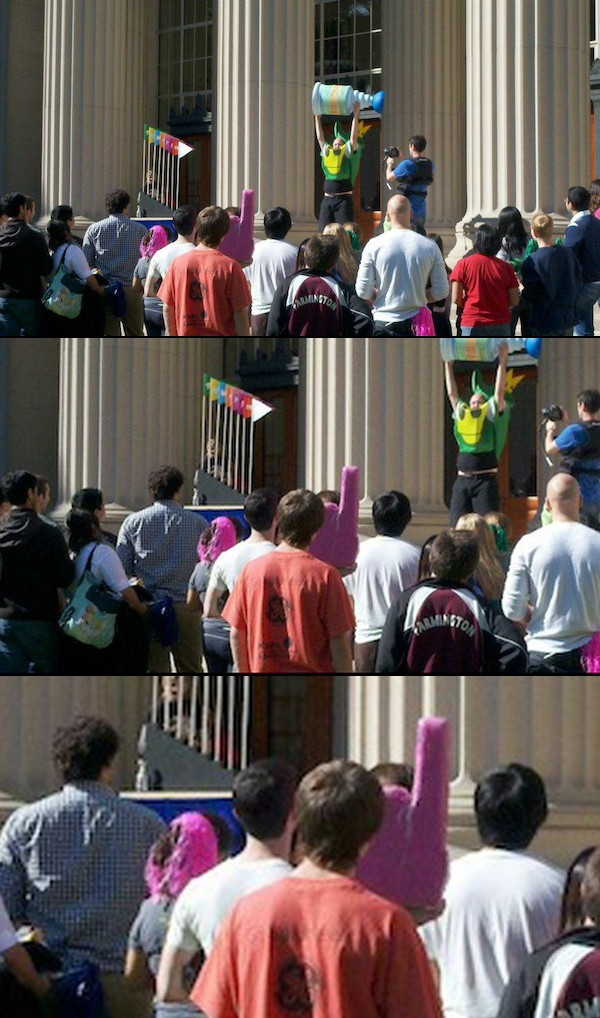 Hmm the back of that head looks familiar* Enhance it further: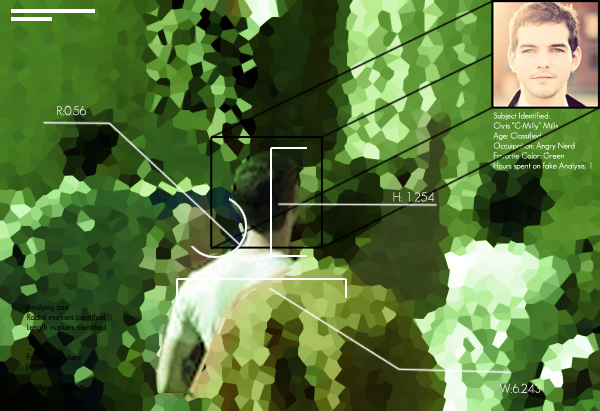 Oh my gosh! That's me! And the aforementioned finger!
Yes,  The truth is, I know so much about 2.009 because I'm in it. And as the Systems Integrator for my team section (Pink A) , more often than not I am in it deep. The class runs at a breakneck pace sketching, brainstorming, analyzing, fabricating, testing, and iterating every week for at least a few hours. There are intermittent milestones to help select the most promising product ideas, and it all culminates in the product showcase at the end of term in front of hundreds of industry experts. It makes for some intensely long days in the shop and some high stress negotiations during meetings, but I really feel like I'm in my element in it. This week was one such high stress week where we were fabricating prototypes for a presentation every day for several hours. I was in the shop on Thursday from 0900 until 1700 when everything had to be finalized, and then went directly from there to the presentation room until all the presentations were over at 2100. Long day.
But the reward for such a long arduous day was the "Angry Birds" competition you saw. A chance to blow off some steam with your team and have a few laughs:
<iframe width="560″ height="315″ src="http://www.youtube.com/embed/-uOyZp_TB4o" frameborder="0″ allowfullscreen></iframe>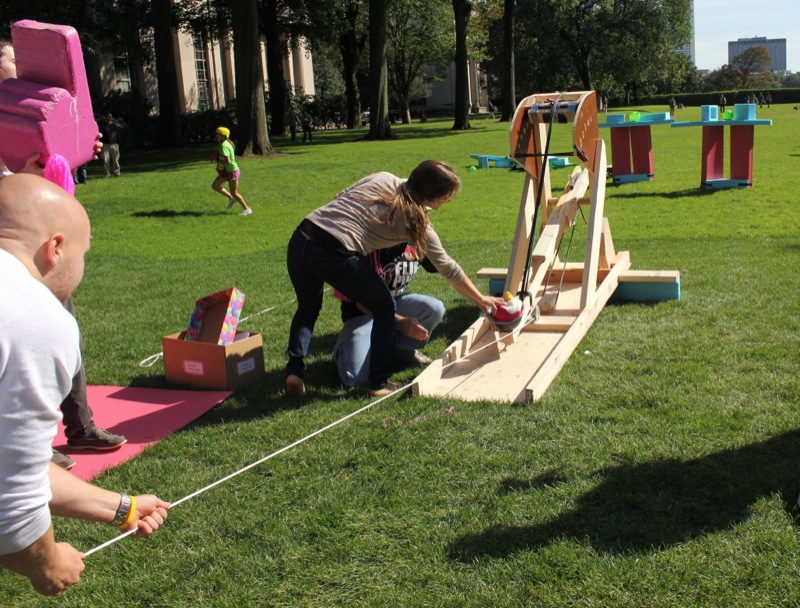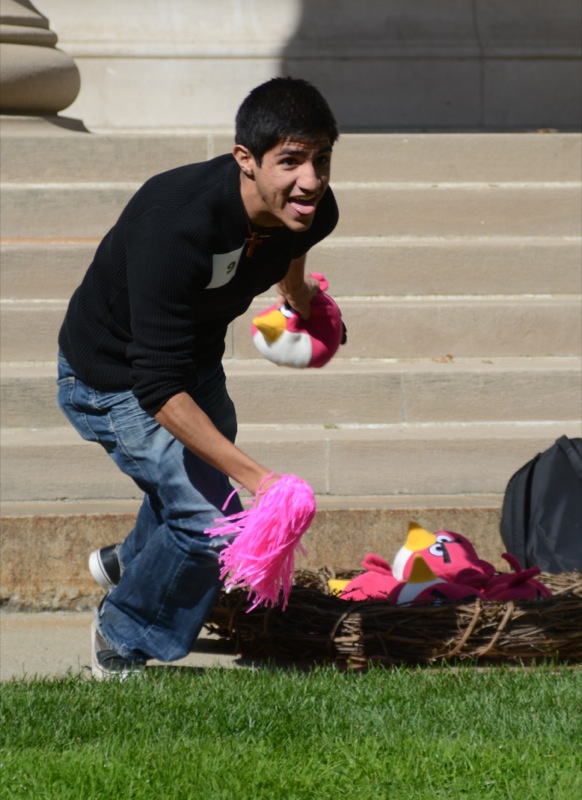 There were two categories of winners: those who won the competition, and those who had the most spirit throughout. Unfortunately, the former is largely determined by your machine. In particular ours had little variance in it's shots, which made for impressive precision (5 birds were perfectly piled up on top of each other) but disappointing accuracy (the pile was about a foot in front of the tower). Eventually, we all but gave up on winning the competition part and focused on the team spirit part. We cheered, built human pyramids, and I waved the giant pink finger in the air with the chant "Think Pink".
When the awards ceremony came up, the green team won a giant foam trophy for finishing first. But no one stood a chance against Pink's spirited battle cries, and we proudly won for most spirited. And what did we get as a prize?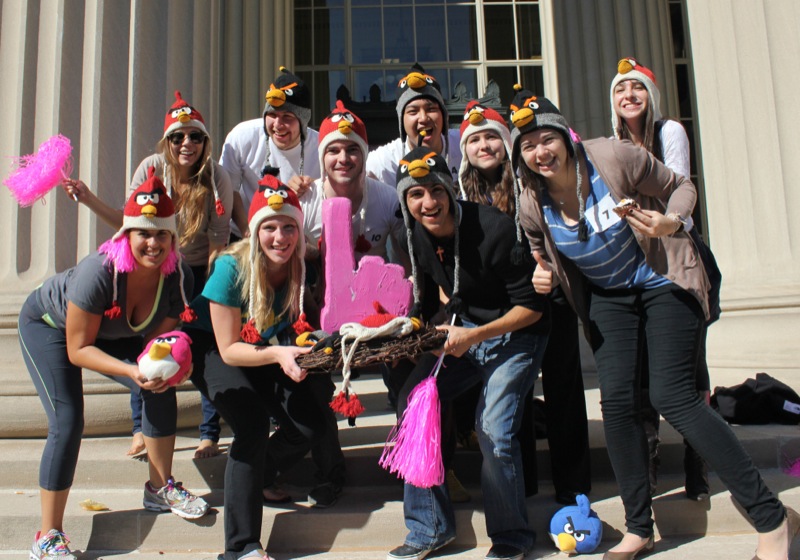 Angry Birds beanies. (That's me in the red that the finger is pointing to). Which is waaay better than a trophy.
It was a great way to head off into the weekend before we hit the ground running next week on our next milestone, which will be a technical review of our concept. What's our concept? Well, I'll just have to let you see after our technical review ;)
This is one of those times that I really love this place, and it makes all the frustrating and endless nights worth it.
*no it doesn't. How often do you see the back of your own head?
5 responses to "Angry Nerds"