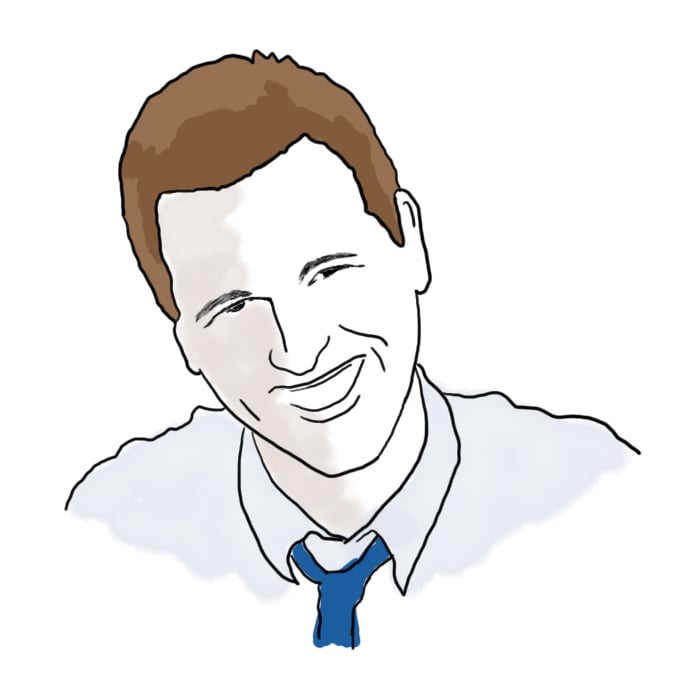 This is going to be ~14 entries in one - my fault for being too busy to blog much lately. If you get through it all in one sitting, you're a rockstar.
This is going to be ~14 entries in one – my fault for being too busy to blog much lately. If you get through it all in one sitting, you're a rockstar.
Hawk Cam
Have you guys seen the hawk-cam yet?
Funny story – I was attending a seminar on podcasting a few weeks ago when they announced that the hawks had returned. There were a few hundred people in the audience, all of us mentally picturing images of cute, fuzzy baby birds. So I had to laugh out loud when the presenter hit the button and put the live hawk-cam up on the big screen – just as Daddy Hawk brought Mommy Hawk half a squirrel (and not the pretty half, let me tell you). ~300 people simultaneously commented "ew."
So if you choose to keep the live hawk-cam open on your desktop, as many folks here do, remember that you have been warned. :-)
Reason #261 That I Would Live In EC If They'd Let Me
Because they build stuff like this.
Zack and RJ (both MIT '09) have completely transformed their EC room by developing MIDAS (Multifunction In-Dorm Automation System), which features "everything from web control, voice activation, and a security system, to large continuously running information displays, electric blinds, and one-touch parties…"
My favorite quote from the site:
When the [party] button is hit, all the lights shut off, the blinds close, the displays show "FEEL THE ENERGY" and a deep voice says this over the speakers with a deep bass beat in the background. Then intense music turns on along with the sound activated strobe light, laser light show, fog machine, black lights, revolving disco light, LCD visualization projector projected onto the blackout-screen, neon colored lights, computer screen Winamp visualization, oscilloscope showing the waveform of the music, and surveillance camera monitors.
Yeah, try that at home. (Actually, you can. They tell you how.)
Facebook
I see that many of the '10s have set up their MIT email addresses, judging by the number of friend requests I've been getting on facebook. (Big thanks to everyone who has friended me!) I'm glad you guys are getting that out of the way now – when I first discovered facebook, I lost three days of my life. Ah, facebook.
I have added some photos of my past there, for your amusement. Consider it an excuse to friend me.
The Last Couple Of Weeks
In my last entry, I promised to answer the popular question: "So now that RA selection and CPW have come and gone, do you guys get to just relax until fall travel starts up again?"
Not exactly. May –> August = the months in which we actually accomplish things with some momentum, because we're not consumed by travel, application-reading, selection committee, and CPW planning. In the last few weeks, I've attempted to:
Process a bunch of correspondence from applicants who have been waitlisted and prepare it for the waitlist committee. And bug committee members about my kids who are on the waitlist.
Plan September central meetings in PA, DE, NJ
Revise next year's application, both print and web versions
Meet with music & art faculty to revise portfolio submission process
Edit a bunch of Nance's stuff
Entertain Nance
Design an online survey to solicit feedback on the MyMIT blogs (look for this in a few weeks, and please participate when it comes out!)
Return all the phone calls I've been blowing off for months from external vendors; test vendor products for possible use in MyMIT
Write & design new invitations for next fall's central meetings
Design new admissions post cards
Design end-of-year presents for my bloggers (they're SO cool, I must say – will post pics after they've been distributed)
Brainstorm with Matt on how we hope to evolve the blogs program next cycle
Plan high-level messaging for the coming year – investigate the holes in what applicants know about us (or think they know about us)
Develop annual communications plan – a critical look at all of our publications and the web site content
Write my self-evaluation – we have to do this every year and submit it to HR (it always takes me forever – I'm not good at writing about myself)
Research podcasting – one of many new initiatives we hope to implement next cycle
There's more, but I can't think of it all at the moment.
So I'm hammering away at communications-related stuff. My colleagues all have similar workloads, relevant to their specific foci (foci? focuses? What's the plural of focus again?).
To answer the original question: we never relax! :-)
Ivy Plus
Next week will be a nice change of pace, however: we'll all be at the Ivy Plus Conference. This is similar to the NACAC Conference in that it's a bunch of admissions people discussing common issues in their field, however IP differs in that it's limited to admissions folks from Brown, Columbia, Cornell, Dartmouth, Harvard, MIT, Princeton, Stanford, Penn, and Yale.
It will be my first Ivy Plus conference – I'll give you a report when I get back.
When The Cat Is Away, The Mice Will Play
If you've seen Matt's blog recently, you know he's in Indianapolis for the Intel International Science & Engineering Fair (ISEF).
Q: What's wrong with this picture?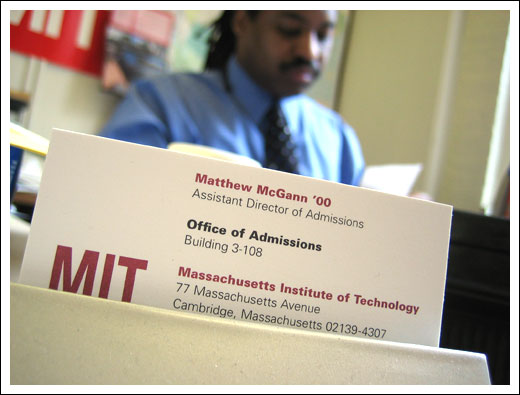 A: That's Matt's office, but that isn't Matt sitting at Matt's desk. Because Matt is far, far away.
Look how Nance has trashed the place… but that's not half as bad as the fact that he's answering the phone by saying "Yo yo yo, you've reached McGann's Summer Home! Summer home and some are not! hahahahahaha" before slamming the phone down.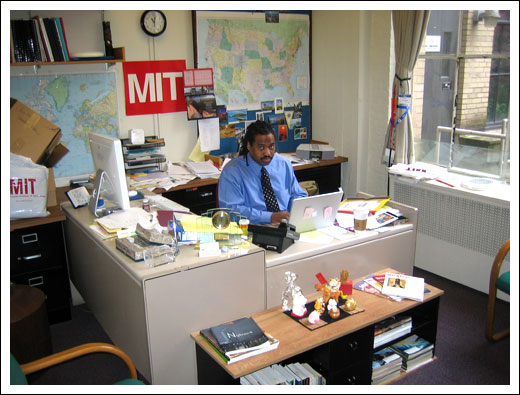 He looks guilty, no? And he'd better clean that place up before Matt gets back.
Television
Idol | CHRIS GOT VOTED OFF??? Are you kidding me? Discuss.
LOST | Jess: MICHAEL, I know, I know. But I have this week's tivoed so don't discuss yet.
Because It's Friday And I'm Feeling Silly
K-Ro '10 thinks Brandon Boyd is hot. Agree or disagree? Discuss.
28 responses to "Brain Dump"