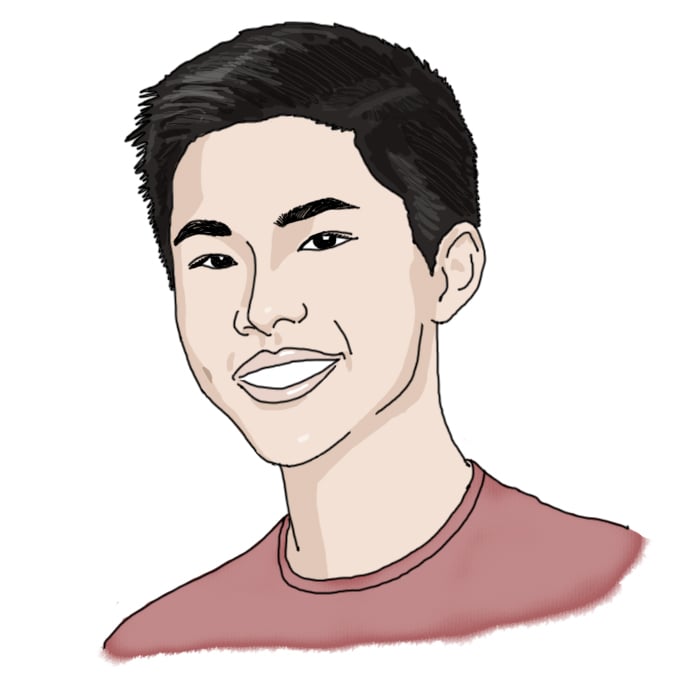 busy semesters and how to manage them

by Alan Z. '23
it's organizational structures all the way down
I am, by nature, a fairly disorganized person. This sometimes surprises the people I meet, because I am constantly busy, and people expect there to be a method to the madness: maybe Notion,⁠01 something about notion just really does not vibe with me, unfortunately or Dynalist, or whatever other popular strategies people swear by. In a sense, I do have a task-management strategy, but to me it feels more like the oft-quoted line of Gatsby: "So we beat on, boats against the current, borne back ceaselessly into the past." Just as with sleep schedules, I do my best to set up good practices at the beginning of the semester, but I am borne ceaselessly back into the mediocrity of the past.
So far this semester, though, things have not yet totally fallen apart.⁠02 famous last words Before I describe how I organize things, though, I ought to describe what is being organized.
What I'm Doing This Semester
The gist of it is that, compared to last semester, I'm taking less classes⁠03 a difference of 23 units! but unfortunately still slightly over a normal load and doing more activities.
The classes:
6.031, Elements of Software Construction (15 units): This class is notoriously difficult, having previously been described on the blogs as "infamously brutal," "slowly draining the life out of me," and "one hell of a class to go through." Some bloggers, however, seem to have enjoyed it thoroughly, so I'll reserve judgement for later. So far, it mostly seems tedious,⁠04

also I dislike Java as a programming language, which doesn't help

albeit manageable.
21G.784, Introduction to Latin American Studies (13⁠05

this is not a typo, this class just has wonky units; most classes are multiples of 3.

units): This is a CI-H,⁠06

Communication Intensive in the Humanities; basically means you have to write a certain amount to meet Institute standards

so there's a lot of reading and writing going on here. I think the history of Latin America is woefully undercovered in most US curricula, and the first book we read, Malintzin's Choices, has really emphasized a lot of complexities in the historical narrative surrounding the conquest of Mexico which I simply had never considered. I'm also really enjoying the historiographical aspects of the class; the way historians make deductions from documents and balance the narratives they find is extremely interesting to me, and I wish it was covered more in high school history classes.
21M.301, Harmony and Counterpoint I (12 units): This class is essentially "intro music theory for people who know some amount of basic music theory." We're slowly building up from the very fundamentals, such as intervals and triads, up to being able to write our own somewhat complex compositions. There's also piano lab and sightsinging lab each week, both of which are skills I desperately want to improve on. I'm enjoying the class so far, and am looking forwards to being creative in yet another unique way.
21M.401, Concert Choir (6 units): I'm taking Concert Choir for the third semester! I really enjoy singing, and I really enjoyed learning the two duets from last semester. This semester, we're learning more standard choral repertoire in the hopes of putting together a final concert, and I'm super excited. The theme is "How Can I Keep from Singing," which is extremely apt for the circumstances.
21W.762, Poetry Workshop (12 units): I used to write a lot of poetry in high school,⁠07

in fact, i wrote around 60 poems in 60 days during senior spring, although most of them are of dubious quality.

but haven't been had the creative energy or inspiration to write as much recently.⁠08

in comparison with the previous annotation, i wrote a grand total of 2 poems in 2020.

As such, this class has been great for motivating me to write more poetry, and having a place to put my emotions has also been very helpful. I really like the professor; he has quite the personality, and also occasionally recites ancient poetry in different languages from memory, which is extremely cool.
CC.512, Organic Chemistry I (12 units): Organic chemistry, my other technical,⁠09

i.e. non-Humanities, Arts, and Social Science. a lot of people take three technicals and one HASS each semester; I'm very glad to be flipping that on its head.

is very different from a lot of the other technicals I've taken at MIT, which have primarily been in math and computer science. Despite that, I've really been enjoying this class so far, both because the professor is extremely nice and because the content just Seems Cool in a kind of unexplainable way. Hopefully, that excitement won't change after our first exam, which is on Friday.
and the activities:
think: We've entered the "mentorship" phase of the "high school research mentorship program," so things are mostly in a steady state here; weekly meetings checking in on the project I'm mentoring, biweekly meetings checking in with the whole team on how things are going.
quizbowl: Quizbowl continues—my schedule of 7 PM classes Monday through Thursday means that I can't attend practices in full, but I've been popping in as much as I can, and I'm also tournament directing later this semester, which should be interesting.
asymptones: We're putting together three covers this semester, of which I'm involved in two. As mentioned earlier, more singing is always good, and that's certainly the case here as well; I'm excited to see how things turn out.
lean0nme: l0m is an anonymous, peer-to-peer support text line that I volunteer for. The text line just opened back up this semester, and it's already getting good usage. This is the activity that I do which, in my opinion, has the most direct line to being a small, positive part of other people's lives, and I'm very glad that we're back from hiatus.
next exec: I am currently serving a one-year term as one of two VP's for my dorm government. As the VP of Relations,⁠10

the reason for the existence and naming of this position is historical in nature. i have been gently restraining myself from producing a very abstruse post about the history of the next house constitution, so i'll provide some context here: in the early 2010s, the VP Relations was in charge of multiple other positions which primarily focused on relations (like the Social Chair and the Alumni Relations Chair). we have since flattened the org chart. many other interesting things have happened to the next house constitution in the past, which this margin is too narrow to contain.

I am in charge of running house meetings, overseeing student groups, and, most generally, assisting the President.
UROP: I'm doing research with my advisor, working on extending curveship.js based on some work I did last semester in 21W.765.⁠11

Interactive Narrative

Curveship is intended to be a creative tool for automatic narrative variation,⁠12

i.e., being able to tell the same story in different ways, but with computers

and through our work this semester we're hoping to operationalize some definitions from narratology, and to make some small creative works along the way.
TA'ing CC.802: I took CC.802⁠13

the Concourse version of 8.02, Physics II: Electricity & Magnetism

last spring, and the professor asked me if I wanted to come back and TA. I'm not a physics major, but it seemed like a good way to help out and meet some Concourse first-years in the process. To be honest, I don't think I'm a particularly good TA, but we're learning along the way, and hopefully this'll be good experience for the future as well.
As you can see, this is quite a bit of stuff, and this extremely long diversion brings us to the rest of the post—organizational systems to manage it.
Making Sure I Don't Die: Google Calendar + Todoist
These two platforms are the system of record; if everything else breaks down in the system below, these should still be a sufficient source to make sure I don't forget anything.⁠14 in freshman fall, i tried to keep everything listed here in my brain. this was Very Bad and should never have occurred. This is what a typical week might look like: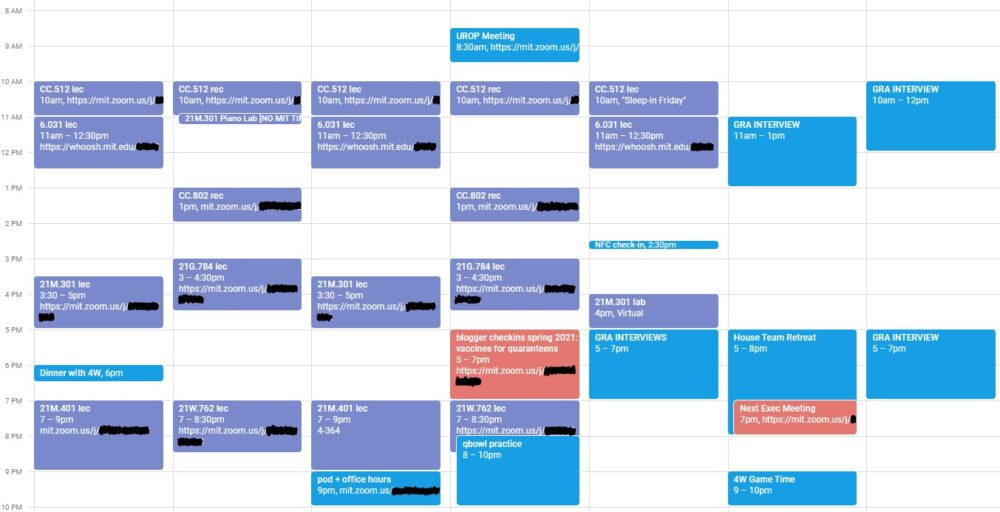 There are a few notable things about this. The first is that I've put the Zoom links for all of my classes directly into GCal, which has been super helpful; instead of scrambling for Zoom links before class, I just go to the calendar and click on the event, and I'm sent right away to the meeting I need to go to. The second is that my schedule is highly balkanized, in the sense that I have all sorts of these 2-3 hour breaks which are deeply inconvenient for sitting down, focusing, and actually getting work done. This, thus far, has been the most frustrating part of this semester; there are days where I don't necessarily do that much work, but I still feel exhausted regardless.
The final thing of note is that one of these classes has a room number! Concert Choir is holding in-person rehearsals for eight or so people every Monday. Everybody is assigned their own practice room, given mics and other audio boxes, and then through the magic of technology, we're able to sing together in real time. I had my first in-person rehearsal on Monday, and it was nice to get immediate feedback again, although it was also kind of a struggle because I am very bad at sightsinging and there were no other tenors at the rehearsal, meaning I had to go at the notes alone. Regardless, I'm glad to have an in-person class once again.
My Todoist is less notable; I intake all of the assignments in one fell swoop at the beginning of the semester, and they also show up on my Google Calendar until they are completed. The main point of its existence is simply to ensure that no task is left behind, but most of the time all of its actionables are viewed via a different system, described in the next section.
Making Sure I Spread Out the Work: Weekly Plan + Index Cards
This system goes on top of the Gcal + Todoist system—I make a copy of the same template in Notability⁠15 more thoughts about Notability in the following section every week, and I mark it up with what has been done/needs to be done for that particular week. Here's what the template looks like: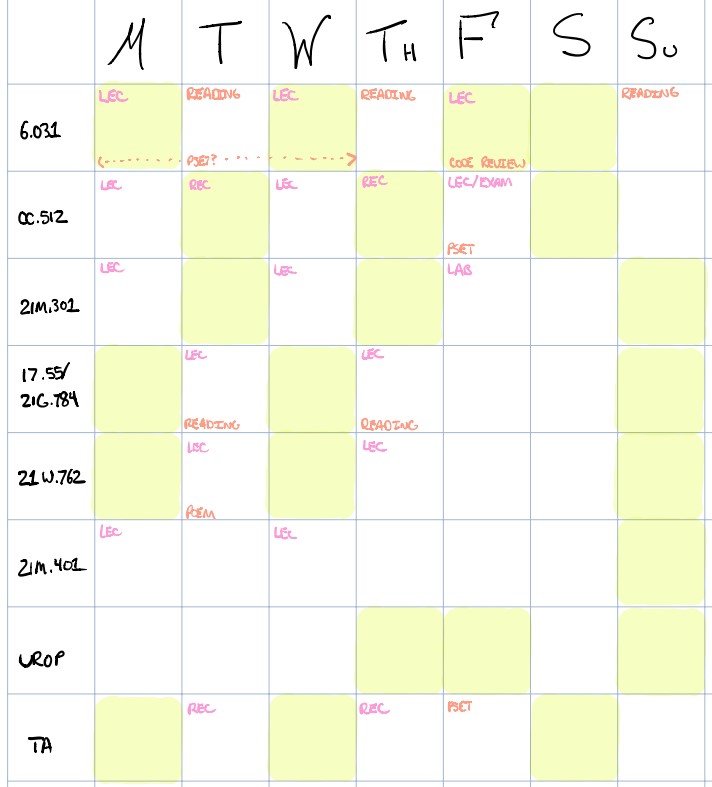 This is what an ideal week "should look like," with the light yellow-green boxes signifying a day where I should "make progress on" something in that class. There's a few interesting properties of this template—the first big one is HASS Sunday, where the goal is to only do HASS-adjacent work.⁠16 does HASS really make sense as a bucket of things that are similar enough for there to be benefits from grouping them? probably not. is it nice anyways? yes. The other, more general observation is that most days have around the same number of projects assigned, and most projects do not have adjacent days of work. These are both intentional; the ultimate goal of this system is to make sure everything gets done at an even pace, avoiding procrastination and irregular sleep schedules. To that end, it has been somewhat effective.
Unfortunately, things do not always go to plan. Often, other things come up, and sometimes the motivation to work just does not show up. This is what a real week might actually look like:
During the week, I put specific actionables at the bottom of each box, checking them off as they are accomplished. Of course, sometimes they aren't accomplished, and in those cases I mark a red X and pull the task over to the next day. This means that you can evaluate how bad a week is going by the amount of red on the page, and also see when a cascade of late work starts to spiral out of control—as shown above on Saturday and Sunday.
Finally, to re-condense the information on this document for each individual day, I throw everything from the column in Notability onto a notecard as a to-do list at the beginning of the day.⁠17 ideally, this would be the previous night, but cf. the discussion of sleep schedules at the start of this post. At the same time, I update the document with what actually happened the previous day, and pull across any tasks I didn't make any progress on. This has two bonuses: it helps me use up some of the 2000+ index cards that I inexplicably have, and it provides physical artifacts of each week, which can go in my extensive collection of memorabilia.⁠18 i took inventory of <a href="https://docs.google.com/spreadsheets/u/1/d/e/2PACX-1vS-Lt24-MLq5HN705OoWkEO-FvcJCRC6PHtIJjAdmh0jn5x4GUc93l5slYB_u4ESHcbv5thgeATmzbY/pubhtml">my collection at home last summer</a>, but I also have an additional box on campus with every copy of <a href="http://thetech.com"><em>The Tech</em></a> from freshman fall, among other things.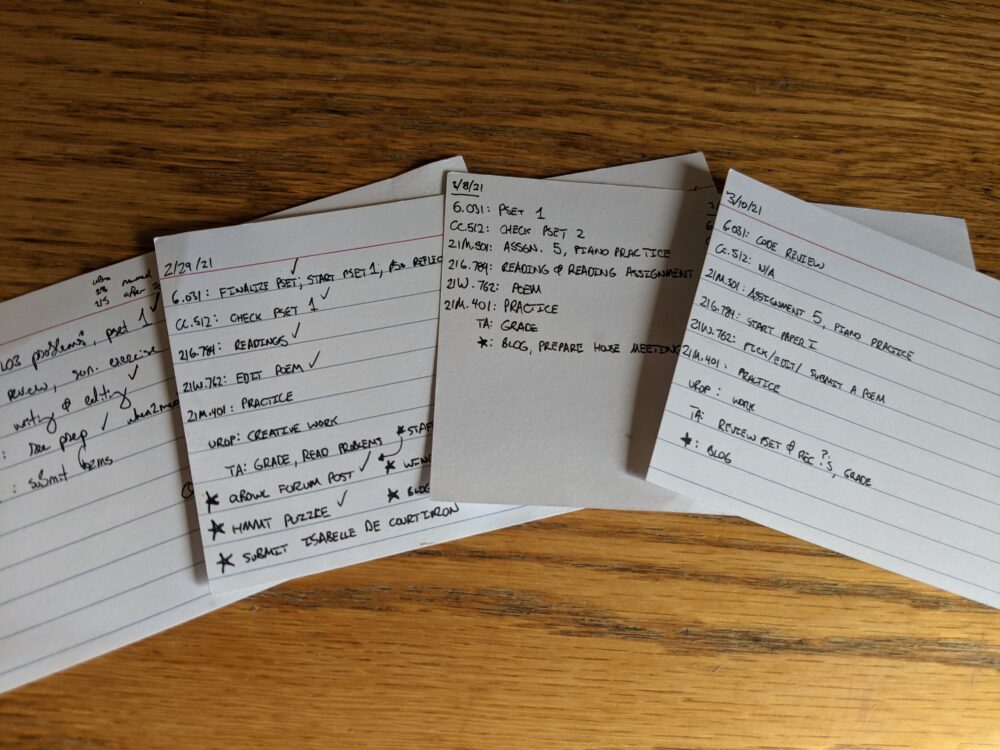 Making Sure I Have Everything I Need: Canvas + Notability
MIT recently moved from its disjointed system of websites with random names like Stellar and LMOD⁠19 which is such a weird system that I can't even really link to it to Canvas, which was previously only used by Sloan and the Global Languages Department. This has been a welcome change, because, for the most part, Canvas is reliable and well-organized.
The other thing MIT has recently done is that, as part of giving out iPads last fall, IS&T also provided students free access to Notability, a notetaking app that is extremely useful. Along with, of course, all sorts of pen tools, it supports a certain amount of organization and Dropbox backup, which has been very helpful. I had been making a slow shift towards digitizing all of my class notes and whatnot by typing instead of writing, but being able to write directly to a PDF⁠20 shoving this in an annotation because I don't want to sound like too much of a shill, but it also does Optical Character Recognition as it does this! how cool. with unlimited ability to erase and re-write really combines the best of both worlds.
I love using this system. Whenever I get a new assignment or lecture handout, I go into Canvas and export the file I need straight into Notability; from there on out, I can just check Notability, and I don't have to go digging around my Downloads folder on my computer for some file I saved two weeks ago. If I eventually need to turn the file in, I've set it up so that Notability automatically syncs the files back to Dropbox, and I can upload it directly from my computer. I will miss this iPad if and when the Institute inevitably takes them back.
Making Sure I'm Keeping Track of Time: Toggl + A Spreadsheet
I've been time-tracking on and off since 2019 as a method of keeping tabs on how busy I am, and how much work I've been doing. This has also been fruitful for providing a historical perspective on how much work I can do each semester—for example, in Fall 2020, I did around 58 hours of "actual work" a week, with around 18 of those hours spent in lectures and recitations, 30 hours spent doing homework, and 10 hours spent on extracurriculars.
I try to track everything that is "work," but this definition is highly arbitrary: it includes all classes and activities that I'm formally part of, but this often leads to somewhat confusing results. For example, I might track time for participating in a puzzle hunt as part of a team or formally volunteering for HMMT, but I don't track time for solving crosswords or writing puzzles for HMMT indirectly via CJ. At one point, I tracked a category called "Exercise," but going on walks hardly feels like work, especially since I often have to make long walks just to get to places from Next. Despite these flaws, the data are still nice to have, as a general measure of busyness⁠21 e.g. "why do i feel so tired today? oh, maybe it's because i did 11 hours of work today." and for inter-semester comparisons.
To do the time-tracking itself, I use an app called Toggl, which is free and has a really nice desktop app that lets you start timers very quickly. It's hard to get used to timing everything, but eventually the habit sets in, and when I miss things I usually back-fill them in. The best part of Toggl is that it produces cool views of your data, like the below calendar of a particular week: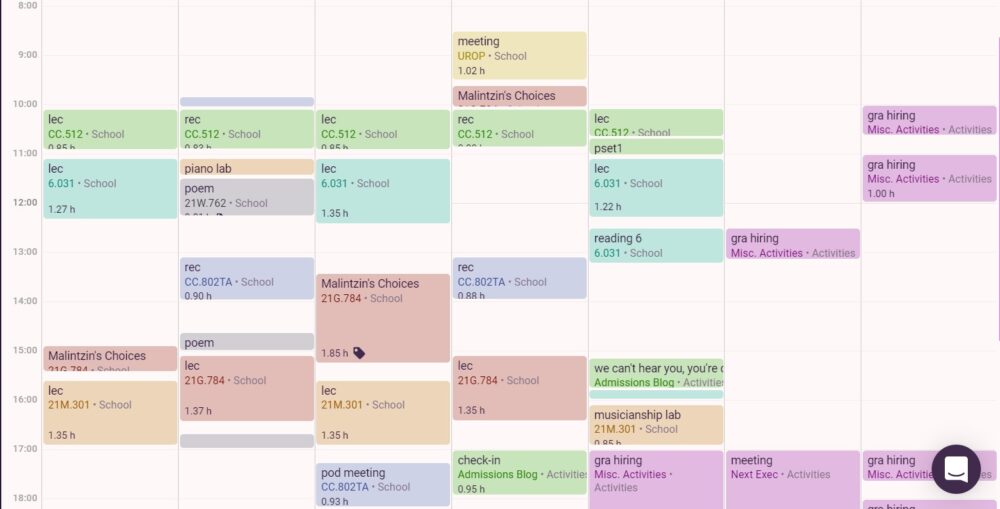 The data for this semester so far has not been particularly surprising: this semester has certainly been less work than last semester,⁠22 around 50.5 hrs./wk., which is also less than both FA2019 and SP2020 and that work is also much more heavily balanced away from classes. There is, however, still plenty of time left in the semester for things to get worse,⁠23 as a result, I haven't included the specific data so we'll see how it goes. In the meantime, I'll just keep watching the ticker on my Google Calendar as it slowly inches forwards.