I've been very busy this semester; this is entirely of my own accord, and, for the most part, I have been managing everything⁠01 I promise that a post about how I've been managing is coming at some point, but that point might be after the end of the semester at an acceptable level of struggle.⁠02 the actual result from psychology is much more specific to pedagogy and learning psychology, but this feels a little like the <a href="https://en.wikipedia.org/wiki/Zone_of_proximal_development">zone of proximal development</a>, in the sense that learning is best achieved when things are not a breeze, but not totally impossible; in particular, they are doable with some help. In contrast to Mel's remarkable recovery of her sleep schedule, however, my sleep schedule has been slowly shifting later throughout the semester. I started out doing quite well, maintaining a midnight to 8 AM sleep schedule,⁠03 I realize that this is not very impressive to most high school students but it is very impressive to myself and who I am as a person at this particular moment but eventually slipped back into the standard sleep schedule of the past few semesters—2 AM to 10 AM, not horrible, not great. It was fine, for the most part, until two weeks ago: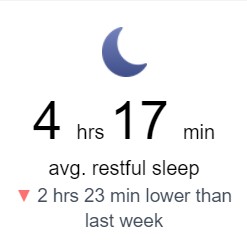 This…was bad. Things improved last week,⁠04 still just under six hours a day on average, but something something incrementalism and we are rapidly creeping towards Thanksgiving break, but recovering a sleep schedule is still quite hard. On the other hand, being up late has meant seeing the sunrise very occasionally for the first time in months—and the sunrises and sunsets of the past two weeks have been spectacular.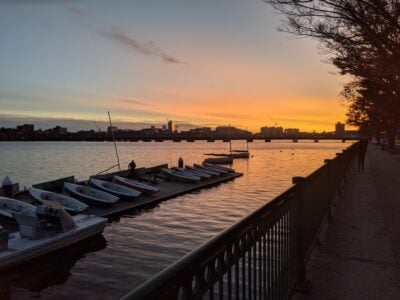 I grabbed these photos on a run⁠05 the word 'run' is used very loosely here, especially when compared <a href="https://mitadmissions.org/blogs/entry/mit-and-as-marathon/">to</a> <a href="https://mitadmissions.org/blogs/entry/a-running-journey/">other</a> <a href="https://mitadmissions.org/blogs/entry/1-1-miles-as-the-crow-flies/">bloggers</a> on Election Day, which was when this sleeping catastrophe really started. I stayed up that night until 3 or 4 AM waiting for any possibility of additional news, but eventually resigned myself to the fact that I was not going to get any information until later.
This pattern continued throughout the rest of the week: staying up late, refreshing the New York Times election tracker, attempting to work but finding myself extremely distracted. This all came to a head Thursday night; the majority of my classes have work due on Friday, and I had not completed quite as much as I would have hoped. Unwilling to go to bed before I had finished at least a good portion of my work, I sat down and resolved myself to pull an all-nighter, my first at MIT so far.⁠06 I believe this is true, unless I have repressed some freshman year memories, which is possible but unlikely
Tangent: Merriam-Webster gives the following definition of "pulling an all-nighter":
pull an all-nighter (informal, v.): "to stay up all night."
Personally, I consider this definition woefully unspecific. Is staying up until 4 AM an all-nighter? What if I get up from a nap at 10 PM and stay up until 9 AM? I present two alternative definitions:
pull an all-nighter (informal, v.):
 to be awake continuously from sunset to sunrise (alternatively, civil dusk to civil dawn)
 to be awake continuously for 24 hours
End of tangent.
Around 6 AM or so, the sky started lighting up in very gentle pinks and purples, and I knew I had to get outside to watch the sunrise, as it would mark the end of my (definition 1) all-nighter: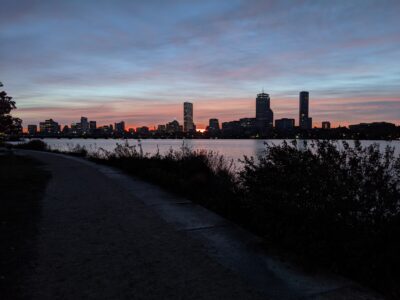 After the sunrise, I did some more work on campus. In-between work sessions, I wandered campus, managing to nab a couple more photos of the early morning sun: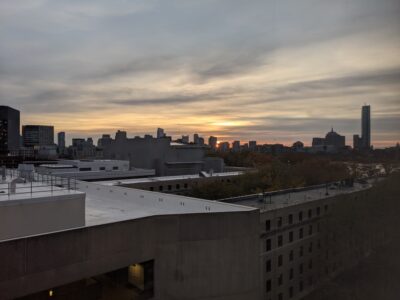 When you arrive at MIT, the Office of the First-Year gives you a poster with a list of "101 Things to Do Before You Graduate." For the 2023s, one of these, number 11, is "Watch the sun set and rise from the Harvard Bridge." I checked this off on my poster when I finally got back to my room.
Unfortunately, the vicious cycle of sleep schedules means that staying up late one night makes it more likely that you will stay up late the next night. I ended up seeing the sunset, sunrise, and sunset⁠07 I remember playing a piece called "day, night, and day again" in like 6th grade orchestra but I cannot find it for the life of me after that: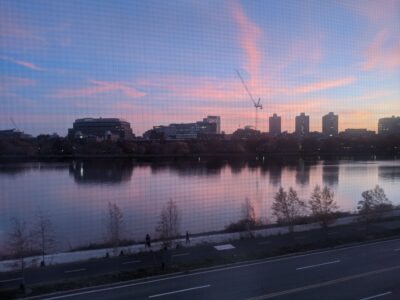 I've been working my way back out of that hole ever since, slowly, but surely. Last week, we got an extra day off for Veteran's Day, which helped a lot. The day before this was MITHenge, when, around twice a year, the sunset lines up with and shines through the Infinite Corridor: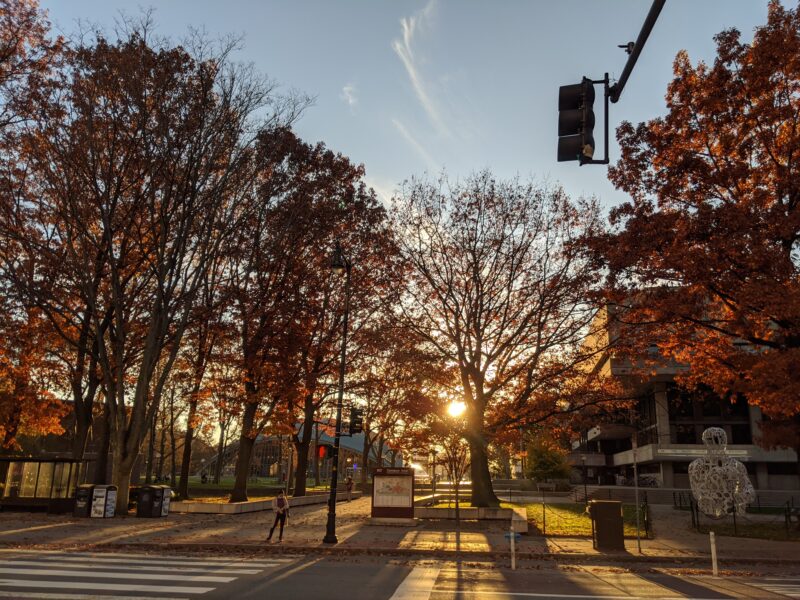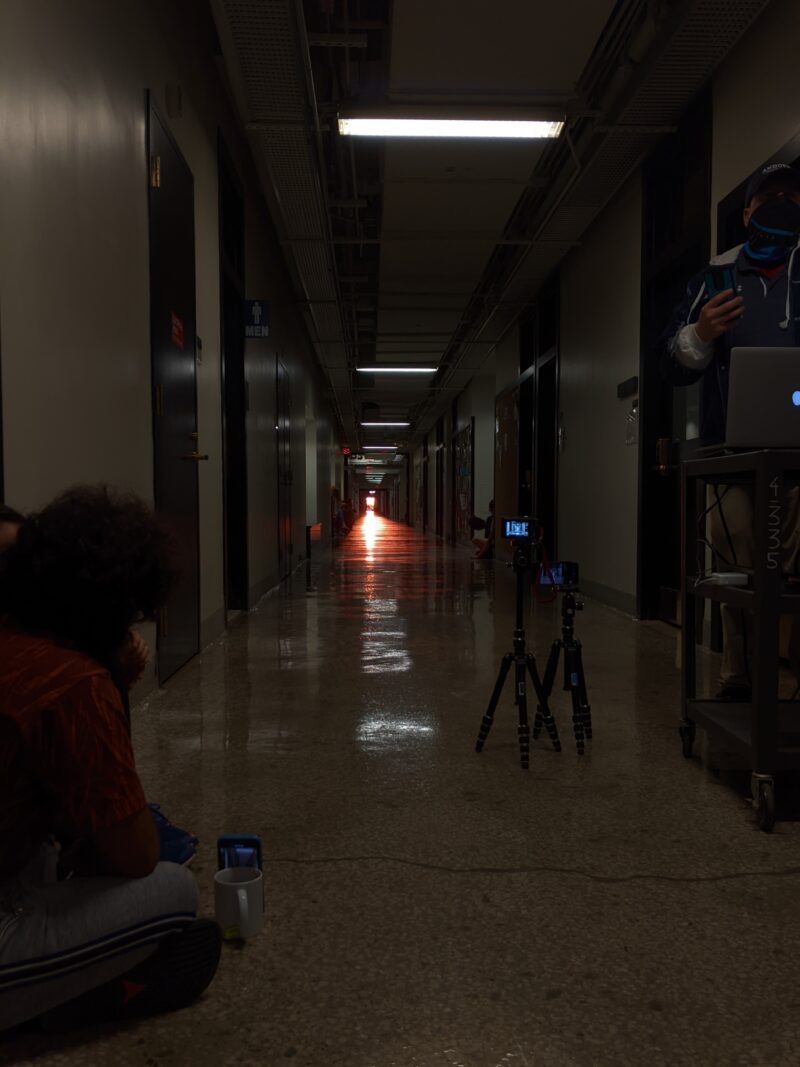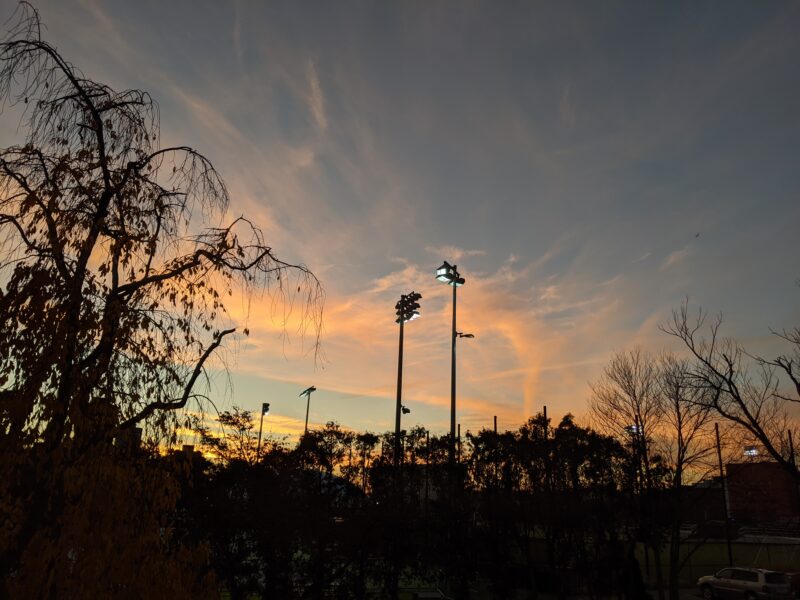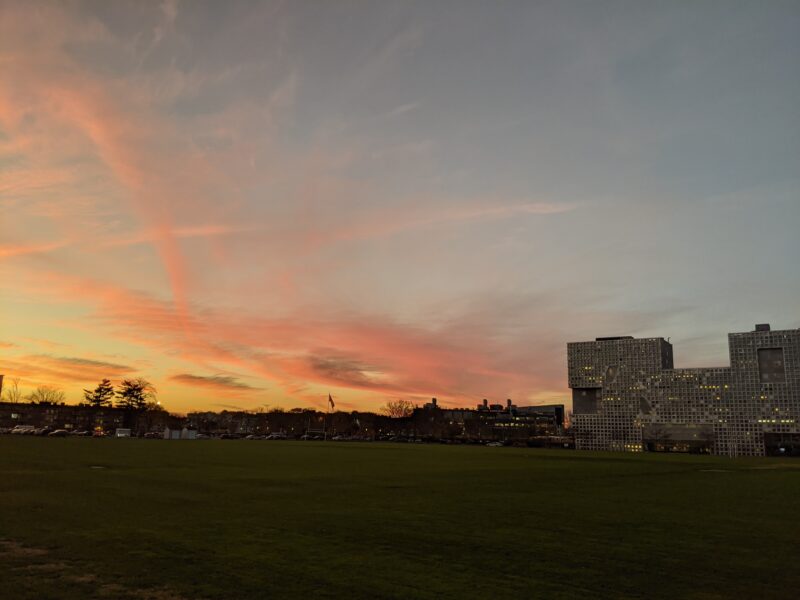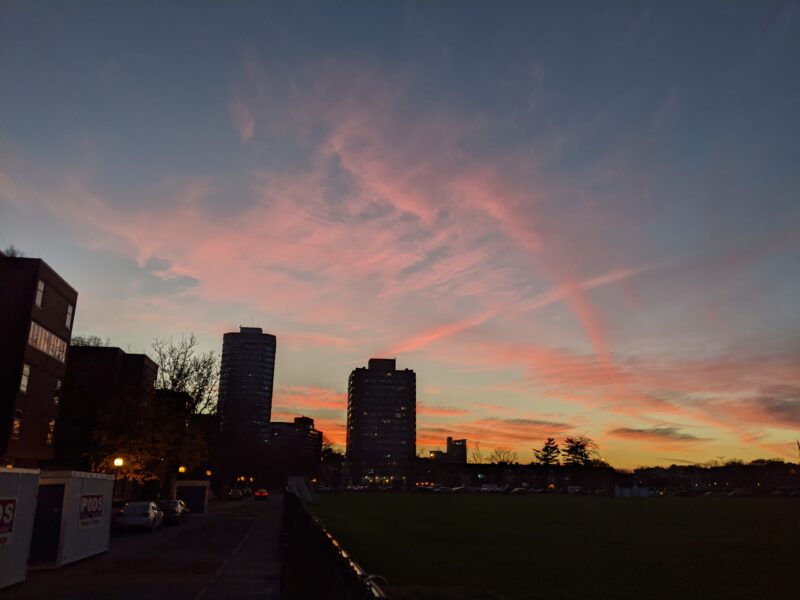 and a timelapse (video by Oris S. '23):
This semester has felt so long. Although I agree with MIT's directions to instructors to de-emphasize high-stakes, large-grade-value assignments given the circumstances, the experience has, in some ways, felt like 凌迟 (língchí) or a 'death by a thousand cuts',⁠08 I actually first encountered this phrase in a debate case in high school, I believe because Bataille wrote about it, although it turns out a lot of these Western depictions were inaccurate and mostly used as a representation of Chinese "otherness." where each new assignment is another thing to do, another cut, even though none of them are worth much on their own.
The hard part of the semester, this long night, has been kind of terrible, and something I will hopefully never do to myself again.⁠09 famous last words But the sunrise, oh, the sunrise, when it does come—will be beautiful.