It is summer, and I have zero⁠01 virtually, i.e. I'm still blogging and stuff but there are not currently any urgent MIT-related items that require action on my part responsibilities at MIT for the first time ever in my 3+ years here. The early-mid-late-semester Stress that normally sits on my shoulders⁠02 I really need to work on my posture is locked in a storage unit in Charlestown, waiting for me to unpack it again in August. One of the many things Stress made difficult was responding promptly to important emails. As anyone who knows Stress can attest, not responding to emails makes Stress get heavier.
Oddly enough, now that Stress and I are on separate coasts, I have begun to crave emails.⁠03 I have also begun to crave metaphor. Just when I got the time to respond to them, they stopped showing up. I'm sitting here in a corporate coffee shop chain, typing on my laptop, Cynthia A Harris – Outlook Web App open in the background.

It's gotten bad enough that I have begun to send unprompted emails. The first one was to a Herff Jones representative.⁠04 I lost my silver brass rat in January and haven't started the process to get it replaced yet :/ The second one was a soft complaint to SFS⁠05 some concern about award adjustment for the uninsured as well as jobs at MIT being counted as part of the award; basically stuff I've been disgruntled about since before I even got to campus about what is included in a financial aid award. The latter made me reflect on other emails I've sent as an adult and thus supplied the impetus for this post. (Editor's note: After finishing this post, I decided to check if this has been written about before. Of course, as with many of my (non-admissions blog) post ideas, Vice already did it. The Vice article arrived at a different conclusion that I don't disagree with, but I think since my post is sort of personal and not necessarily intended to be generalized, everything should be fine.)
After some reflection, I've come up with three reasons why it is hard for me to compose, revise, and send emails.
I do not want to come across as bitchy in my emails.
I do not know how not to Feel, Think, or have things Seem To Me.
I am self-conscious about the number of "I"s in my writing.
According to my own personal psychoanalysis,⁠06 p a t h o l o g y these issues stem from an inability to be assertive the correct amount at the correct times in the correct ways. As I dug down to Frasier Crane levels of depth,⁠07 tfw your boyfriend had Cheers playing in the background for the entire month of April I came to the conclusion that this may be a symptom of my battle with being a woman in society.⁠08 Important caveat: This is regarding my personal experience, as I'm sure it's not just Women who have these feelings, nor do even Women necessarily feel this way as a result of their Womanhood. In fact, I expressed these thoughts to a Man friend who related to a lot of these points, which makes me think this may just be a broader human experience thing. Gender roles are tattooed in the folds of my pretty little dainty little baby pink brain, and I think that everyone, however subconsciously, is judging my actions as compared to the archetypal Woman. It's usually Women who are labelled "bitchy." Women are stereotypically people of pathos who naturally communicate with I Feel statements. Self-confident Women are only a few "I"s away from being vain or narcissistic Women. I never felt this fear in high school, but back then I sent way fewer emails⁠09 Incoming students: prepare your Delete finger for the onslaught that is dormspam and knew the recipients understood that they were corresponding with a Child, not an Adult Woman.
I like being a woman! I think the stereotypical womanly empathy is an attribute mankind should strive for. But I want to be a woman whose opinions and comments aren't disregarded due to implicit biases. From birth we are forced to compete. I can't fix⁠10 we live in a society, man any of this myself, but here are some things I'm trying out.
Postscripts to Clarify Intent
I am the new desk captain at MacGregor, meaning I get to send a lot of passive aggressive emails about people doing things incorrectly. I just got the job, and fear that a combination of dry, slightly irritated emails and my down-turned mouth corners will contribute to my bitchy reputation. I don't want that. In light of this, I have embarked on a new pilot campaign: just add a "not intended to be bitchy" clause at the end of the email!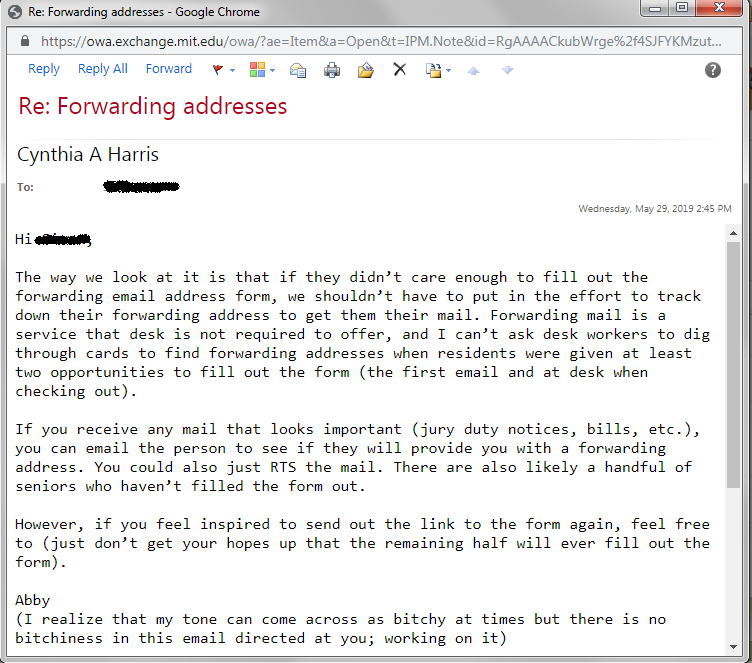 The only real issue I've had with this is I don't know how to do this for emails to adults who would be offended at me using the word "bitchy." Drop your suggestions in the comments! For now I'll just painstakingly read over those emails extra closely to make sure they're nice.
Just Go Through and Delete Pheel-y Phrases
I feel like starting sentences with opinion qualifier phrases is an empathetic and understanding way to communicate. However, I think it dampens the forcefulness of your statements a bit. It seems to me that people take your thoughts more seriously when you declare rather than suggest.
Starting sentences with opinion qualifier phrases is an empathetic and understanding way to communicate. However, it dampens the forcefulness of your statements a bit. People take your thoughts more seriously when you declare rather than suggest.
Honestly, I don't know if that's necessarily true. I think and I feel do not need to be removed from standard usage; they're useful. But when I'm writing something that is supposed to be a sort of call to action,⁠11 or much more commonly when I'm reading someone/something for filth I go through and cut anything that might suggest I'm expressing an opinion not a fact. I do not know when I became an expert on rhetoric, but this approach works for me when I occasionally have to ASSERT.
Unless You Start Every Sentence with "I", No One Is Going to Notice It
This one is more of a mind thing than a writing thing. Snipping out the I feels can cut down on your I usage, but honestly who really notices this? Especially if the email is about I? And often it is?
---
This brings us to the end of the tour. If you have any strong reactions to this or more tips on how to improve my email writery,⁠12 or my writery in general... like many writers I am of the opinion that I suck at this please leave those in the comments.
Seriously. I don't have any emails to respond to anymore and I am starving for new prompts. Please.