Welcome to the scary world of College Shopping. Who knows what you need, and where you should buy it, and what you should bring from home or what you should wait to buy in Cambridge? Who comes from far away and knows what's absolutely necessary to be brought from home and what can be bought later? Does anyone even exist like that?
..Oh yeah, I do. 'Sup.
This is a pretty good list that I actually used when I was college-shopping, as was Melis's list. If you're interested in finding out what you already have in your room, that list'll let you know: essentially, bed, closet, desk, shelves, phone. Most people don't even connect their phone (generally, when anyone's phone ever rings everybody in the room goes "WHAT THE- YOU HAVE A PHONE IN HERE??"), because most people have cell phones, which is a lot more efficient. But here are things you SHOULD bring:
1. Sheets, a comforter, and pillows and pillowcases. Your room might come with pillows, but most of them don't, so getting your own is a pretty good idea. I bought all of this ahead of time except for the pillows just because I didn't think I'd have that much time to shop once I got there, which is true, and they're pretty easy to pack, but I know people who brought only a sleeping bag (good for retreats or sleepovers) and had their parents to bring the rest of their stuff. You can also order it online and have it shipped to your dorm room, but make sure your sheets are twin extra-long. And as far as comforters go, try to get something that'll be sure to keep you warm in the winter, because here is something I knew but didn't really understand at your age: BOSTON IS COLD.
I would also recommend getting a mattress pad i.e. the egg carton ones, or memory foam, because the beds aren't fantastic, and you really need to make the most of every moment of sleep you get!
– as a quick side note, I would suggest getting a winter coat at some point, but maybe over Thanksgiving break or something, because it's pretty warm when you first get there and you won't need one for a while. When you need one, though, you will NEED ONE. So be sure to do that at some point. Also, an umbrella, a hat, gloves, a scarf, boots, and EXTRA PANTS. Regardless of how many people make fun of you for wearing two pairs of pants – you will have the last, toasty warm laugh.
2. Laundry detergent, dryer sheets, and a laundry hamper. I got this awesome one on sale at the Container Store (BEST STORE EVER) that folds up, so it fit right in the bottom of my suitcase, and has handles, so I don't need a laundry bag or anything to lug stuff down to the laundry room. You won't be doing laundry for a few weeks, though, so you can wait to get that later if you want.
3. You will, however, be taking a shower within the first few weeks (I hope I'm not assuming too much – oh man, please don't tell me I'm assuming too much) so bring toiletries: shampoo, conditioner, toothbrush/toothpaste, hairbrush, the works, and something to carry them in. You've gone to camp before, right? Think of it like camp, but for FOREVER. I mean, a year. You can definitely get these around Cambridge, or from LaVerde's in the student center, but LaVerde's tends to be more expensive than going off campus in exchange for the convenience of having it right there. So if you're coming a long way, you might just bring travel-size shampoos, etc. before you go out and buy your economy-sized bottles.
4. You'll need towels: two shower towels are usually pretty good, and one hand/face towel. If you want to work out at the Z-Center, they give you a towel card that you can trade in for a towel whenever you go, so you don't need to bring one with you.
Other shower-y type items that are a good idea: shower shoes, a loofah, etc.
5. Hangers. I stole them from Mr. Neha constantly throughout the year. At the beginning of the year, however, there was one-day bus service to Target, so you could probably get them then. If you're not traveling a long way, though, then by all means bring them from home. Closet organizing-type devices are a good idea as well if you want to make the most of your space.
6. General lighting devices i.e. a desk lamp and a floor lamp. Can also be purchased at the Target in Cambridge (accessible by T, or that one-day bus trip) or Ikea (Next House had a one-day bus trip to Ikea in the fall, but as far as I know it's not advertised to everyone).
Which reminds me – public transportation is excellent in Boston, but if you know someone in the area with a car, it can make moving in/getting all this stuff easier. Especially if you're scrounging for things off Craigslist. ("NEHA! I FOUND A FREE FUTON! We'd have to take the T… and then walk to.. Jersey?")
7. An alarm clock. I had an awesome one with an iPod dock – so I could wake up to my iPod, AM/FM radio, and speakers (if your alarm clock can't be used as speakers, you should get an external pair) that could be connected to my computer. SPEAKING OF WHICH!
8. Computer! I actually know people who have survived for significant periods of time living in Athena clusters, but you can't use that to Facebo- I mean, take notes, in class. I strongly encourage getting a laptop over a desktop because portability is an extremely important factor, as well as the fact that if you bring a desktop you'll need to either bring it home or store it at the end of the year, both of which have issues – shipping can be expensive and storage is not guaranteed to be safe. Moreover, if you get a MacBook Pro, you can have all the functionality of a desktop with the portability of a laptop! Starting at $1999 with a $200 discount for being a college student, as well as a rebate on any iPod over 4 GB and ANY PRINTER!
(Honestly, speaking strictly as a Mac user and not an employee of Apple, I find the reliability and stability of my Mac laptop is much more valuable than any corners you might cut by buying a cheaper PC laptop – for which there are 114,000 known viruses, compared to a Mac's 0. I also found it remarkably easy to switch from using PCs for something like seven or eight years, because everything is so intuitive. And I didn't even switch over that long ago.)
9. Cell phone. You need one. If you don't have one, get one. A friend of mine who was international didn't have one, and we lost him for like, days at a time. Plus, there's this really sweet one that starts at $499 with seamless email, internet, and iPod functionality. What? I'll stop, really. (AND AN EXCELLENT 2 MEGAPIXEL CAMERA. Wait, who said that?)
Re: service plans – there are certain places on campus (i.e. the student center, and many classrooms) that don't have good service. I've heard Verizon is pretty good for this; I have Sprint, which I think is okay with roaming, but I don't get service at home anyway, so I'm used to huddling next to windows doing the whole "can you hear me now?" thing.
10. If you're not really into forking over vast sums of money for combination cell phone/PDA/cameras, you should bring a digital camera. How will you remember everything without a camera? How will you blog without one? You won't. Bring your camera.
11. Room decorations: You should probably shop with your roommate on this one, just because a) it's a fun way to get to know your roommate and b) you can say no if they try to buy anything really heinous. Stuff you might want to think about includes posters, extra shelves, large mirrors, lights, wall clocks, rugs, small tables, large stuffed chairs, sofas if you have room.. but by all means, bring stuff from home if you can and if you have it.
12. Photos from home: not entirely necessary since you can just store them on your computer, but it's nice to have some printed out for your walls or for frames or whatever. Another suggestion from that first list: high school yearbook. My feelings on that matter can be found here.
13. Cooking utensils and, depending on what dorm you live in, a refrigerator. Some dorms have suite refrigerators or floor refrigerators, so you should check on that, but living in Next House we needed to have our on refrigerators if we ever wanted to eat perishables later and still live to talk about it. All dorms have kitchens, but how much you want to cook is up to you. I suggest learning how because it can be a lot healthier, better-tasting and cheaper. AND LOADS OF FUN FOR THE WHOLE FAMILY.
14. A bicycle can save you valuable minutes in the morning, especially if you live far away i.e. Next or Simmons. Next has a bike auction at the beginning of the year, but if you don't want to have to bother fixing anything up you can just get one from Target.
15. A small first aid kit or general medicines: not entirely necessary because all dorms have MedLinks, two of which you already know. We're here to help with your medicinal needs – from Tylenol to Pepto Bismol to disposable thermometers (gosh those are fun) – to talking about your homesickness, or how to use MIT Medical. And if you really screw yourself up, there's always MIT-EMS, made up of student EMTs – two of which you also know already.
16. School-type stuff. Ohhhh… yeah. Remember that list they give you when you enter middle school? 1.5″ binders and binder papers and pencils and Crayola markers? I guess you don't really need the markers anymore.
Now, for your reference – this list IN ACTION! Brought to you by my room, in one of its few clean appearances (hey, it happened more often than you might think).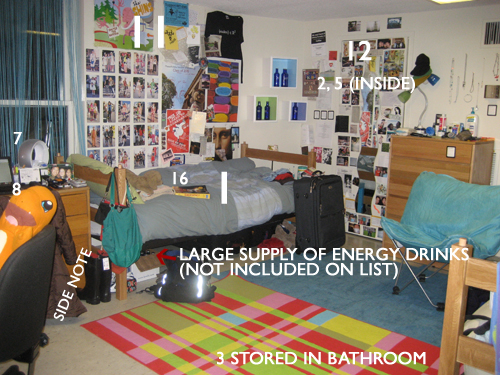 As always, if you have questions, fire away. Hope this helps some, and good luck!
53 responses to "College Shopping List"