Doctor Russ.
Lieutenant Colonel Russ Lachance, a grad student I've been helping out with research for the past two semesters, today just became, uh… Doctor Lieutenant Colonel Russ Lachance. I guess that's what he is now. It's hard when someone accumulates more titles than you know what do with. I just hope he doesn't complicate things any further by becoming, like, Vice President Doctor Lieutenant Colonel Russ Lachance.
This is Russ, after about 30 miles of biking: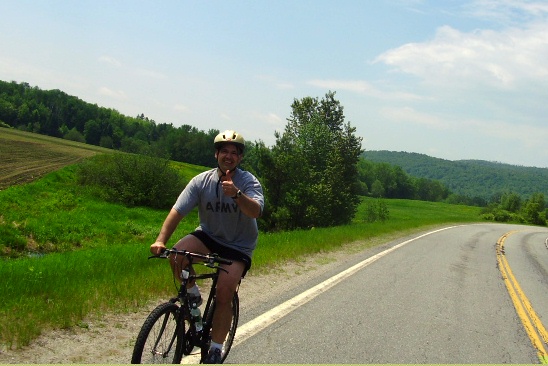 As you can see, Russ's relentlessly positive attitude towards everything in life no doubt helped him earn his PhD in Chemical Engineering from MIT. It also might have helped that he intimidated the professors on his thesis committee by showing up to his thesis defense in full uniform: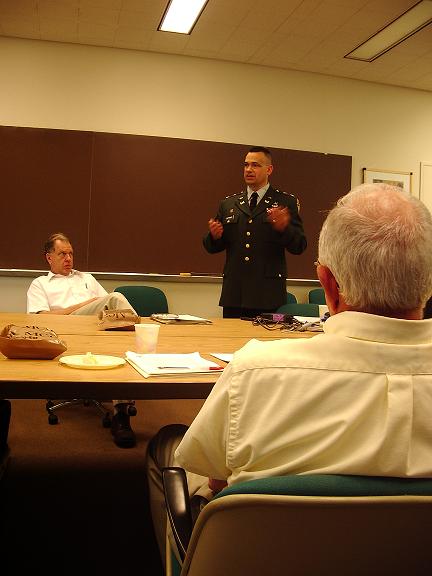 Doesn't Professor Tester (my UROP advisor) look just a little nervous? In a "I better give this guy a PhD because he could kill me with his bare hands" kind of way? Maybe you had to be there.
Russ may have also increased his chances of getting a PhD by offering a gift to his committee beforehand–while most of the time, donuts and coffee would be served at a 10 AM thesis defense meeting, Russ had the idea of bringing in some MREs, 5000-calorie self-heating army rations… just add water: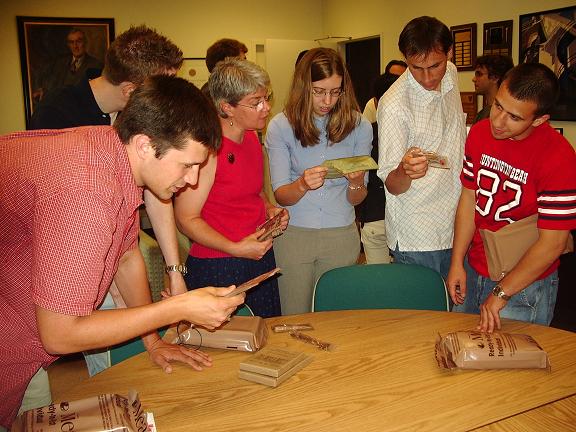 Here, Chad, Scott, Gwen, Heather, Andy, and Rocco try to figure out how to prepare their chicken tetrazzini–I think they might have ended up splitting it 6 ways for lunch. Below, you can see exactly what our soldiers actually get to eat out in the desert–including breathmints, a moist towelette, and an adorable miniature bottle of tabasco sauce.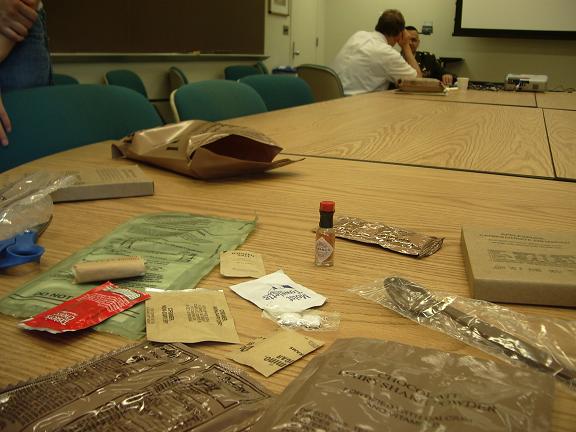 In all honesty, I'm sure that Russ was awarded his PhD not because of intimidation or bribery, but rather because he's one of the most versatile and brilliant grad students I've ever worked with. Not only is his knowledge of chemical engineering nearly boundless, he's interested in and provides suggestions for everybody's research, he has a knack for explaining things in simple, lucid terms, and he's developed an almost supernatural sense of where every single piece of equipment in our lab is located. Looking for a thesis from seven years ago? 3/8″ NPT-Swagelok fitting? Hacksaw? Russ will always know where to find it. Everyone's getting a bit worried that all research in the lab might just stop in the next few months without Russ finding and building everything for us. We're thinking of installing some sort of video conferencing system. I can hardly believe how much about engineering I've learned from Russ in just the past nine months.
And of course, since Russ is a natural teacher, it's unsurprising that he'll be heading to his alma mater West Point next year, as a professor, to design and lead their brand new Chemical Engineering department–just one of the many things they'll let you do with an MIT degree.
Here's me with Russ and fellow UROP Steph '07 immediately after getting the good news.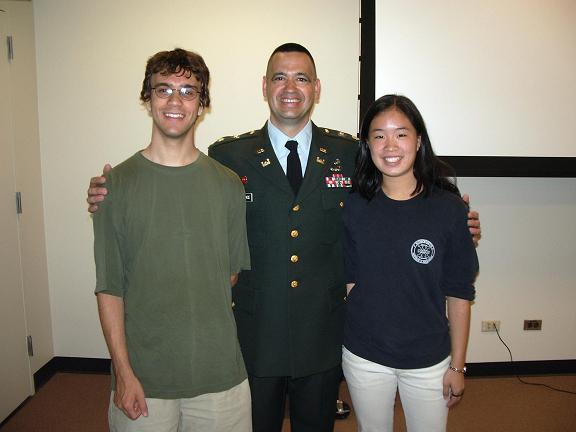 Of course, Russ ended up thanking about 7 undergrads during his presentation (his "platoon of UROPs"), but we were the only two in town over the summer. Steph landed an internship with the Boston Harbor Project this summer, where she gets to "work from home" one day a week and sit in her cozy, airconditioned apartment that at Westgate, which she's subletting from a grad student over the summer… not a bad gig, especially when you have thesis defenses to go to.
And then, of course, when you get your PhD, there has to be a party. Professor Tester invited the whole group up to his energy-efficient house in Hingham (about a 25 minute drive, but grad students have cars). Here, Russ demonstrated another one of his myriad talents: croquet.
Of course, when you have young people at the party like Russ's four kids–Chelsea, Austin, Hannah, and Zach (left to right above), you need something to keep them busy. Now, as Hannah is demonstrating above by swinging her hard wooden mallet in a circle, croquet is a vicious, dangerous game. Luckily, somebody had the foresight to bring bubble wands. Glorious bubbles!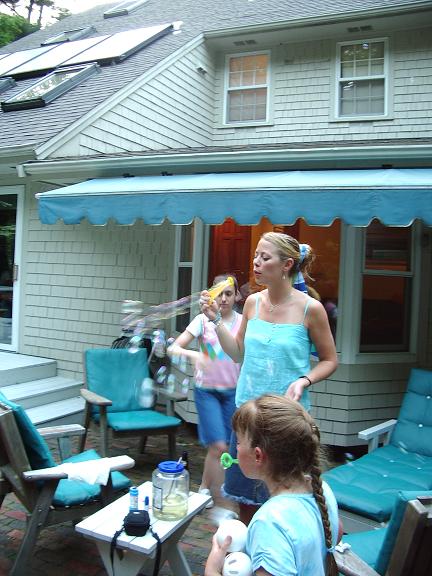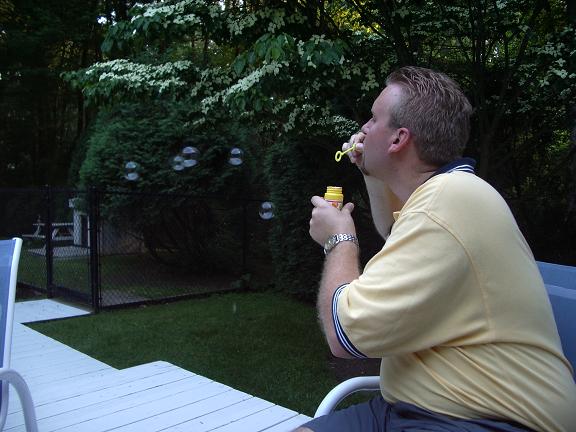 I guess Adi, 26, and Brian, 27, like bubbles too. Don't judge too harshly–if a kid you knew walked by with a bottle of bubble stuff, blowing happily through his wand into the summer sky, do you really think you could resist asking him for a hit? I tell you, this bubble-blowing business is addictive.
Of course, the real smash hit of the party was the present that Steph and I made for Russ. Here we are giving it to him: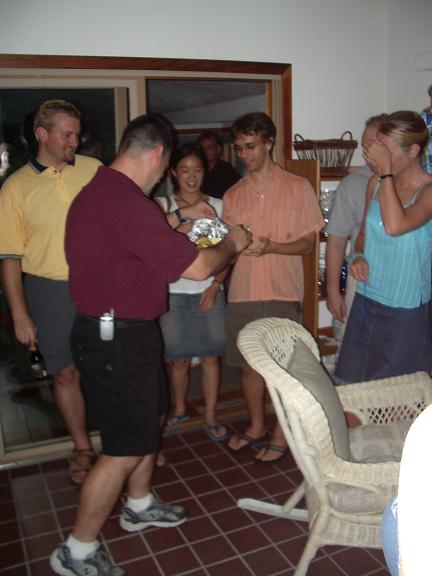 And here he is admiring it… or maybe just staring at it in confusion: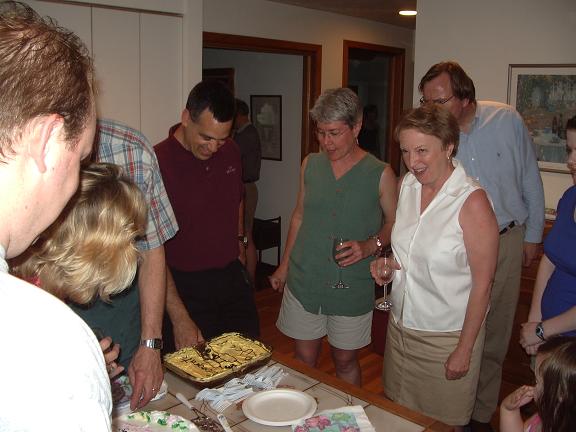 What is it, exactly? Well, duh, it's a double chocolate gooey butter cake decorated to look like the gold-plated batch reactor that Russ had prepared last year. Go figure–some people gold-plate their baby booties, others their batch cells. Actually, Russ had a hunch that gold, being fairly inert, might prevent degradation of the reactor walls under the supercritical conditions (greater than 374 C, 221 bar) and harsh catalysts with which he was trying to affect the water-gas shift reaction (CH4 + H20 => 3H2 + CO). Conceptually, the cake was a smash hit, but practically, not much got eaten–I think it may have had something to do with the tub of "golden" icing we slathered on top after dumping the entire box of powdered sugar into the recipe.
Quite a good cake, though, if you're not planning to eat anything for the rest of the day. Thanks to Varsha '07 for introducing me to the wonderful Midwestern world of gooey butter cakes.
Russ was a little less excited to see the picture on the card we bought him: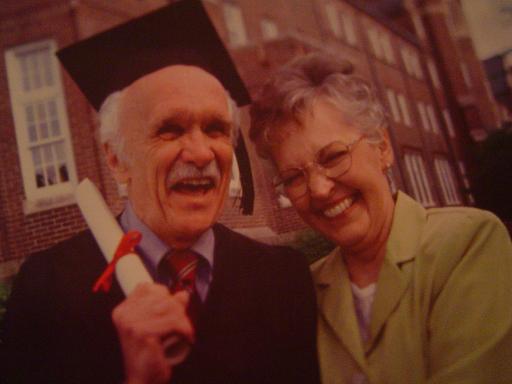 It was Steph's idea! Still, he took it in good stride, and even presented the group with the few gifts, including a bottle of 18.6 megaohm-cm purified water, a hammer, a roll of duct tape, and, best of all, a necklace of magic beads bearing the inscription "REACTORS ARE MY FRIEND * I [HEART] REACTORS" designed to bring good luck to Jason's unpredictable plug flow reactor.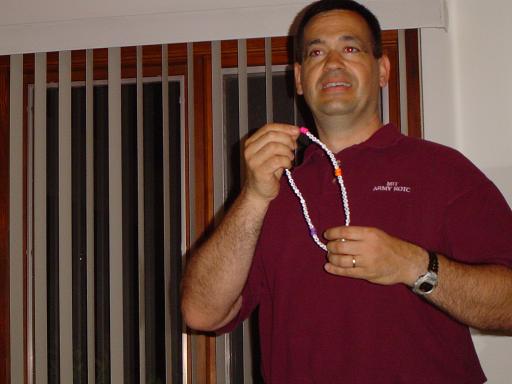 Jason already has four strands of Mardi Gras beads and a soup spoon tied to his reactor for good luck. And he says that he gets worried that the reactor might break when he accidentally bumps into the spoon. This is how we do science at MIT, folks.
Well, everybody in the Tester group, young and old, seemed to enjoy this most special of occasions.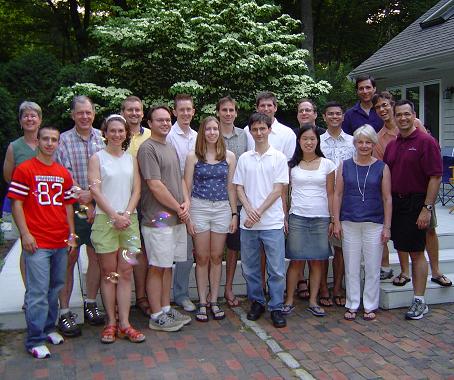 And, yeah, it looks like Adi might have gotten a little carried away with the bubbles there.
If you happen to Google yourself and stumble upon this website, Russ, thanks for everything, and I hope I didn't get your children's names wrong. Congratulations on finally getting your PhD, and best of luck in your new career at West Point. The cadets are very fortunate to have a teacher like you.
And I guess I have to close with an emphatic HOOAH!
——–