A note about the title: when I was little, my mother (who is a 5th grade teacher) used to encourage me to occasionally take a DOFMH — day off for mental health — from school. (To be honest, Mom likes to play hooky more than I ever did. But when your mother is begging you to call in sick to school so both of you can go shopping… who are you to refuse?) Today was my DOFMH from the lab… I've only taken three days off this summer, two of which were Memorial Day and July 4, and I've gone in almost every weekend. I deserved it.
The first step in my day of laziness was sleeping in until 11 AM; I then rode my bike to the Student Center and ate a pizza Lunchable (I swear, I really am 21), then took the T to Copley Square.
I got my hair cut and colored at the Daryl Christopher Salon, a day spa and salon on Newbury Street. The priciness of Newbury Street establishments roughly increases as one moves west to east, and the Daryl Christopher Salon is definitely at the east end of Newbury Street. (I'm so ritzy. At least every once in a while.) My hair is now an alluring, yet quasi-natural-looking, shade of ginger.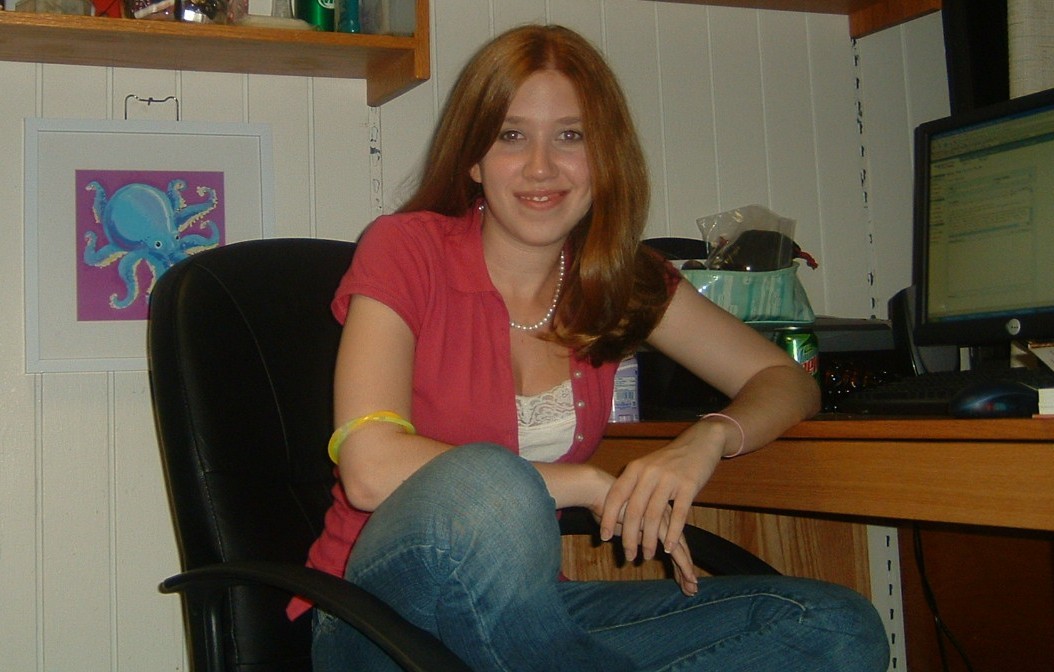 I actually got into a lengthy discussion with the colorist about dorm rush and MIT's admissions policies. I'm kind of a monomaniac.
After my hair was colored and fashionably blow-dried (I never have time to blowdry my hair normally. In fact, I don't even own a blow dryer. I always get pitying looks from hair stylists when I admit this fact.), I wandered around Newbury Street. I saw some really cute throw pillows that a) would look perfect on Adam's and my couch, b) were far too expensive ($48? for a throw pillow?), and c) Adam would hate.
I headed back to campus and ran into Jen '08, the cheerleading squad's treasurer. She reminded me that I needed to come pick up my cute new cheerleading t-shirt, so I went with her and got it. I also played with her adorable kitten, Green… I want a kitten and Adam (and the Housing Office) won't let me have one. Grr.
After I got back to Macgregor, I discovered that Amazon had finally shipped the new book I had ordered, Monkeyluv by Robert Sapolsky. (I pre-order science books on Amazon. I am one cool kid.) I resisted cracking it open immediately, because I'd just bought ingredients for snickerdoodles at LaVerde's, and they needed to get baked — I find that parents have a much easier time leaving their children in MIT dorms when they discover that there are friendly, cookie-baking upperclassmen in residence.
It's fun to take days off work!
Questions answered:
1. Lorelai asked, "my scores are good for foreign students and i wonder when i can apply. right after i get my scores? i have 2 more years in highschool:) and cant find anyone to answer this question."
Generally, kids in the US apply to colleges during their final (senior) year in high school, so you probably want to wait one more year before applying to MIT. Sound good? :)
2. [Your burning question here.]