During a pset party last night, one of my hallmates called her own major, biology, 'useless'. Shocked, I asked her to elaborate. She felt that the impact an individual biologist could make was negligible because biological systems are so fine-tuned that biologists can only push research forward a little bit at a time in one tiny, specific system. But she loves biology.
I agree; using that metric, biology is useless. (Obviously, that's a terrible metric for uselessness.) But the same is true, to varying degrees, in every career field, with the obvious exception of the five or ten hotshots per generation whose names make it into the history books. (We probably aren't them.) A software developer can make a code push that impacts millions of strangers. A biologist can publish a paper that affects twenty colleagues' work. (I'm completely making these numbers up.) Whatever. This measure of usefulness, while it may give you a warm fuzzy feeling whenever you push or publish something, is terribly valueless to you if you aren't also enjoying your work.
Look. If you're smart (you probably are if you want to apply to MIT), you're good at things, and that gives you a really beautiful opportunity: you can have a job that you love. And getting paid any reasonable amount to do what you love is basically like not working at all. Guys. This is awesome.
But wait. Is it selfish?
Maybe I'm not allowed to tell stories about Qiaochu any more since he's a blogger now, but he's worried a couple of times that focusing on math is selfish when the stuff that he studies is so pure that it only has theoretical applications, or at least will take decades to trickle down into applied math. However, Qiaochu is not only ridiculously good at math, but if I somehow managed to cut him off from Math Overflow, he would probably singlemindedly fight me to the death until he got it back, which brings me back to the question in the last paragraph.
In a mentally demanding job, loving your job is really, really conducive to doing it very well. It's pretty tough to convince your brain to do difficult things that it doesn't want to do. This means that doing something without a massive impact (but hopefully a not completely nonexistent amount of usefulness, otherwise you wouldn't have been able to monetize it anyways) that you love will probably produce a better output, compared to the average person working in that field, than doing something with a large impact that you don't love. You know what I mean?
What I did there was not very scientific — just some very messy rationalization. But you can absolutely take my word for my first point, even though it seems so obvious that I shouldn't need to say it: having a career that you love is awesome. If you love it so much that you would do it for free, then you've hit the jackpot.
Speaking of the latter, I went rampaging on another mural marathon yesterday. If software development ever somehow fell through, I would have no objection to becoming a starving artist instead. (I mean, I'd object to the "starving" part, but I'd probably be able to figure out a way around that.)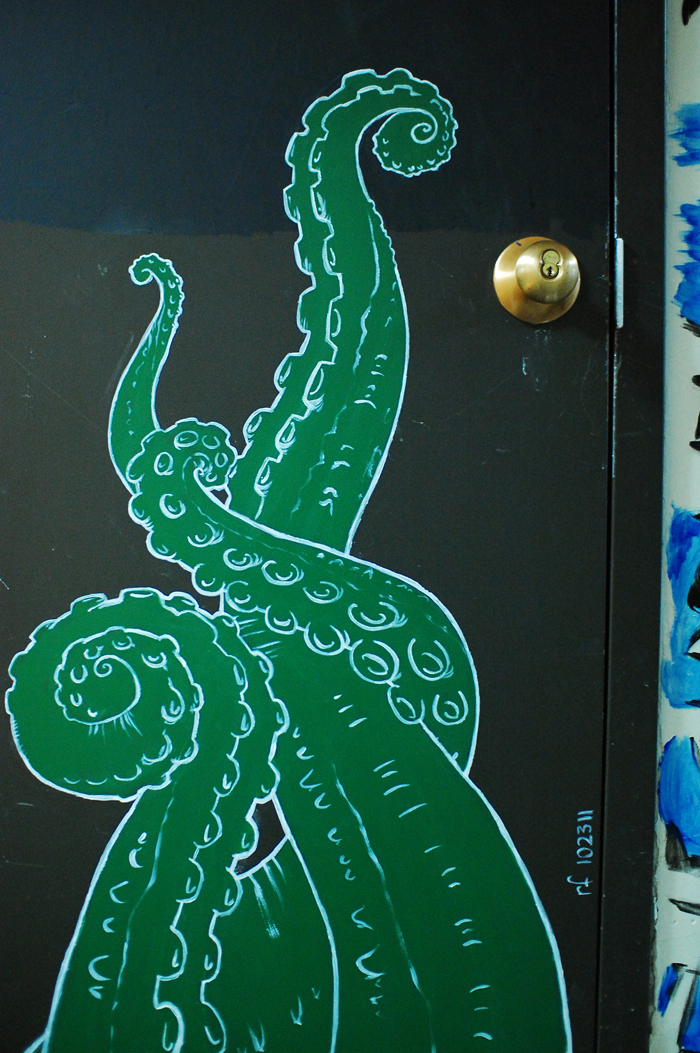 freehand cover of Deep Sea Tentacle by Missmonster
After that, I coded for the rest of the night (morning?). I was, in fact, sitting around not getting paid and doing two of my favorite things, and I felt like the luckiest person in the world, because one of those things is my career. And I kind of doubt I'd be where I currently am (nonliterally) if I hadn't met the people I've met at MIT. What if I'd gone to another college with an equally good computer science program? I've made a lot of connections and found tons of opportunities through living in the Cambridge/Boston area, too — it's hard not to when such a small, dense place is home to hundreds of tech startups and fifty other colleges or whatever the statistic is nowadays.
Advertising MIT to you on its own admissions site? I wouldn't dare. And I think I've been abusing this word. But honestly, being here and knowing people who love their work is pure awesome.
12 responses to "Doing What You Love"