Since Ben already spilled the beans, I'll confirm that, yes, Adam and I are engaged, and we're planning to be married in September or October of next year. (We're hoping to have our reception at the Museum of Science — because what better place is there for two MIT grads to have their reception?)
We bought the ring together last week, so I wasn't entirely surprised today, but he did take me to Killian Court after lunch and say some really mushy things and ask me to marry him. And I said yes! And my ring is unbelievably sparkly and gorgeous!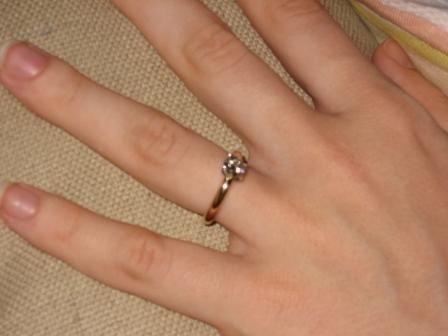 I'm going to write some stuff about how we met and got together later, but right now we're going out to dinner to celebrate. :)
MIT doesn't consider legacy status in admissions — legacy kids aren't at an advantage compared to the rest of the pool. So basically, all you admissions poohbahs, I'm giving you until 2029 (2006 plus 5 years — when I'm done with grad school — plus 18) to change the policy. :-P (For Karen, below: A legacy is an applicant whose parent(s) attended the school. Some schools give preference to legacy applicants; MIT doesn't.)
MIT romance
I met Adam in September of my sophomore year at a party at Baker, but I wasn't really aware of his existence until IAP of that year, when he told our friend Carl '07 (who's going to be an usher!) that he had a crush on me. Being a boy, Carl promptly began promoting Adam to me in the most unsubtle way possible, and being a girl, I was totally uninterested.
In March of my sophomore year, Adam and I went to another party at Baker, where we consumed some ethanol and flirted with each other. I kissed him on the cheek, and after we came home he wrote me an IM telling me that he liked me. (Cheesy.)
A few weeks later, a bunch of people were sitting in my room gabbing on a Friday night, including Carl. Adam came upstairs to A-Entry to talk to Carl, and since Carl was in my room, Adam joined the conversation. One by one, everybody in my room left except for Adam, and we stayed up all night talking to each other. The next night, there was a party in D-Entry, and Adam kissed me. And we really haven't been apart since.
After he proposed in Killian, I got to thinking — I wouldn't even know him if I hadn't come to MIT. Kind of weird, to think of the different life I could be leading.
Eeee, we're getting married!
35 responses to "Double legacy"