To follow up on this entry…
Thanks for playing Engima Wrapped In A Riddle! Don, tell them what they've won.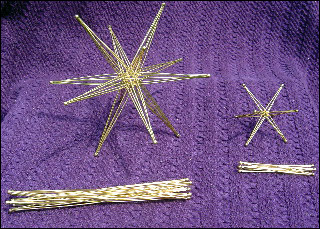 Wow! I am impressed by how many of you met the challenge. Initially we had planned to only award one winner, but by the list you can see we are feeling the holiday cheer! The following 20 individuals will get the gold star.
If you are listed below, email me (bgnance at mit) your complete name and mailing address and we will send you your gold star. (Please allow 4-6 weeks for delivery.)
If you are interested in seeing more of John Kostick's handiwork, please visit the Quadric Designs website.
Until the next time, stay tuned to the MIT network… All Numbers, All The Time.
First place six-axis and tetraxis winner:
(Drum roll in your head…)
Posted by: Ana L on November 27, 2007 04:32 PM
Second place tetraxis winners:
(Extended, really long and annoying drum roll…)
(Please hold all applause until all winners have come to the stage…)
1 Posted by: Kim on November 27, 2007 04:20 PM
2 Posted by: Vika on November 27, 2007 04:50 PM
3 Posted by: Jai on November 27, 2007 04:59 PM
4 Posted by: Berkeley on November 27, 2007 05:29 PM
5 Posted by: Louis on November 27, 2007 05:31 PM
6 Posted by: Kevin X on November 27, 2007 06:01 PM
7 Posted by: Chris on November 27, 2007 06:18 PM (commented to give his prize to Melis)
8 Posted by: Merritt B on November 27, 2007 06:28 PM
9 Posted by: Lauren S. on November 27, 2007 06:48 PM
10 Posted by: donaldGuy on November 27, 2007 06:53 PM
11 Posted by: SKishore on November 27, 2007 07:13 PM
12 Posted by: Karen on November 27, 2007 07:49 PM
13 Posted by: Keshav P on November 27, 2007 08:12 PM
14 Posted by: Will on November 27, 2007 08:45 PM
15 Posted by: intleyes on November 27, 2007 08:56 PM
16 Posted by: Zev Chonoles on November 28, 2007 06:21 AM
17 Posted by: harrison on November 28, 2007 04:49 PM
18 Posted by: Vihang on November 29, 2007 03:24 AM
19 Posted by: Shantini on November 29, 2007 06:58 AM
20 Posted by: Leo V on November 30, 2007 10:11 AM
21 responses to "Enigma Gold Star Winners!"