It's pretty hard to live in Boston and not get swept away by Red Sox fever. You have an excuse if you're like Brandon '11, who's from Colorado, but other than that your only other refuge is that you don't like watching 230-lb guys (who can also throw a ball at 99 mph) Irish step dancing in their underwear. Who isn't a fan of that?
Seeing as I fall into neither of these categories, I put off of grading 5.112 problem sets (which I was using to put off doing my own problem sets) and do a little jigging of my own. Things were pretty crazy around here last night, especially for my friends living in the fraternities (most MIT fraternities and sororities are directly in Boston, in Kenmore Square) – and so I bring you these epic pictures of the riots fresh from Corey '10's camera, outside of his fraternity and home, Chi Phi (thanks Corey!):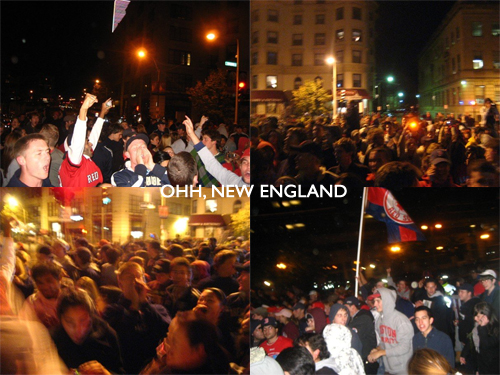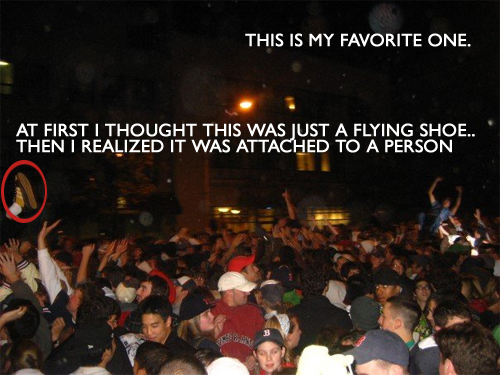 As Evan wrote, we had our own Burton-Conner-wide celebration last Sunday when the Red Sox beat the Indians. My floor, Burton 1, was just about the run up the stairs to celebrate with Burton 3rd when Burton 3rd burst through the door, at which point we all piled into the elevator and proceeded to cheer on every floor of the Burton side, followed by every floor of the Conner side (Burton-Conner used to be separate dorms, Burton and Conner, but were joined together and now peacefully co-exist as one happy hyphenated family).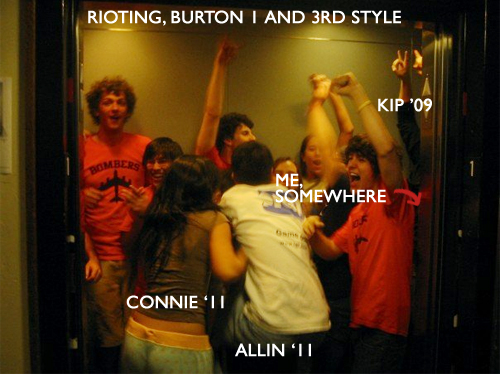 So I'm excited by the Red Sox, especially the Red Sox winning the World Series. I'm also really excited about a lot of other things, too, like peanut m&m's, the release of Leopard, dancing to Queen's "Don't Stop Me Now", and organic chemistry. (Did you see that transition? How smooth am I?) There's this scary stereotype about organic chemistry being crazy difficult, which I definitely get. 5.12 (Organic Chemistry I) and 5.13 (Organic Chemistry II) may be my favorite classes I've taken at MIT thus far, but that doesn't mean they were easy – I've had my fair share of frustration along the way, including more late nights than I'm comfortable with studying the stereochemistry of Diels-Alder reactions. (And then I've woken up after these late nights drooling all over page 485, so whatever I tell you here, remember that even if organic chemistry can be fun, it's not always pretty.)
A big part of orgo is trying to synthesize molecules using a smaller molecule and basic chemical reagents, which I sometimes have trouble visualizing. So why do I like it so much, even when I'm not very good at it? I was trying to explain this, if somewhat incoherently, to Matt earlier today, so let's see if I can do a little bit better here: organic chemistry is like a puzzle. It's like one of those logic puzzles where you're trying to figure out who likes red trucks, and they give you all those rules like Lisa hates the color red, and David is scared of heights but only on Wednesdays – except you've got to remember all the rules, like you need to know beforehand that Lisa hates the color red. And you have to know it's because Lisa is really allergic to ketchup. So you can only let Lisa have.. trucks without ketchup.
That was even more incoherent than when I was trying to explain it out loud, but you can take a couple things away from that (ironically) barely logical paragraph. One: college essays are just as open as blog entries to writing about whatever quirky hobbies make you happy, and why. So if you're having trouble getting started, just start writing down what motivates you. Maybe you want to be the driving force behind the new age of space travel because of that one time you saw Mir when you were little. Maybe you really like sitting under trees and getting hit in the face by leaves, or maybe you like synthesizing molecules. (I like both.) The hardest part is beginning, so feel free to be as incoherent as you like, and don't lose too much sleep over the fact that the deadlines are starting to pop up. (Save that for when you take organic chemistry.)
Two: I was you like two seconds ago. I still don't know what I'm doing with my life – I'm barely starting to figure out what I enjoy. So don't think that just because I'm going into my second year here, I've got it all figured out. I'll be the first to admit that I definitely don't.
I'm definitely REALLY excited about this last thing, though – and I promise this is THE VERY LAST TIME I will ever mention that blogging scholarship ever again. With your AMAZING number of votes, I won 3rd! You guys were so incredible, and I'm so stoked to have your support. I feel pretty badly about that last post, and for that whole month of spam I've put you guys through – for that, I apologize. But I'm still open to questions and possible blog topics, so propose away. Until then, get excited! Three days until November!
44 responses to "Excitement"