This is a (long) post detailing the week in which both MIT and Harvard announced that they were evicting the vast majority of their undergraduates. Since it's so long, I've broken it up into sections:
This post is long because I believe there is value in a detailed account of the exodus from MIT from the perspective of one of its students. I included the daily new case count for MA in each section to help remember how novel COVID-19 felt compared to the domestic crisis it is today.
I want to preface this post by saying that it is incomplete. I've tried to pour every detail I can remember into it, but too much happened, too quickly. Some feelings and details have slipped through the cracks of my memory or have been distorted by the clumsiness of my words. The only way to know what it was like to get kicked out of Cambridge was to have it happen to you.
With that said, this was my life between March 9, 2020 and March 15, 2020:
Monday, March 9
Just Another Day
New cases in MA: 13
On March 9, Princeton made an announcement telling students that they should stay home after their spring break. We briefly discussed Princeton's policy in my political science class,⁠01

17.303 Methods of Policy Analysis; we had actually just finished writing our own COVID-19 policy briefs as part of a class assignment

but no one seemed worried. I don't think it's because we thought we were immune from the factors affecting Princeton – it was more that we couldn't comprehend the reality of being told not to come back after spring break. In our brief discussion, we didn't take the time to imagine the confusion and loss we would feel if there were to be a mass exodus from campus or a remote semester.

Looking back, I'm glad we didn't take the time to imagine it. I'm so grateful for those few extra hours of normalcy between finding out about Princeton's plan and feeling the crushing reality of a similar plan being implemented at MIT. Life has often felt surreal and rather nightmarish since then. I miss the headspace I was in back then; I miss having "simple" worries about how I would do on my next exam or if I had enough dining dollars left for lunch. They've been replaced with worries about if I'll ever see certain people again or if my loved ones will still be here next year.
I've often thought back to early March, pre-exodus, and wondered if I should have seen all of this coming. I don't think I could have. Massachusetts had its first presumptive positive case of COVID on March 2. From then until March 9, there were under 10 new cases a day. To me, COVID-19 still felt like a far-off threat.
Tuesday, March 10
The Announcement
New cases in MA: 51
On March 10, I had just woken up when my phone buzzed. It was an email from Harvard⁠02

I get emails from Harvard because I signed up for a library card, which I guess makes me part of the general campus community. I don't get every email, just the ones detailing emergencies, like this.

which said that undergraduates should leave campus by Sunday of that same week. I called my friend Denisse C. (Harvard '22) and we freaked out together over the phone. She was in her dorm when I called her, and in the background of the call I could hear other voices full of panic. People in her living group were freaking out. People were calling their significant others, friends, and parents, trying to make sense of the announcement. Reality had just set in, hard.

Next I called Kidist A. '22. Then I called Denisse again. Then I called my partner at the time. I started worrying about if all my friendships and my relationship would survive long-distance.⁠03

Spoiler: my relationship and a couple friendships did not

For all of these calls, I was sitting on my bed in MacGregor House, looking out of my giant window at Briggs field and Simmons. It felt odd to look at all the square windows of Simmons, knowing that in just a few days the inhabitants could be scattered across the globe.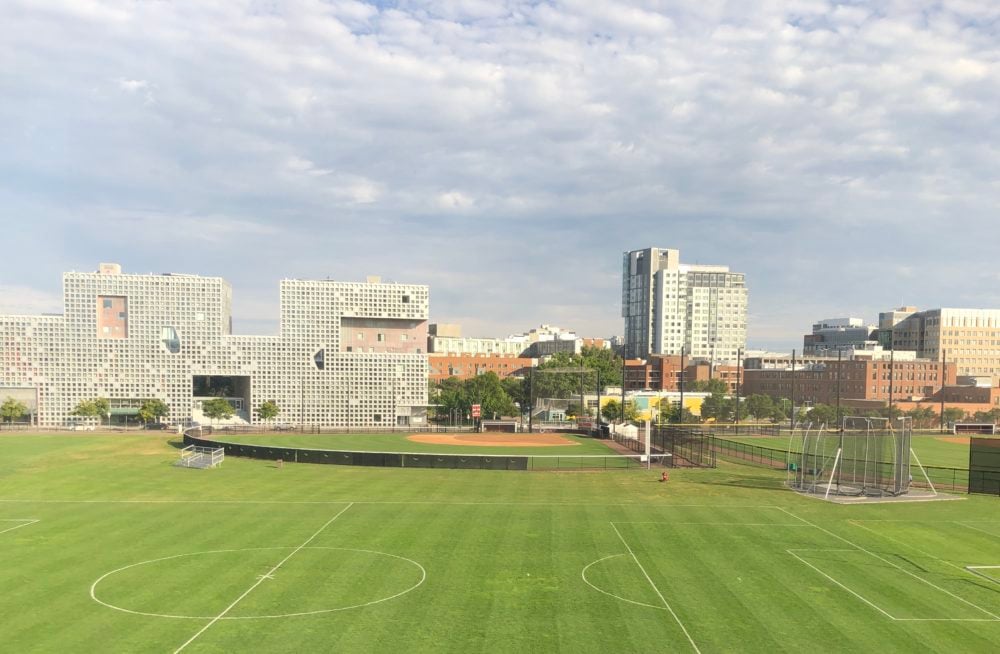 Time slowed to a crawl. With each passing minute, it felt more and more like I was dreaming. I was having so many thoughts and I started to question each of my actions. Why was I going to lecture? Shouldn't I be meeting with my friends right now? Can I handle going home? A million new uncertainties were born each minute.
My groupchats started blowing up. People were forwarding screenshots with rumors about what policy MIT was going to announce. Most of the screenshots had no clear source for the information, but they all said the same thing, so they seemed based on something legitimate.

At 10:05 AM, I got a screenshot of a rumor that MIT would send out an official notice at 1 PM, likely mirroring Harvard's policy. The screenshot of this rumor apparently came from a fraternity's Slack, where someone was relaying the information they garnered through a meeting with MIT administration.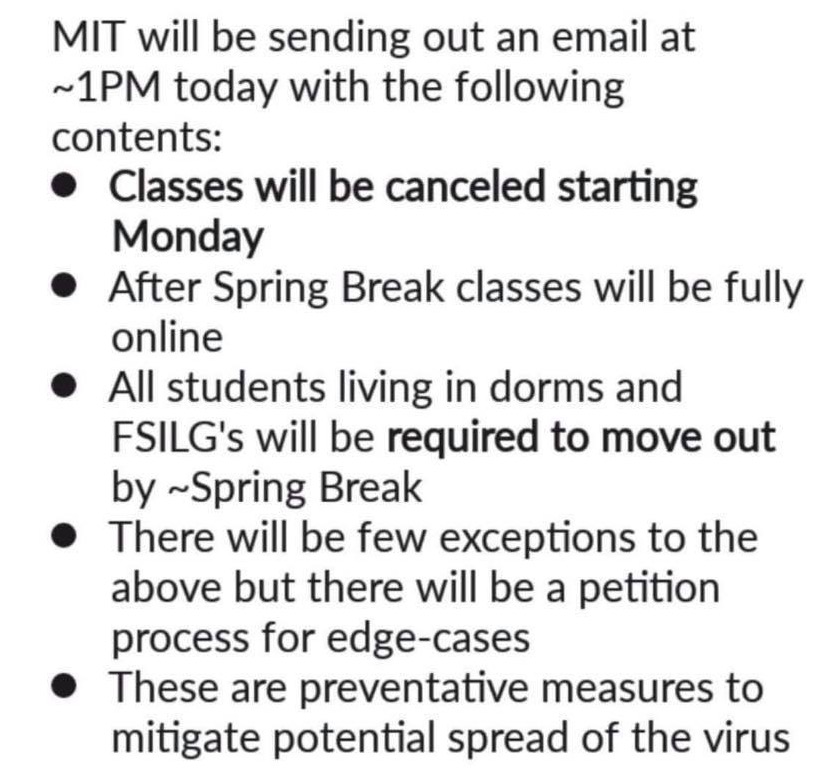 At 10:40 AM, I got another screenshot. This time it was an email chain in which one student claimed to have had the rumor confirmed through a friend's academic department. In the same screenshot, another student confirmed the rumor, claiming their roommate's family was friends with a professor and the professor had said the rumors were legitimate. Everything was second-hand knowledge. There were no names, no quotes. Part of me wondered if we were freaking out over nothing – could it all just be rumors?
It frustrated and worried me to have to wait several hours without any official information from the MIT administration. The current version of me laughs at frustration of the March 10th version of me. Since then, there have been months of waiting for official information from MIT. I'd be surprised now if the MIT administration ever revealed any official plans without weeks of students waiting and speculating. That frustration left a mark on me. It was the first time that MIT – with all of its power, money, and resources – couldn't and wouldn't help me, both by needing to send me away from the people and places I loved⁠04

Of course this was for everyone's safety, but it still hurt. It also showed me how much my college experience is dependent on MIT allowing people to interact on campus.

and by keeping me in the dark about their plans to do so.⁠05

In my opinion, administrative officials had to have been discussing the policy for a few days; I don't think they could have decided in a few hours to send everyone home. The fact that we went an entire day after Harvard's announcement without any official information surprised me.

The administration's continued inability throughout the rest of the semester in providing transparent and timely information is one factor in what led me to decide to take a Leave of Absence for this next school year (more on that in a future blog post).
At 12:47 PM, I got yet another screenshot, this time of a student giving a play-by-play of the Zoom call he was on with administrative officials, again confirming the rumor. There were only a few minutes until 1PM. My friends and I refreshed our emails, nervously waiting for the announcement.
The announcement didn't come. Time slowed down even more.
As the afternoon went on, students gathered on Killian Court. People had music, snacks, and various drinks and substances I never imagined seeing large groups of people consume on Killian Court. It was surreal in the best way possible.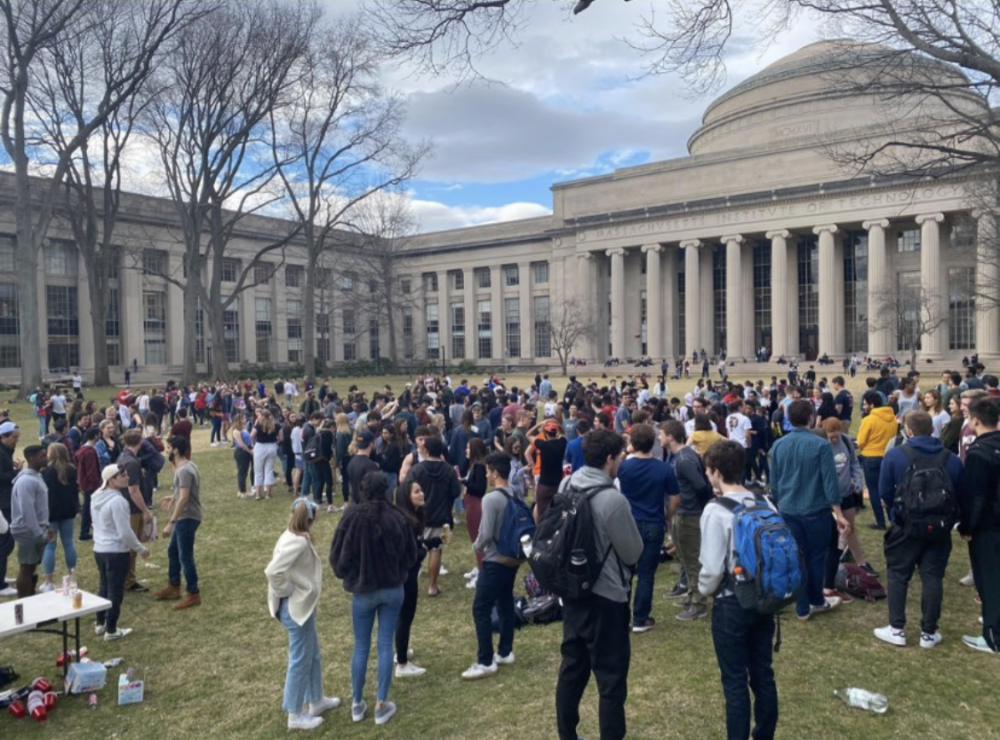 It was during this gathering that Zidane A. '20 took this now-famous image:
Eventually, around 3pm, the MIT Police showed up on Memorial Drive and the gathering on Killian Court magically cleared itself as people scurried away into Buildings 3 and 4 and Lobby 10, leaving behind red solo cups and some garbage bags full of empty Coronas. Unsure of what to do, I headed to my last class of the day.⁠06

17.835 Machine Learning and Data Science in Politics

Sitting in my last in-person lecture of 2020, I barely paid attention. My professor continued teaching as if nothing was different, reminding us of the due date for an upcoming pset. Mid-lecture I got an invitation to a Facebook event titled "Scream into the void at Killian Court," which I went to after class. The event ended up being fun but didn't do much to reduce my growing anxiety.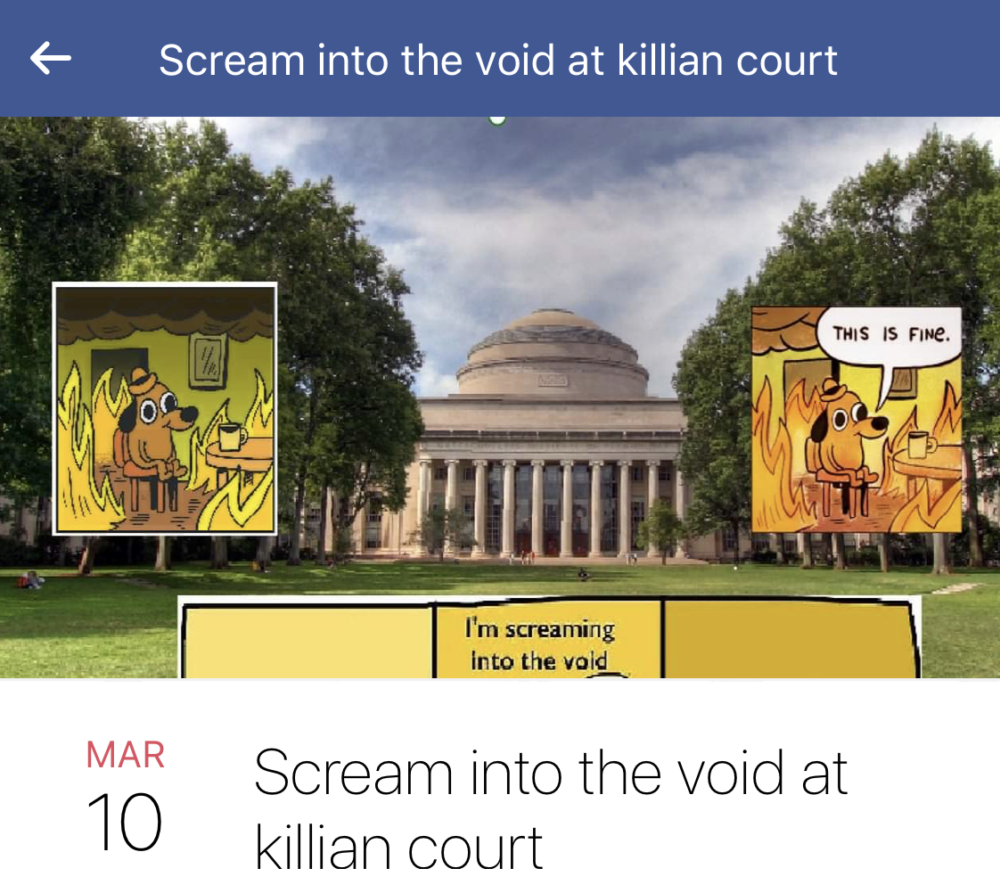 Finally, around 5:00, Denisse called me. One of her friends at MIT had forwarded her an email from MIT President Reif with the official MIT policies. She then she forwarded the email to me. For some reason, the MIT announcement email went out in waves – I wouldn't receive the official email from President Reif until nearly an hour after Denisse forwarded it to me. There's something funny about receiving the news about MIT from a friend at Harvard. Thanks to Denisse, the longest day of my life finally had some closure.

The verdict was in: We all had to leave by next Tuesday.

Around 6pm, Denisse biked down Mass Ave from Harvard to meet me at Abide. I stopped by Saloniki first to grab dinner. Although it used to be just another cafe, I now really miss Saloniki and their "free" student fries with the herbs and lightly grated cheese.

At Abide, we ordered drinks and sat by the windows facing Mass Ave. Looking out the windows, we saw Petey walk by. I quickly sent him a message to tell him we were at Abide and he came inside to talk to us. I was hoping he would tell us everything would be fine – after all, he was an "adult" and also someone who worked for MIT – but it was clear that none of us had any idea what the next few days, weeks, or months would look like.
Once we finished our drinks, Denisse and I began to say our goodbye. We walked to Flour, where she had parked her bike, and realized that this could be the last time in a long time that we'd see each other (though at that point we were thinking on the scale of weeks). I watched her bike away down Mass Ave before I turned around to walk back to MIT.

Here my memory gets fuzzier. I don't remember much about what happened after saying goodbye to Denisse. I think the likely story is that I went back to my dorm to call my parents.
One thing I do remember was that class was the last thing on my mind, at that point. That evening I started getting a lot of emails from professors. I was supposed to have a 6.006 exam on Thursday night. The teaching staff had said nothing all day as the rumors spread, causing a lot of distress in our group chat. Finally, the teaching staff emailed the class, saying that the exam be postponed until after spring break. I also got an email from the lecturer of my favorite class, 17.303, asking us to still come to lecture the next day. I decided that that would be the last in-person lecture I would attend this semester. I wanted to spend the rest of the week savoring other parts of being an MIT student.
Wednesday, March 11
Why panic when you can eat?
New cases in MA: 3
If you got tired reading the play-by-play of March 10, no worries. From here my memory definitely drops off quite a bit. On March 10 time slowed down until it felt like it stood still. For the next five days, time started passing incredibly fast. It's harder for me to remember the details. With each breath, it felt like an hour had flown by. With each hour, it felt like another friend had made plans to leave Cambridge.
Around noon, my ex and I took an Uber to Allston to meet with friends at Gyu Kaku, a Japanese barbecue restaurant. It was my first time there and is now at the top of my list of places to visit once I'm able to again. We all paid around $35 for the "Premium All You Can Eat" and it was so worth it. We ordered plates of a ton of different types of meat, which we cooked on the grills embedded in the table. It was so, so, so delicious.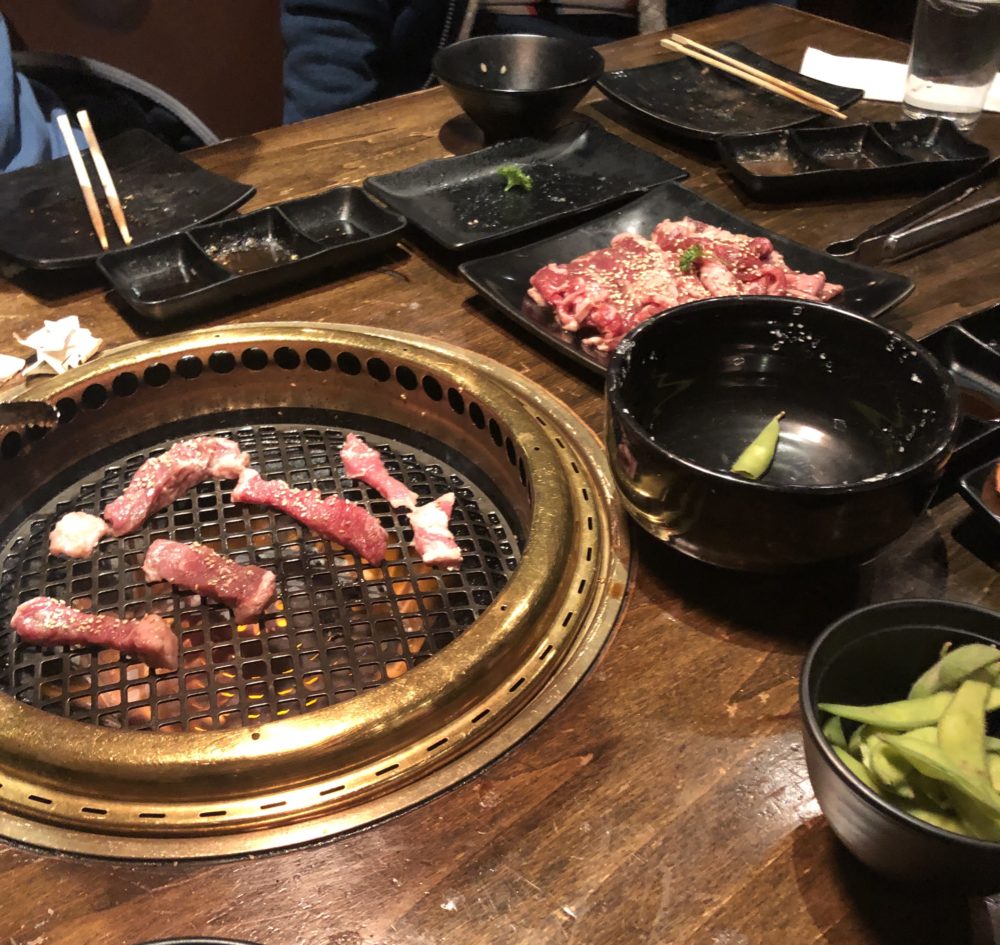 One trend you might notice as I describe this "apocalypse week" is that it was an indulgent apocalypse week. I spent so much money on Ubers and meals. I justify it to myself by saying that since that week, I've spent zero dollars on going to or eating at restaurants, so it probably balances out compared to other semesters.
Another trend you might notice is that I met with friends all over Boston. Clearly, given that COVID-19 was spreading throughout Boston, this was unwise. Looking back, I should have had better judgement, but I am also happy that I managed to make some last-minute in-person memories with some people who I most likely won't see for at least another year.
After eating way too much red meat at Gyu Kaku, I think I headed back to campus. I don't really remember.
At around 9pm, my dad texted me to confirm plans to come get me on Sunday.

I made plans to leave on Sunday, rather than earlier, out of a desire to extend my time on campus as long as possible. It was worth it. I am so grateful for every second extra that I had to just exist in Boston. However, just as going out with my friends was unwise, I acknowledge extending my stay in Boston was pretty unwise too.
My dad had a pretty smart idea: renting a large vehicle so that I could bring everything home, rather than need to store anything. This was good for two reasons. First, I wouldn't have to leave anything in my dorm, MacGregor House. At the time, MIT had very vague policies about what dorm residents we could leave behind for storage, where it would be kept, and for how long. I didn't really trust them to safely or inexpensively store my stuff. Second, this idea also let me avoid using a storage facility in Boston, which was an option I had taken advantage of last summer that had turned out to be rather expensive and inconvenient. I was super lucky to live close enough to Boston that my dad could do this for me.

I was extra happy to pack all of my stuff up because it meant less mental effort in packing. I could just put everything in boxes. No need to partition items into "do I need this at home?" or "can I part with this for an indeterminate amount of time?" boxes. If there was ever a time where I needed mental space, it was then. Weeks of back-to-back midterms and psets didn't make me nearly as exhausted as a week of great uncertainty and loss.

My dad's final plan was pretty ideal: he would take the train up to Boston, Uber to the Penske rental truck facility, and then drive to my dorm. We'd load up the truck, drive home, and then return the truck to a different rental facility near our house.

I went to New House later that night to see Kidist. Things were vibrant; people were ignoring their psets so they could hang out in the halls and lounges and drink. Things were also very off. A normal social night in the dorms wouldn't involve hundreds of cardboard boxes. It wouldn't involve as many goodbyes. It wouldn't have this rushed sense of finality.
Before I left for the night, Kidist and I made more food-related plans for the next day.
Thursday, March 12
Forced Goodbyes
New cases in MA: 13
I spent the morning in group chats, finalizing plans for the day. The plan: a group of friends would go to Fogo de Chão, a Brazilian steakhouse in Boston.

(Are you noticing the red meat trend? I promise I normally eat a more normal amount of red meat.)

I made a reservation online. Around noon, I got ready and met up with Kidist and two other pals near Baker House to take an Uber into Boston.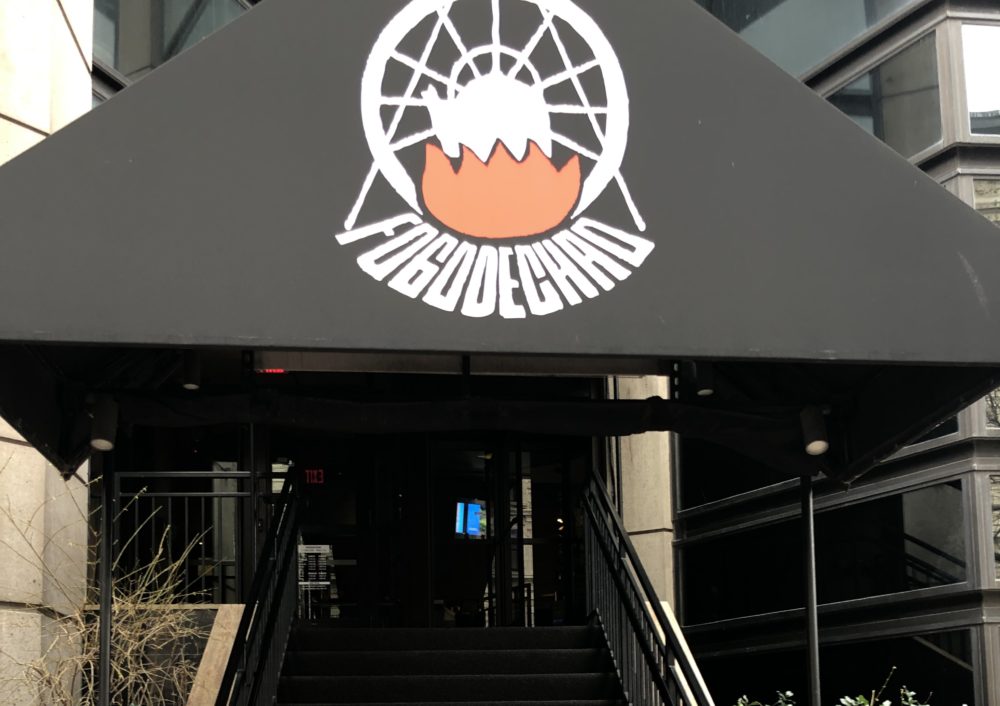 The food was pretty good. I think it would have been better if I didn't already have a lot of red meat the previous day. There was a buffet with vegetables, fruits, rice, and beans, and waiters roved around with big chunks of meat that they'd cut directly into your plate upon request. It was only my second time having Brazilian food and it's definitely a cuisine I want to have again.
When we finished the meal, the group split up. Kidist and I went to Primark in Downtown Crossing while the others headed back to campus to see a very last-minute performance of Shrek the Musical. It was my first time at Primark and I got really, really excited by the number of cute, inexpensive organizational products. We each bought a few makeup bags to help make packing smoother. I didn't buy these plastic organizers but they gave me good vibes, so I took a picture of them: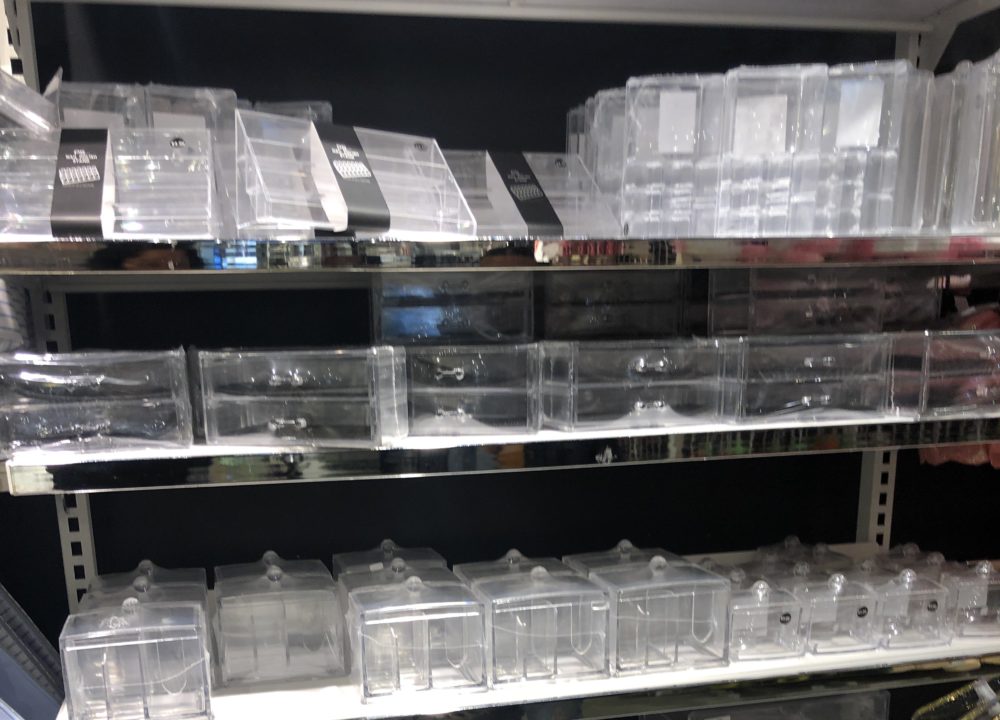 Then Kidist and I went to a nearby CVS. We walked by a shelf that was supposed to have hand-soap and Purell, and it was completely empty. There was a bright yellow poster saying that they were sold out of hand sanitizer and medical masks. It was not a promising sign. This was one of the moments that the pandemic became much more real to me.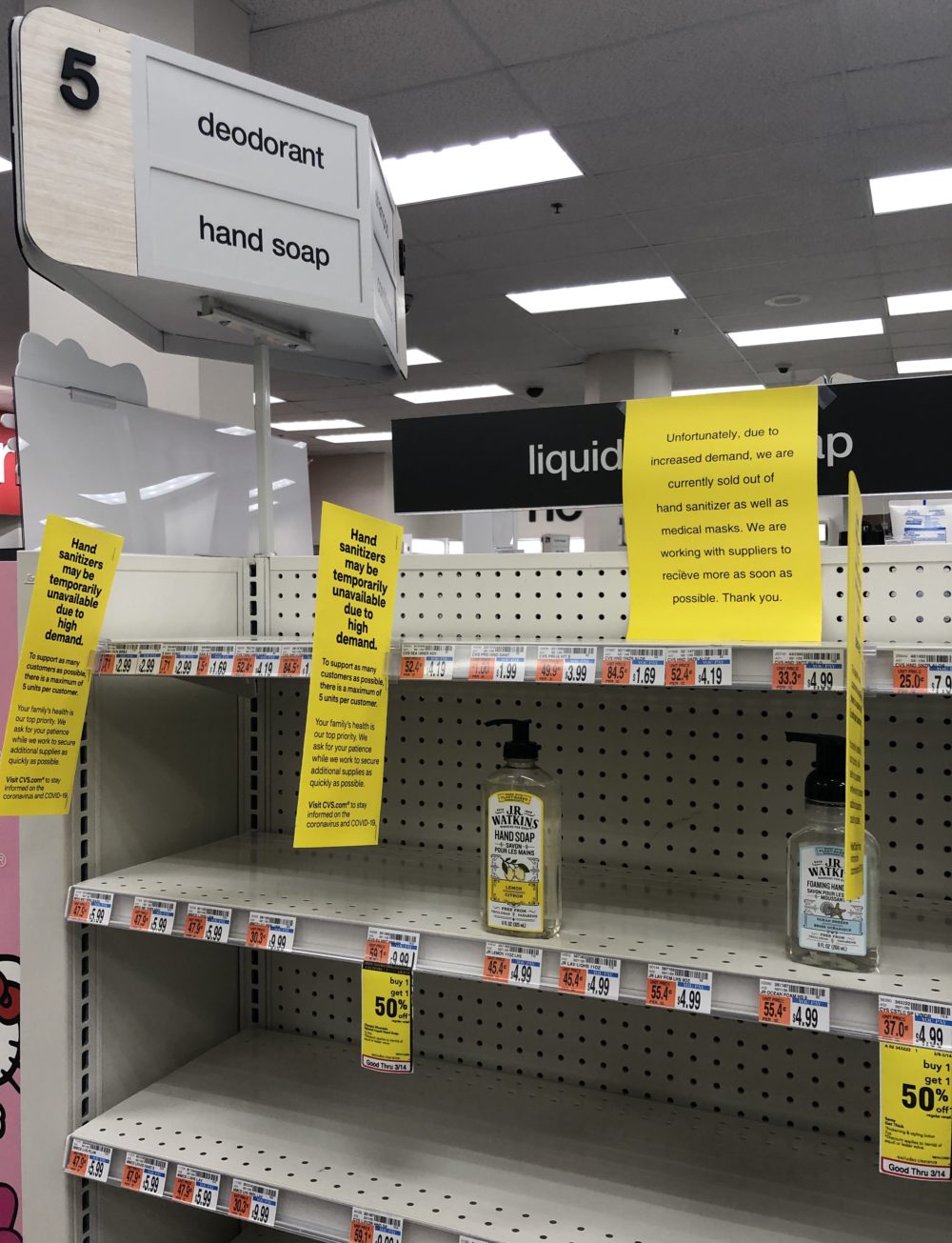 We went back to campus and split up. I got ready to say two painful goodbyes to some close friends. People's departure times were growing closer and I didn't want to wait until the last minute and potentially miss the chance to say goodbye. I went to see two of my best friends, Jessica L. '22 and Sophia Z. '22.

None of it feel real. When we said goodbye, I felt pretty numb. It was hard, maybe impossible, for me to feel sad when

every

single

thing

about the last few hours was sad. The feeling of impending loss and confusion had become the norm.

In the middle of saying goodbye to Jessica, my phone got an MIT Alert text. We had been told on March 10 (two days prior) that we needed to leave campus by Tuesday, March 17. The alert said "undergraduate move-out by Sunday" which sent the room into a panic. Was MIT really changing its plans and demanding that we move out even faster? Upon clicking on the link in the alert, we saw that leaving by Tuesday was still permissible, but MIT was pushing hard for people to be gone by Sunday.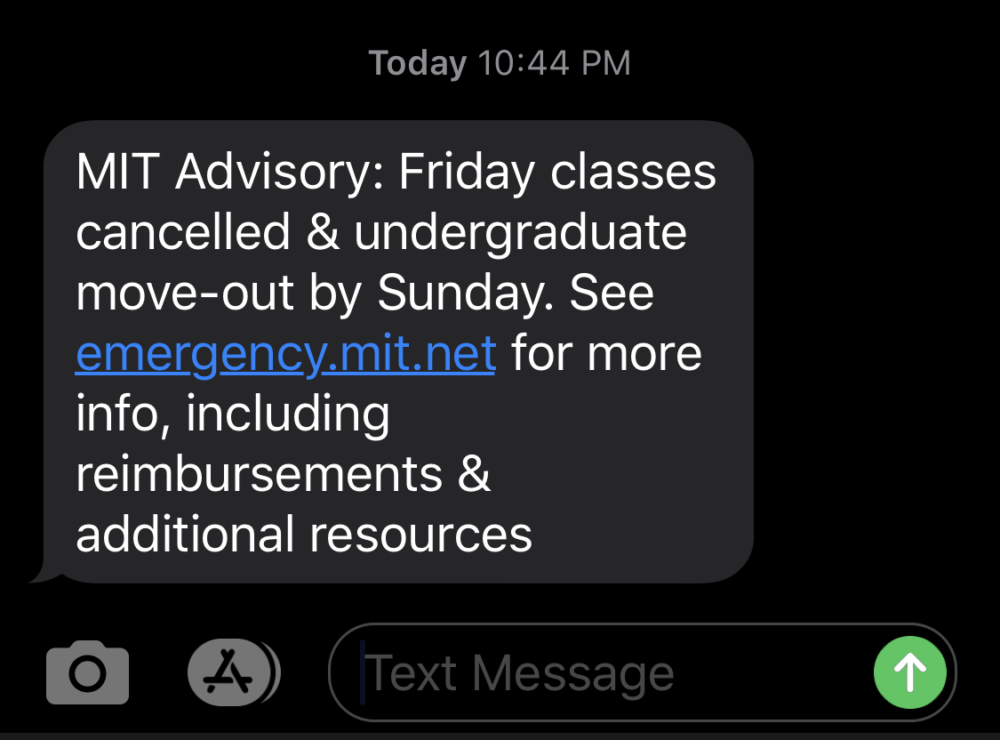 It was around this time that rumors started flying about a travel ban being put on Boston. All of these rumors turned out to be false, but at the time they made some sense – maybe an impending travel ban was why MIT was trying to get us to leave earlier. The rumors made me nervous about trying to leave Sunday, but I didn't change any of my departure plans.
Friday, March 13
The Packing Begins
New cases in MA: 15
I spent the first part of the day with my ex. We set to work on clearing out⁠07

eating

my remaining groceries. I made a massive stack of chocolate-chip and peanut butter pancakes for breakfast, along with way too many eggs. Later in the day, lunch was udon soup and dumplings (the frozen ones from H Mart). We watched season 4 of Rick and Morty and I remember thinking that I wish Rick was real so he could just solve the pandemic and everything could go back to normal.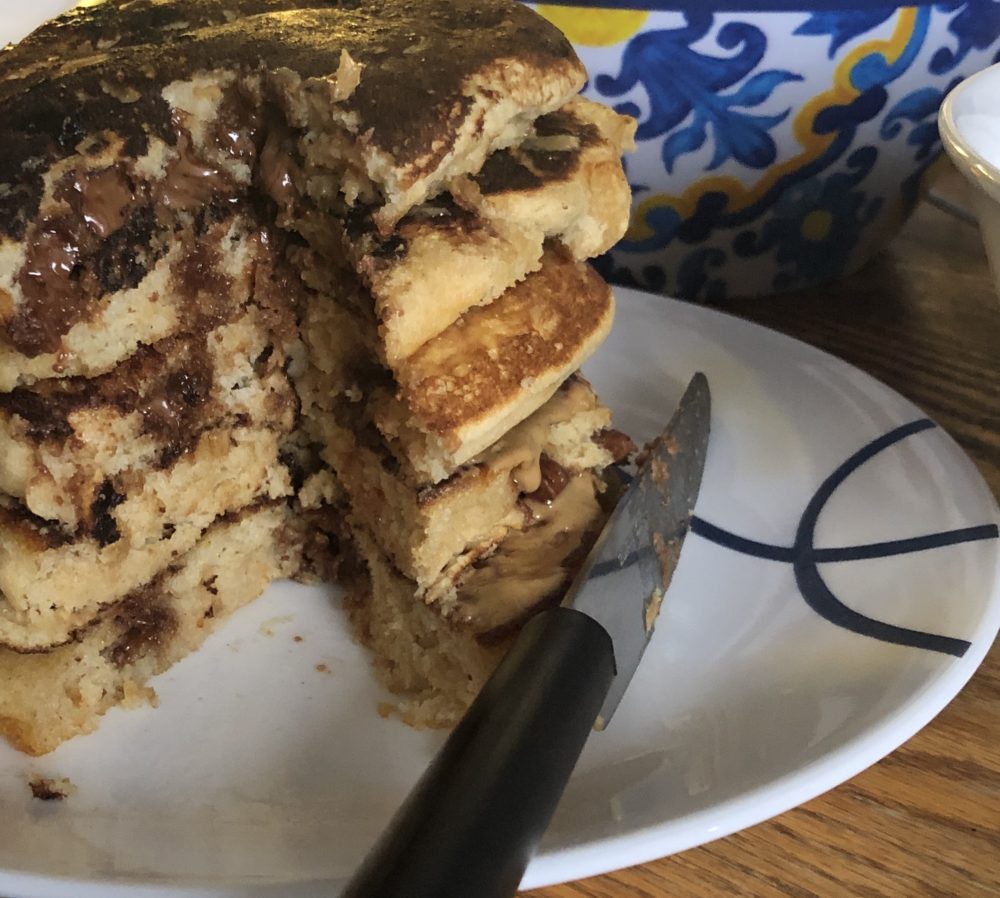 I spent the later part of the day starting to pack. I had saved all my cardboard boxes from last fall in the suite closet, so I got all of them out and set to work reconstructing them from their flattened state. For anyone who didn't save all their boxes, MacGregor was providing two boxes per person that could be picked up in the downstairs lobby. Despite having like 10 boxes on hand, I decided to pick up my allotted two boxes. When I went downstairs, I saw a Purell dispenser on the wall near the elevator. It had always been there, I think, but I'd never used it. Our campus had been invaded by fancy motion-detecting Purell stands in the last few weeks. This wall-mounted push-activated dispenser felt sort of retro. I didn't touch it, so I'm not sure if it had any Purell in it.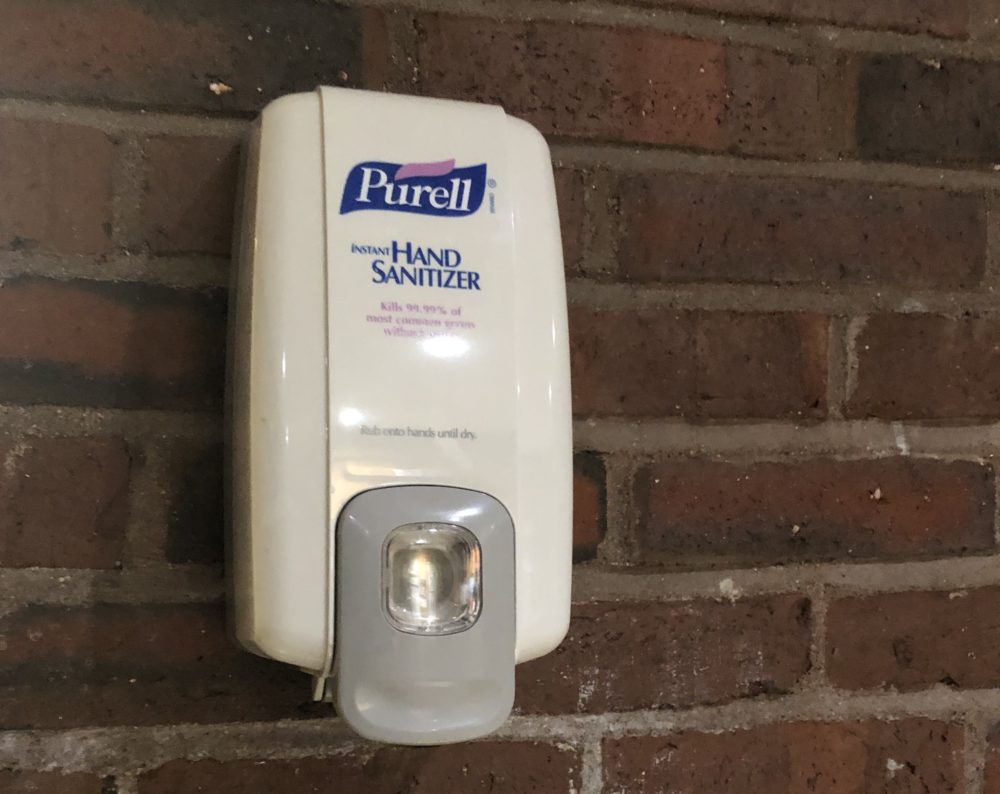 Packing went by slowly. With each box I filled, I moved it to the nearby suite lounge to clear out space inside my room. I kept remembering items I needed to bring home that weren't in my room, like my bike outside in the bike shed or the screwdriver I had lent my friend. I never did get the screwdriver back (maybe I will one day).
Around 11:40, just before Cafe 472 closed, I met up with Kidist and we ordered our last ever froyo of the semester.
Saturday, March 14
IHTFP
New cases in MA: 15
I spent the morning packing. With each box, the room I had so meticulously organized and decorated was disappearing. Last fall, I stole borrowed some extra (slightly broken) wall-mounted shelves from the basement of MacG. After emptying them I unmounted them from the wall and stashed them in the suite closet, hoping to reclaim them when I returned in the fall.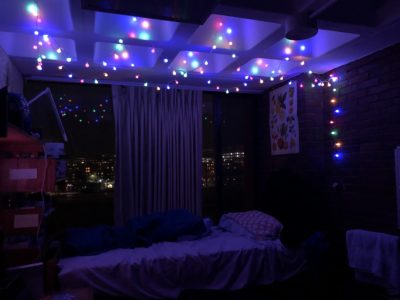 I, along with the vast majority of rising juniors, will not be returning this fall. It's odd looking back and remembering that I was counting on COVID-19 being over so quickly. Everyone was. When I said goodbye to some of my friends, we said things like "See you in the summer!" if we were both interning in New York (since then, all of our internships were virtualized or cancelled) or "definitely by next fall" if we weren't sure if a summer visit would be feasible. Now I just hope I see some friends before we graduate and move onto the next phase of our lives.
For my final extravagant apocalypse meal, Kidist and I went to Del Frisco's Double Eagle Steakhouse in the Prudential Center. It definitely stands as one of the fanciest restaurants I've been to. We both ordered steaks (oops, more red meat), and Kidist got a side of mashed potatoes while I got a side of lobster mac and cheese. It was so indulgent. It was amazing and definitely made my list of places to revisit.

After our meal, we were incredibly full and decided to walk around a bit. We went to the UPS store on Newbury Street so Kidist could get some foam to help with packing her mirror. The store was packed with people who looked our age, all probably from one of the dozens of schools in the area sending their students away. When it was finally our turn in line, we found out that there wasn't any foam left, so Kidist bought some neon pink bubble wrap instead. We popped a bunch of the bubbles.
We made a stop on Beacon Street to share some Del Frisco's leftovers with my ex. We got tertiary confirmation that the food was very good.
Finally, we went to Amorino before we headed back to campus. It's a place which makes gelato but the "cherry on top" is how they style it to make it look like flower petals. You can also get literal cherries on top. Kidist and I spent way too long debating flavors, but I don't think we could have made a bad flavor choice there, honestly.
Once back on campus, I once again felt IHTFP, an acronym used often at MIT that can take on infinite meanings. This time, it was "I Have To Finish Packing" (not my invention).

I spent all night packing and finished putting away everything except the things I wanted to use one last time before leaving: a blender, my toothbrush, and my phone.
At some point in the night, the trackpad on Kidist's laptop stopped working and I went over with a tiny screwdriver to try to figure it out. The tiny screwdriver did not work on the even-tinier laptop screws. Finally we used Siri to turn on voice commands and then used it to turn on tap-to-click, which did work. It was a whole ordeal because we kept messing up the order in which we said the commands before we finally got the right settings turned on. But it worked!
It was at this point that Kidist and I said our goodbyes. It was so sad. She was someone I had just met my sophomore year and our friendship was (and is) so special to me. It was weird to think that we were about to go six months (again, back then we assumed we'd be back in the fall) without seeing each other – that was pretty much as long as we'd known each other.
I headed back into Boston around 1AM to help my ex finishing packing. We both had to leave early on Sunday, so the last-minute team effort was helpful. It was a lot harder for him to pack because he was going to take the Amtrak home. Everything needed to be sorted into "can this be stored" or "do I need this at home" categories and packed super efficiently for long-term storage or for travel. We then went back to MacGregor and my ex helped me put all of my suite's remaining communal kitchen items into boxes.
Sunday, March 15
Departure
New cases in MA: 26
My living group used some of its suddenly-useless budget to order everyone food. I got a bowl of rice and chicken from The Halal Guys. I ate a bit of it, but mostly saved it so I could share it with my dad once he arrived to my dorm. I sat around talking with my GRA and the few students in living group who hadn't left yet. It was a warm day and the sun streamed into the lounge in a very pretty way. It's sad knowing that these sorts of gatherings in communal spaces won't be permitted again in the dorms for a long time.
My dad texted me updates as he made his way to Boston from New York. Finally, he pulled up outside MacGregor in a rented yellow Penske truck. We borrowed one of the big carts available in the lobby and started the process of moving my things out of the dorm and into the trailer. The cycle we repeated around five times was to take the elevator up to the fifth floor, grab boxes from the suite's lounge, load as many as could fit into the cart, take the elevator back downstairs, roll the cart to the truck, and then unload each box into the trailer.

When we were almost done, the truck felt too big. The bottom of the trailer was covered in boxes, but the vertical space was hardly used. I guess it's better to have too much space in this situation than too little.
It was at this point that we took a break for some food. I gave my dad the meal I had ordered earlier and we used my blender to make smoothies using a few frozen strawberries I still had in the freezer.

Before leaving, I picked up my bike from the bike shed, locked my door, and returned my key to the front desk. As I left MacGregor House, the door felt heavier than usual.
I stepped up into the passenger seat of the truck and my dad started driving. I fell asleep almost immediately. When I woke up, I wasn't in Cambridge anymore.
Final Thoughts
Leaving campus broke my heart. Since I arrived in Cambridge my freshman year, I haven't lived outside of Massachusetts for more than two weeks at a time. I love and miss my life in Cambridge. I miss every cafe on Mass Ave and every pothole on dorm row. I miss watching the city lights reflect off the Charles River at night. I miss all of my friends and all of the students I haven't had the chance to meet yet.
I can't help but wonder what a normal sophomore spring would have looked like. What would ring delivery have been like? How would it have felt to get to watch my friends in the Class of 2020 graduate? What would this semester's DanceTroupe performance have felt like? What would the spring menu at Flour have on it? I'll never know. I don't want to spend more time missing out on memories that should be part of my college experience. I'm taking a Leave of Absence for the next academic year for a variety of reasons, but especially so that I have more time to make memories when I finally return and things are hopefully closer to normal. But more on that in a future post.