three days ago, after i finished squeezing all my summer clothes and important possessions into a suitcase weighing a little over 50 pounds, a stuffed backpack, and a very stuffed guitar case, i hopped on a 6 hour flight to los angeles to start my internship at PlayStation's Santa Monica Studio on the God of War team.⁠01 dope, right??? i get so many discounts woooo after dropping all of my stuff at my (nicer than expected) Airbnb, i spent an afternoon and the next day wandering around LA
completing various errands ⁠02 groceries, getting a bus card, etc. . i've never been to LA, so i formed a lot of first impressions, both good and bad. here they are:
this city was not made for walking >:( i'm used to walking almost everywhere in boston, but in the past few day i've missed an uber because i couldn't find a crosswalk to go over to where it was waiting, and had to backtrack to cross the street because the sidewalk ended on the side i had been on initially. this doesn't mean that the city was made for driving either – the bus system is pretty good from what i've seen. there are very few pedestrians as well, so walking on the streets is kind of lonely.
the roads are so wide. wish the sidewalks were wider :P
people drive so fast?? i'm actually too afraid to jaywalk, which sucks, because there are only crosswalks at the traffic lights, which are all very far apart
there are no trees and the sky is so big. i've lived in new england for the vast majority of my life, and i'm used to seeing real trees blocking out most of the skyline, not some scraggly palm trees on the side of the road. seeing so much sky makes me uncomfortable in unquantifiable ways – i feel exposed, and sort of like a giant eagle could drop out of the sky and grab me at any moment
there are so many pink houses!! they're so cute. some of the spanish style architecture here is really aesthetic.
the weather is so lovely. i wish everywhere was like this. it's not too hot yet and there always seems to be a nice breeze coming from somewhere.
i love being so close to the beach!! i never go to the beach and barely ever put on a swimsuit. but now, the beach is 2 miles from my work and i'm planning to go with other interns this week :)
i started work yesterday and i think i'm going to have a great summer :) PlayStation is spoiling us and has lots of fun things planned for us, and i'm also super pumped to be working with the
God of War team ⁠03 even though i only started playing the game yesterday, whoops because they're
among the best in the industry ⁠04 lowkey the best in the industry at the moment and i'm excited to learn from them :)
i haven't explored downtown LA at all yet, but i'm particularly excited for Little Tokyo because of course i am. i'm also going to this year's LA pride parade with other MIT friends and
will be attending E3 2019 with the God of War team ⁠05 !!! we get an entire day off for it too , which is super exciting since i've wanted to go to E3 for about 5 years now :)
in short, lots of fun things planned for the summer! i'll try to keep blogging about it.
here's a photodump of the very few pictures i've taken near where i work and live, and a couple of pictures of the few things i'm allowed to take pictures of at Santa Monica Studios :P
the road that i work on has tons of these cute pink apartments

my workplace, the reserve! it's a big gated complex with a microsoft office, a verizon office, and of course a playstation office :)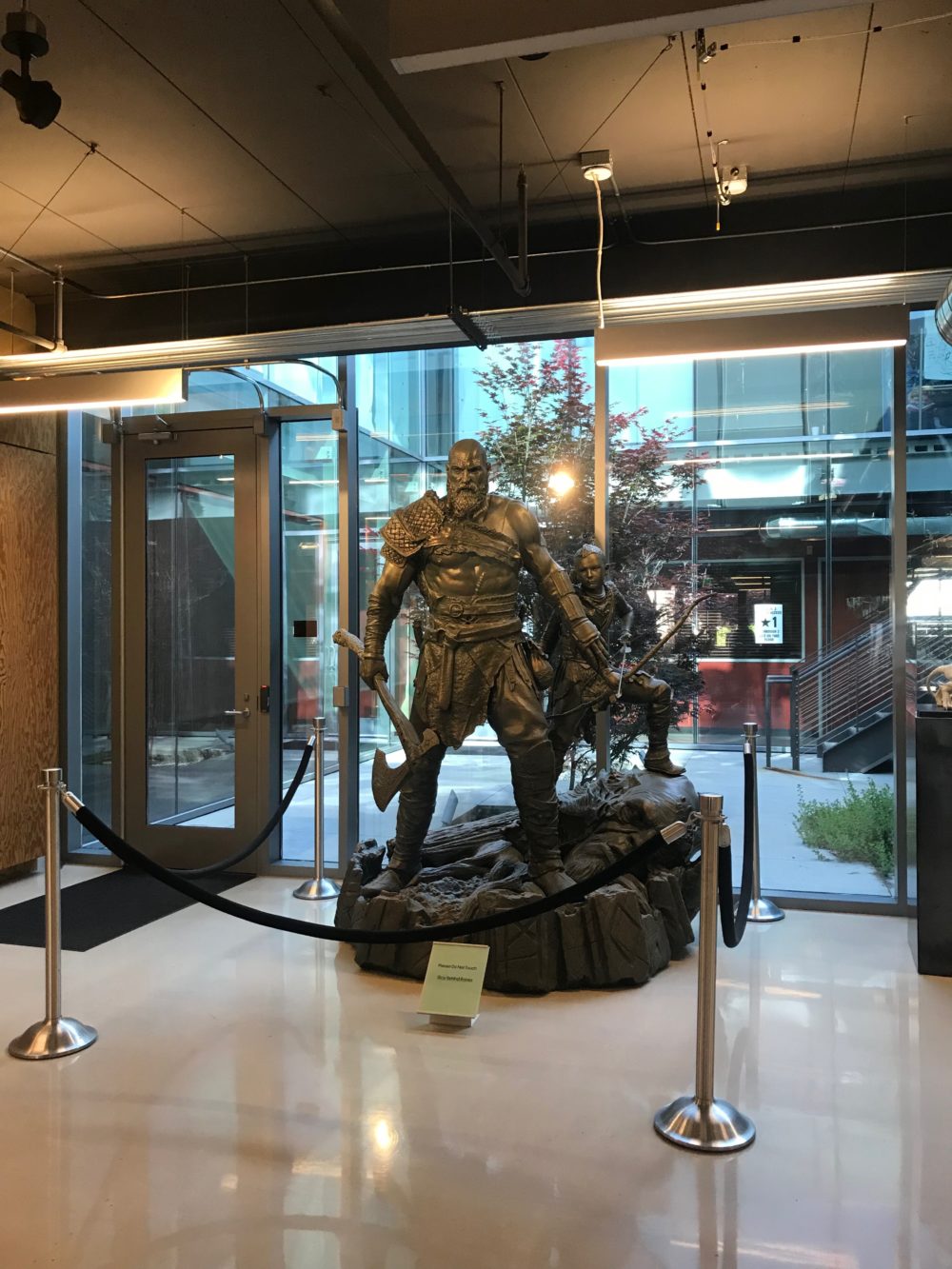 all the swag i received on my first day!! not pictured: a brand new dualshock controller, three very nice shirts (one of which is a dev team shirt!!!), and ALL THE EMPLOYEE DISCOUNTS I GET ON SONY PRODUCTS