Sorry to have been ignoring my poor blog, folks!
Here's my excuse…
Thursday 12/1: The day I'd set aside to catch up on email, blogging, work, etc. before heading into selection. Instead I read late-arrival apps all day with MadMatt and Nance Nance Revolution to make sure we're ready for committee. That night I edit 50 pages of copy for the new viewbook in preparation for a meeting the next morning.
(Lunch: Mass Ave food truck.)
Friday 12/2: Viewbook copy meetings all morning. Afternoon: selection begins! 3098 applications, up ~10% from last year. Doing the math, it's easy to see that the admit rate will drop this year. This makes committee even more difficult, but doesn't change the fact that it's still enormously rewarding.
After we all gather around the table, Marilee offers some words to inspire us, which are really powerful to me so I write them down. She says: "MIT is not just a university – it's a concept, an ideal. The group we admit in the next few days is going to change civilization. And that's not an exaggeration."
There's a bit of silence as we all digest the words. And then the first folders hit the table, and we begin another year on our quest to make the world better.
(Lunch: Mass Ave food truck again.)
Saturday 12/3: We begin around 9AM and pick up where we'd left off the night before. The process: grab a folder, read the summary, consider the numbers, look at the short answers, ECA's, etc. Debate the case until the group comes to a unanimous decision. If one can't be reached, the folder goes back on the pile. Repeat. Repeat. Repeat.
Playing over and over in my head like a broken record: "deferred is not rejected." It's the only way to keep from getting sad about some folks I really want here. Anthony captures a stunning picture of me and MadMatt towards the end of the day.
The sun has been down for while by the time a bunch of us head over to The Miracle of Science to decompress for a bit. MIT is not discussed.
(Lunch: Indian food, delivered.)
Sunday 12/4: I wake up to a snowstorm. The roads have not been plowed nor salted. I slide all over Route 2 on my way in to MIT. On the way I pick up Nance Nance Revolution who looks tired. We're in the committee room by 8:30. It snows all day. MadMatt takes a picture of President Hockfield. Towards the end of the day, someone notices that there are no buckets on the table, which means the last of the folders have been distributed to the teams. We're almost there.
At the end of the day we count. I can't give you details (so don't ask!) but suffiice it to say that we have hundreds more than we can actually admit EA. The same thing happens every year. I tell you this so you'll know that I'm really not lying when I say "if you don't get in it's likely an issue of space." Tomorrow's a new day.
(Lunch: Mexican food, delivered.)
Monday 12/5: We start again. There is blood. There are tears. The committee room looks like a war zone. It smells like Doritos and day-old takeout.
But there is some serious love happening as well.
One of the things I like most about selection is the way our team comes together into a single shimmering organism, with direction and purpose and clarity. I love the way we balance each other; the way the process is designed to bring our individual strengths together. I know from reading your applications that most of you understand how it feels to really be part of something truly magical. This is sortof like that.
At the end of the day we've finished with the big committee.
(Lunch: Pizza. This concludes our five days af artery poisoning.)
A lot of stuff will happen this week, so no decision is set in stone. Decisions will be reviewed by various subcommittees, and finally Marilee will go over each admit to give her final stamp of approval. Depending on a variety of factors, we will mail sometime between Friday and Monday. If all goes well, it will be Friday. I'll keep you posted.
I hope you all are doing well, and I'm hoping to finish my Q&A post in the next day or two. Until then, keep rocking hard. It's the only way to rock.
-B
P.S. Nance Nance Revolution & me at the end of Monday: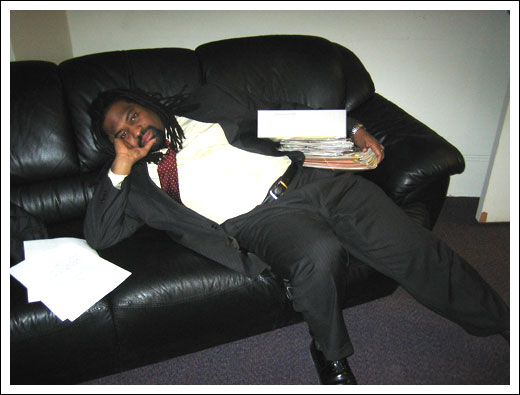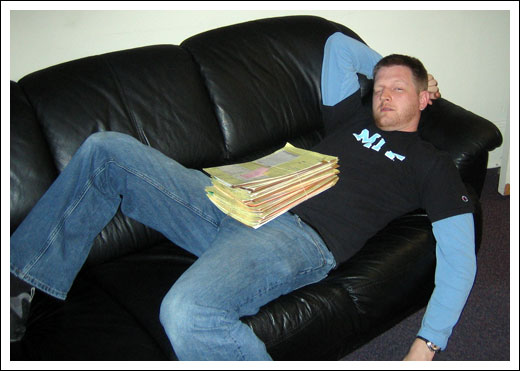 92 responses to "From The Midst Of Selection"