Pan-Fried Chicken with Rice and Vegetables
3 chicken legs
Rice (basmati or jasmine works pretty well)
Carrots, snow peas (or assorted vegetables)
Garlic and onion for saute
Oil (for saute and pan-frying the chicken)
Cumin
Pepper
1. Coat chicken legs with cumin and black pepper (add garlic powder if desired).
2. Chop garlic, onion, and carrots. Wash snow peas.
3. Heat skillet, and add oil once heated.
4. Shake off excess cumin and pepper, and place chicken legs, skin down, on the oil to pan-fry.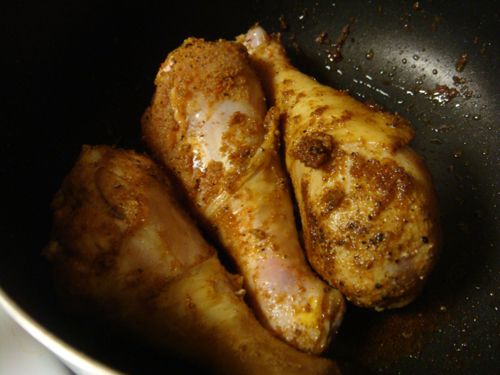 5. Once chicken skin begins to change color/aroma begins to develop, add garlic and onion to the skillet to fry along with the chicken.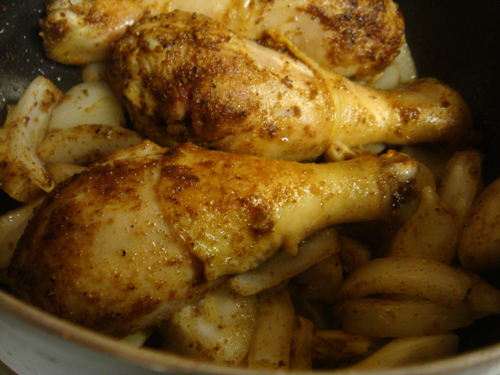 6. When the onion begins to take on a golden shade, add water to the skillet so that the chicken legs are 3/4 submerged in the water.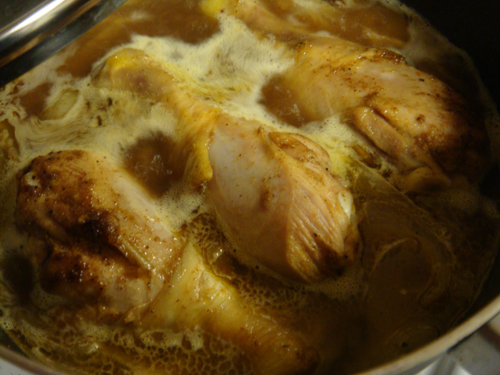 7. Place lid on skillet, and allow to steam until almost all the water has evaporated (10-20 minutes).
8. While the chicken is cooking, begin preparing rice.
9. Wash rice once or twice with cold water, and add 1.5 to 2 times as much water as there is rice.
10. Place rice on stove at high heat (uncovered) until the water boils.
11. Once the water boils, immediately reduce heat to "simmer," and cover the pan.
12. Allow the water to evaporate until you begin to see crater-like indentations in your rice about the size of half a penny. Once you see this and determined that most of the water had evaporated, take the rice off the stove.
13. Continue to steam the rice off the stove, with the lid on for ~15 to 20 minutes. After this, take the lid off and fluff up the rice.
14. Sometime during the steaming process, the chicken should be ready. You should see the chicken and a condensed "sauce" at the bottom of the skillet. Remove the chicken and place on freshly steamed rice (when the rice is ready). Be careful not to leave the chicken on the stove too long as the sauce can easily burn once there's no more water left.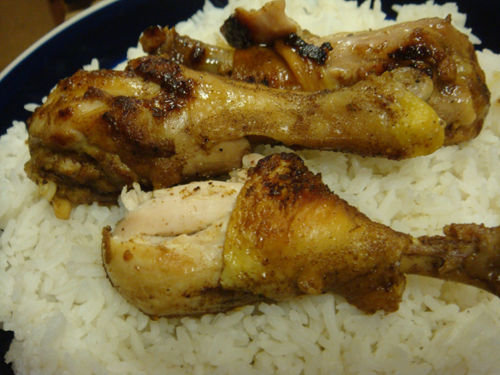 15. After you've taken out the chicken, you can use the remaining sauce to stir-fry the vegetables that you've prepared. (if the sauce is too salty from the cumin you can either use a portion of the sauce and add water or just boil/stir-fry the vegetables without sauce). It may help to place the carrots in boiling water for a couple minutes before stir-frying, as it helps to cook faster. Don't add the snow peas in too early as it only really takes ~1 minute to finish stir-frying it if your skillet is hot enough.
16. Serve with chicken, rice, and vegetables :)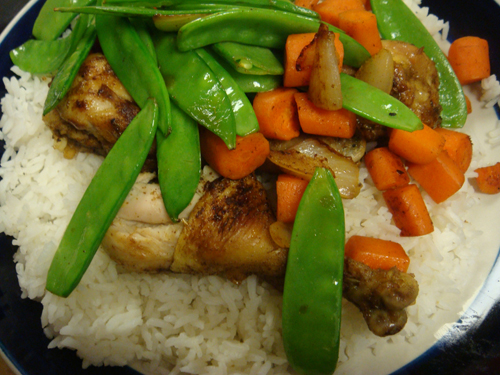 —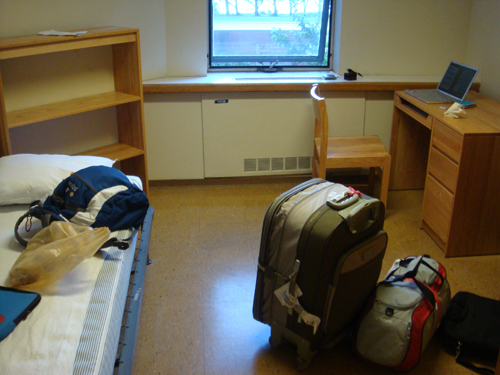 It's 6:45 AM, and I've spent all of last night packing up the room and my last day enjoying Boston (which is amazingly gorgeous right now, albeit actually HOT (?!?! it was 90 degrees out)). My 24-hour journey back to Taiwan begins at 9:30 AM and I'm heading off to Logan in about 30 minutes.
This semester was the most intense semester I had (and coincidentally, also with the worst grades – if you discount frosh first semester). This probably explains my absence from substantive entries and my random blog outbursts during finals week. =p I've learned that I'm okay at biology, but yes, it does suck to be a premed at MIT (mainly because of the grading scale, unless you are just really really smart and can stay on top of it =p). I know I complain a lot on the blogs (especially orgo =p), so here's an apology to all of you that were like "PSSSH PREMEDS." Trust me, I don't like the premed mindset either – but you gotta do what you gotta do. Maybe I'll get around to writing about my semester once I'm back in sunny Taiwan and has caught up on sleep (I probably have about a 75-hour deficit at this point ><").
So, my friends, I leave Cambridge with this. If you don't like HSM, too bad. ^___^V
11 responses to "Going Home"