To celebrate the spirit of All Hallow's Eve, MIT hackers left a special treat (or perhaps a trick) near the Great Dome.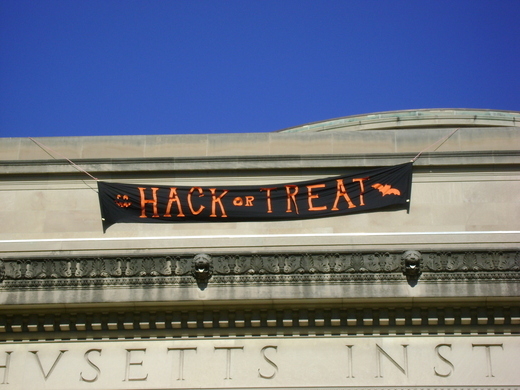 I saw the hack this morning on my way to class and it absolutely made my day – although, sadly, it had made like a ghost and vanished by early afternoon.
Elsewhere on campus, the Halloween fervor was in full swing as students (and administrators) dressed up. Walking around campus, I spotted a member of the USS Enterprise, Dr. Horrible, Captain Hammer, a lambda function, some nuns, Hugh Hefner, Sarah Palin, two girls dressed as DNA, the Seven Deadly Sins, the Fanta Girls, Grimmjow from the Bleach manga, a butterfly, that and more.
For my own part, I dressed up as an absolutely ridiculous Renaissance duke, complete with the long coat and feathered cap – I will post some photos later.
Happy Halloween, everybody! And good luck finishing up your applications.
22 responses to "Hack or Treat"