Last week, I promised you guys an update with photos of my Halloween costume. So, here I am as a duke: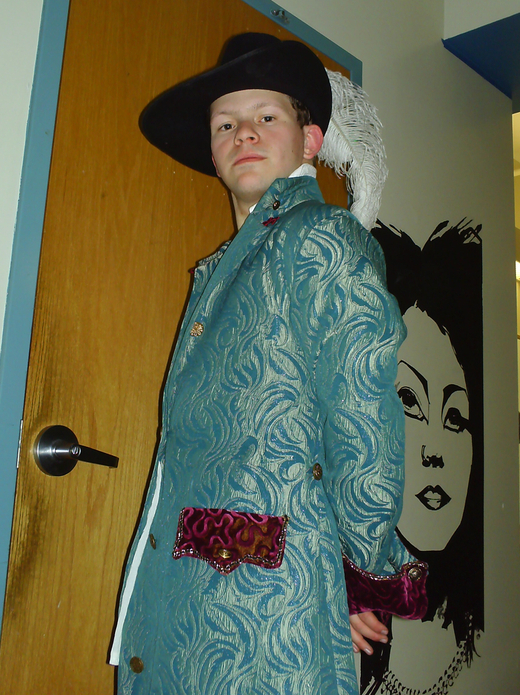 Note the plume in my hat. Hats with plumes make everything cooler.
This particular photo was taken by some of my friends in Senior Haus. Note the mural of Death (from Neil Gaiman's Sandman) in the background, which is one of my favorites, out of all the many murals on campus. :)
I'd also like to give a quick shout out to Anna '11, who loaned me most of the costume, including the marvelous coat – which she made completely by herself! When she's not busy being a physics major, Anna spends quite a bit of her time working with the various theater groups and classes here at MIT. She made this very coat as part of a Costume Design for Theater class she took last semester, and I have to say her efforts paid off many times over!
At this point, you may be wondering why, exactly, I chose to dress up as a Renaissance duke, especially when there are other, more MIT-specific costumes available to choose from. Well, to be honest, I was actually using my costume to kill two birds with one stone. I'm a member of the MIT Assassins' Guild, which was holding one of its many live-action roleplaying games over Halloween weekend. I had been cast as Duke Barras, one of the four lords of Carbuncle – a mythical and mystical city set in the apocalyptic world of Gaia – so it made sense to use the Renaissance as my primary costuming inspiration.
Of course, costuming isn't strictly required for Guild games – but it's a lot more fun to be debating political issues with the other nobles when you're sweeping around from place to place with a fancy coat. At least, that's my opinion. :)
For more Halloween photos, check out this gallery, put together by the 2011 Class Council. What's your favorite costume out of this bunch?
15 responses to "Halloween, Part 2"