How NOT to be a MIT Student (aka. my daily dose of stupidity)
*sets alarm for 11:20 AM*
11:58 AM: *wakes up, peers at clock*
*falls back asleep*
[one second later, confused]
*peers at clock again*
*clock says 11:58 AM*
"AH CRAPPPP. NOT AGAIN!"
*throws TI-89 calculator into pocket and runs out the door*
*begins epic journey on bike across campus (~1.5 miles), cues Mission Impossible theme*
12:04 PM: Arrives in Chemistry exam, completely out of breath
*TA passes an exam along*
*gets mad at self not for not studying, but managing to oversleep and forfeit 5 minutes of the precious 60 minute exam time*
Yeah. That's me. My life consists of running from place to place. I'm dead serious.
—
Happy May! Yay. It's the final month of school! Somehow, I can't believe this year is coming to an end. It seemed like only yesterday when I stood in front of Lobby 7 with my pile of freshly-printed 18.02 notes, oblivious to exams, psets, Mastering Phys–okay, I'll spare you the diatribe.
May 1 – as Matt pointed out, is National Reply Date.
It had been a pleasure sharing what I know to those who I had the opportunity to meet through email, through the blogs, at CPW, on Facebook…etc., and as you make your final decisions, good luck and best wishes to your final choice. Like what Paul said, there are no wrong choices – only good choices, and better ones. I can't put it more beautifully myself.


It's been awhile now, but it really doesn't seem that far away from yesterday.
Now, I just want to fill in the gaps of some of the stuff that I semi-blogged about.
As you may recall: This entry WAYYY back with all the weird pictures? (heck, it's been over a month!)
Well, here it is: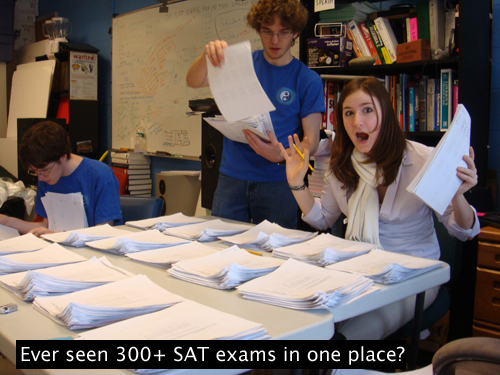 Starting from pretty much the first couple of weeks I set foot on campus, I've been involved with the SAT Preparation Program organized by MIT's Educational Studies Program (ESP for short). ESP is a student "club" at MIT that seeks to provide educational opportunities for high school and middle school students through the programs that it runs (there are around a dozen). For example, the most famous ESP program perhaps is Splash! – two days during the fall when high school students may teach a class on ANYTHING to their students. A sampling of classes in this year's Splash listing included "Ramencraft" ("the art of ramen noodle structure"), "Card Throwing," "How to Grow Hair," "Introductory Dark Chocolate Tasting"…just for starters. The best part about Splash (and really, everything that ESP does) is that given the diverse interests and talents of the MIT student body, ESP provides an outlet (and even up to $30 to purchase supplies for Splash) to do whatever, and quite literally, ANYTHING you want!
It just so happened that during high school, I actually ran an SAT Prep program (think Princeton Review-style) for around 40 upperclassmen during my last few months in high school. It started out as a fund-raiser for a mission/community service trip to the Philippines in April of my senior year, but the more I got into it, I realized I really enjoyed teaching SAT (probably it was an opportunity to finally "get back" at ETS for all the hours it took me to master the "tricks" of the exam).
Coming to MIT, I was surprised to find fliers in the hallways advertising for SAT Prep teachers, and I quickly signed up to be a teacher. Throughout the fall semester, I taught SAT Prep Verbal to around 60 or 70 students. It was actually a really fun experience – I got to know my students quite well over the semester and was very happy when their practice scores improved visibly. When first semester ended, I took upon administrative positions and became an Assistant Director to the program (basically means dealing with student registration, paying the teachers, answering irate emails from parents..etc.).
Last Sunday was our last session of SAT Prep Spring 2008 (oh yeah – SAT Prep happens on Sundays), and although it's nice finally getting my Sundays back again – it's been quite a journey, from getting the 18 teachers (6 for each subject), meeting the 300+ students (and grading/sorting their exams! – see above, it was epic), and answering too many emails to count (my "Sent" folder on Thunderbird exploded exponentially after I took on SAT Prep directing).
Next year I will serve SAT Prep again, as director. I will definitely continue to be involved in Splash, as well as Spark (it's basically the same as Splash, but happens in the spring semester. This year was the "test run") – I teach classes in Money Collecting (otherwise known as Numismatics – the study of monetary goods) and College Admissions (during the fall), heh. =p
Definitely check ESP out when you're on campus! You'll be surprised at how much you can learn even when you're teaching other people =D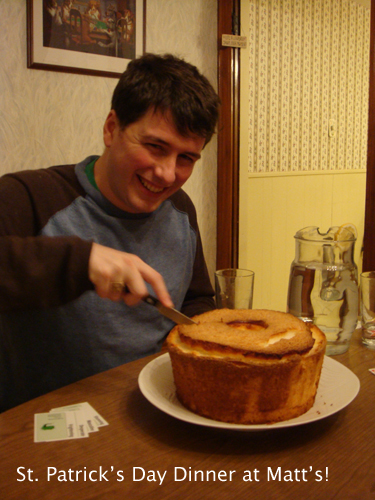 I may have mentioned this sporadically through my blogs, but Matt is actually my freshman adviser.
Here's the deal with freshmen advisers:
Once you arrive for fall term, you'll be assigned a freshman adviser who you would be required to meet with to register for your classes. As the name implies, the freshmen adviser is there to "advise" on what courses you should be taking during your freshman year (as to the extent that the adviser does his/her job properly varies quite a lot from adviser to adviser). In addition, the adviser has access to funds to take his/her advising group out to dinner or other activities (with the help of the assistant adviser – an older MIT student). Since Matt was an awesome adviser, he took our advising group out to dinner (and ICE CREAM!) several times (by the way, every one in my advising group had gone to school abroad – Malaysia, Indonesia, and Vietnam – for example).
Although I switched to my major adviser after declaring sophomore standing after IAP, Matt nonetheless invited all of us to his house for a "St. Patrick's Day Dinner." After a delicious dinner prepared by Mrs. McGann, we sat down to play Apples to Apples and enjoy the super big, fluffy angel food cake that she also made.
I thought this was amusing: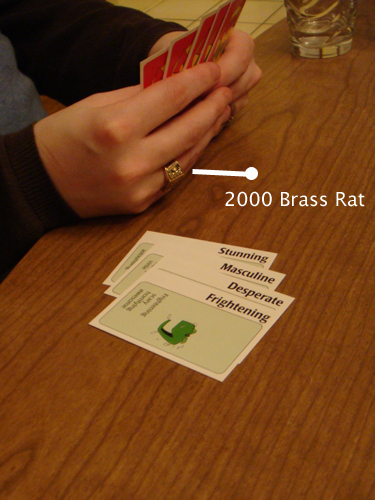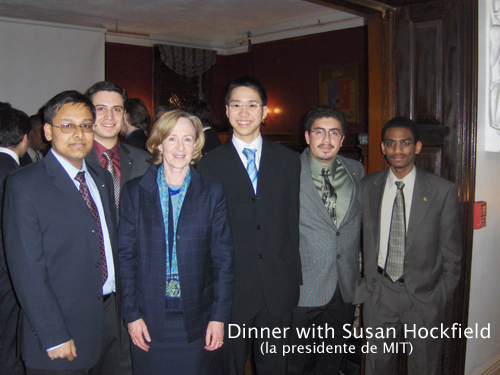 Around the same time, the brothers of Sigma Phi Epsilon invited Susan Hockfield over for dinner. Over a classy dinner at the fraternity house, we discussed everything from the vision of MIT, the state of the Institute, even about iHouse (the "living-learning community" dorm) that I'm living in. It was definitely nice to hear from the President of MIT, as it provides an administrative view of the Institute (we're often only caught up in finishing psets, completing exams, and getting a degree). It was a very informative as well as a rewarding dinner – and I hear that President Hockfield doesn't often frequent fraternity houses for dinners, so it was definitely a privilege for all of us (and an unique opportunity that came about through joining a fraternity).
In awhile (when moving to and living at MIT becomes more of a reality for you), I want to write briefly about what it's like to be in a fraternity as well as a small dorm community at the same time.
As you may know, I live in a very specialized dorm with only 21 people (iHouse), but I also belong to a special type of fraternity (Sigma Phi Epsilon – one of the only two fraternities at MIT who does not practice "pledging" (the other is Zeta Beta Tau)). I don't want to go into too much detail here, because it's a whole new entry, but it's definitely interesting to be part of two close-knit communities at once – and a very rewarding journey it was this year.
Fraternal (or sorority) life and dorm life are two balances that freshmen who "go Greek" (join a fraternity or a sorority) have to juggle – but I feel like it's definitely possible to be actively involved in both at once, and I talk about this more at length later :)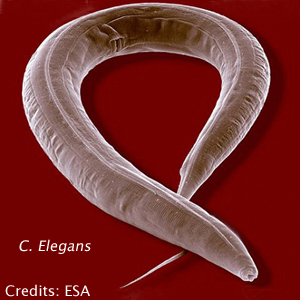 As some commenters pointed out (I'm impressed!), this is indeed Caenorhabditis elegans, a microscopic nematode that gained fame after it survived the space shuttle Columbia disaster. It's also the subject of my UROP, a study in innate immunity of Caenorhabditis elegans. Basically, through RNAi (RNA interference) processes, we seek to investigate the relationships of different proteins and mutations in the immunity of C. elegans. After we identify genes of interest, we can study the specific protein kinase pathways in the immunity of C. elegans and gain a better understanding of its function and applicability to other organisms, such as human beings.
I'll actually be at MIT during July and continuing into August working further on my research, and I hope to show you in greater detail (with pictures and maybe video!) what my work entails.
Doing an UROP at MIT is definitely exciting (and even very monetarily rewarding sometimes – my UROP this summer is paying for my summer housing, with excess for spending money), and it's one of the unparalleled aspects of undergraduate education nation-wide, in my opinion. It's also part of the reason that attracted me to MIT. Even now, with friends in HYPMSC and other Ivy League schools, I find it hard-pressed to find a program that resembles UROP to the extent that exists at MIT. Even undergraduate freshman can venture into fields that are the subject of current research, supplementing their classroom knowledge with practical experience – what else can you ask for?
In case you're wondering about the other stuff: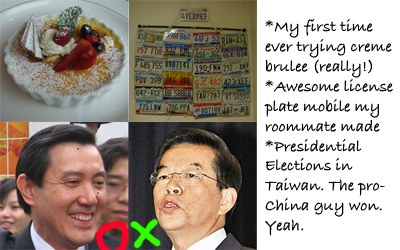 And finally!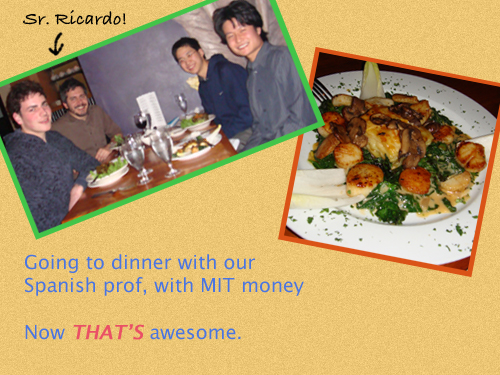 Weeee. Now you know why I can't wake up for my classes. =p
12 responses to "Happy May!"