In case you haven't realized it yet, I'm going to let you guys all in on a secret: MIT Admissions loves you.
No, really. I know the L-word gets thrown around a lot these days, which I think is sort of sad, since in the long run that only degrades the full impact and true value of what used to be (and in some ways, still is) a very powerful word. But I see the entire admissions process, all the way from finalizing decisions to these very blogs, as – quite simply – a labor of love. Everyone in the Admissions Office, from all the admissions officers to the financial aid wizards to the educational counselors to even Stu himself, could have chosen a different career path – but they didn't. Instead, they dedicate the full measure of their time, passion, and energies to admitting the best students they can, to making CPW such an amazing experience, to dreaming up MyMIT and the blogs, and to everything else that goes on behind the scenes.
I don't know about you…but at least to me, that says a lot.
To switch gears slightly, I applied to MIT in the regular action cycle – so unfortunately, I missed out on some of the cool traditions that the Admissions Department has cooked up for its Early Action admits. If I had known about The Tube beforehand, maybe I would have applied to MIT early, but c'est la vie – it all worked out in the end. And as an added benefit, now I get to experience these same traditions from the other side, as a blogger!
In addition to The Tubes, MIT also sends the Early Action admits a couple other fun treats between December and May, when the big mailing to all matriculated students goes out (including such goodies as how to get your MIT email address and lots of information about MIT's eleven dorms). One of these treats is a snowflake-shaped holiday card, with a message about how MIT students are all unique, just like snowflakes. (It's not only cute, it's true!)
The other gift, arriving in mailboxes across the nation just in time for everyone to celebrate today's excuse for the industry to make lots of money selling chocolate, roses, and other gifts –
*cough* Did I just say that? Sorry, must have slipped out. I'm not that much of a cynic in real life, promise…
Anyway. The other gift, as you can probably guess by now, was a Valentine's Day card, signed by all the bloggers and complete with both a molecular diagram of chocolate and one of the most hilarious love poems ever written. Corny? Maybe. Ridiculous? Slightly. 100% MIT? Definitely.
After spending about two hours signing cards, I resolved to blog about this unique aspect of the MIT admissions process, since I think MIT would send Valentine's Day cards to all its admitted students, if they only knew who they were yet. (On that note, if you're an RA applicant and stressing out about college – don't panic. I know nothing I can say will alleviate what you're feeling now, but you've finished your applications, and the worst is over. Don't think so much about waiting…go out enjoy the last, and hopefully best, semester of your high school career!) Although I could have just taken a photograph of the card myself, I realized that would probably be pretty boring. After all, you see my face at the top of every entry (although that photo isn't very accurate anymore, since my hair is now much longer). I thought to myself, why not take this opportunity introduce you to a few new faces?
So I asked the good folks in the MIT Class of 2012 Facebook group to send in pictures of themselves posing with their cards. Voila!
First up we have Allison '12 from Massachusetts, who opted to include all the snow New England's been getting lately in her photo: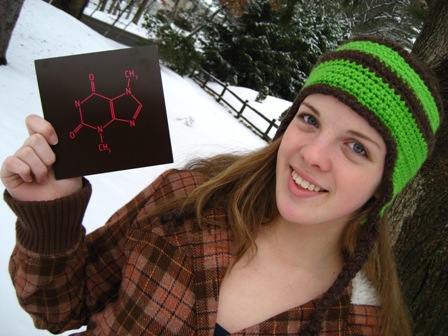 As an aside, we actually studied the chocolate molecule (technically theobromine) in my organic chemistry class the other day, which made me chuckle.
Next is Kelly '12 from Virginia, going for the double whammy by showcasing both cards. The astute observer will be quick to notice the MIT shirt she's wearing – nice choice, Kelly!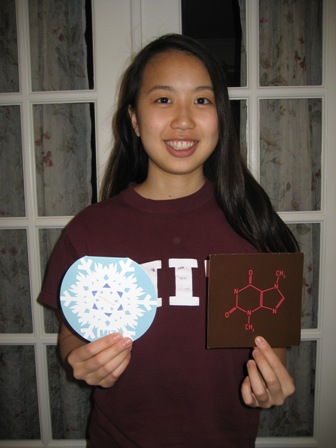 Samantha '12 somehow hit the jackpot and ended up receiving two cards in the mail! In her own words, "I think you guys sent me two Valentine's Day cards by accident, but I'd like to think it was on purpose. :) So in case anyone was wondering where an extra card went, it's right here with me in Maryland."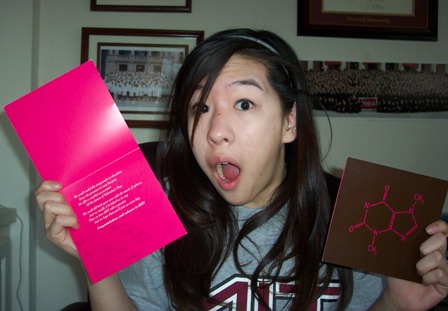 Sam would give Ben a big V-Day hug right now, if she could. Maybe during CPW…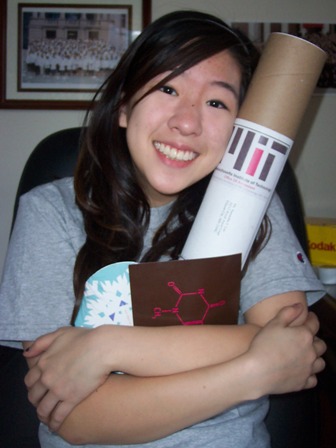 Shannon '12 of Michigan went for the classic card and Tube pose.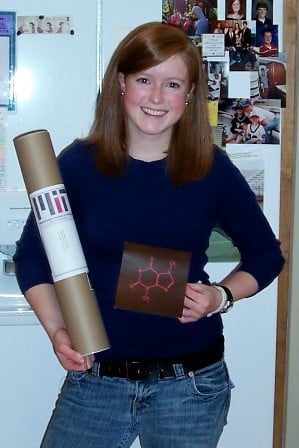 A girl, a Tube, and chocolate. Sounds like Shamarah '12.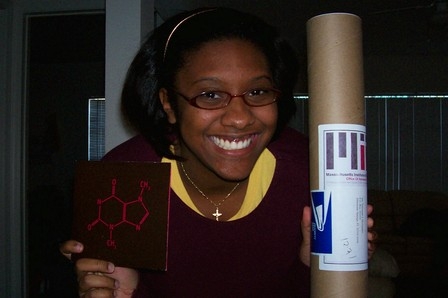 Michelle '12 loves MIT almost as much as she loves chocolate. Notice the MIT 2008 poster in the background!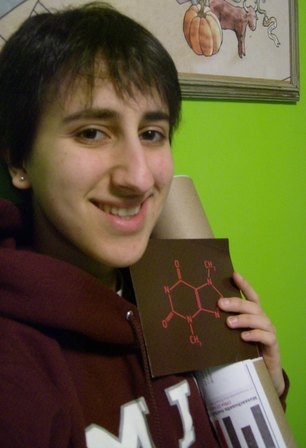 Nothing will stand between Donald '12 and his chocolate.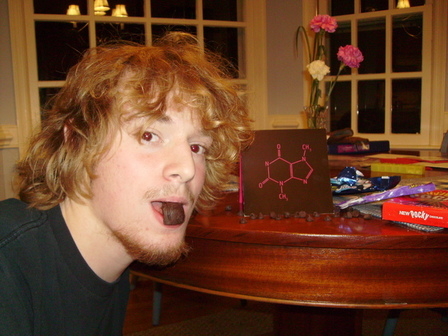 Silly Donald, that's not real theobromine! ;)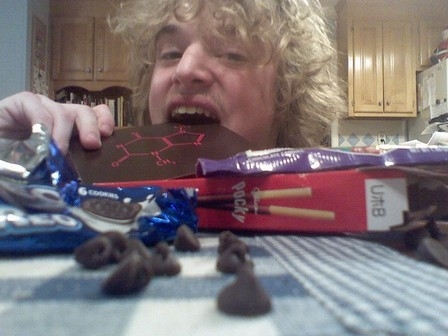 It's raining men! Kevin '12 is proud to be an Engineer.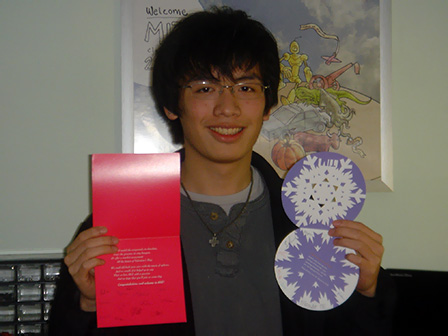 Finally, here's a glamor shot of Andrew '12, Phil '12, Jeff '12, and Emily '12 standing atop their 50-foot boat in the Z-Center pool. ;)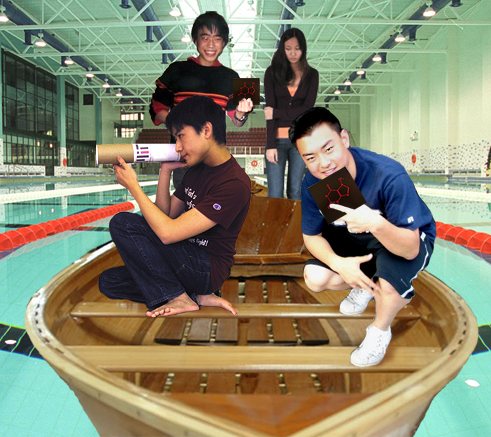 And there you have it, yet another heartfelt expression of love and affection from all the awesome folks in MIT Admissions. Now staring at those theobromine molecules is making me hungry for some chocolate…
61 responses to "Happy Valentine's Day from MIT"