Since I'm returning to blogging after quite the unplanned hiatus (read: I got buried in p-sets for about a month), let me take a few moments to address the elephant on the table – or, as it were, the elephants that were at MIT, and the slightly more pressing issue of getting around in Cambridge. Since hitching a ride on a pachyderm isn't always a feasible option, you'll need some better ideas.
Looking at either Quinton's post or Cam's post, you've probably gotten the idea that driving is a bad idea – just take that as a given from a native. It is. Bikes, however, are terrific. And walking suffices.
I say suffices because if you're like me and live at Next House, you're really shooting yourself in the foot by considering that option. Allow me to demonstrate by using this map (you can make it larger by clicking on it):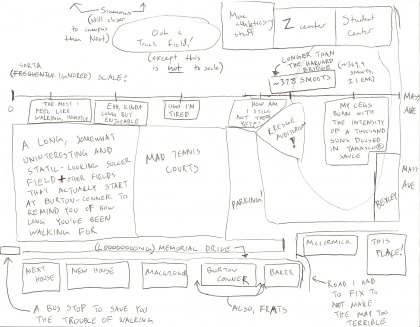 Not pictured: moving walkways (because they don't exist), any sympathy from people who live in closer houses.
Yep, that's me. All the way over there. Roughly 378 smoots – more than one Harvard Bridge – away from Baker House, and probably dozens more away from the actual main building. I cope by using the Tech Shuttle, the Saferide Cambridge West shuttle (after 6 pm), and as of late, my tricked out scooter…that still gets the job done, even after about 10 years of inactivity.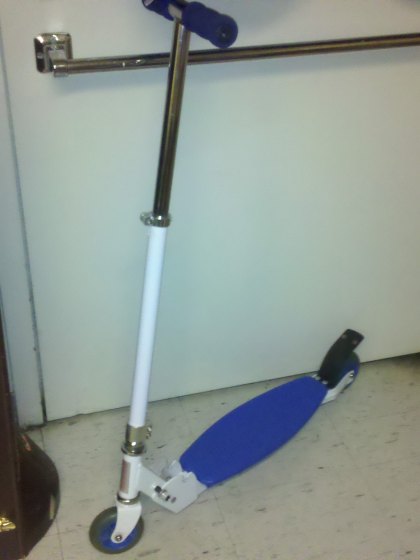 (Two out of two residents at Next House agree: it's the coolest way to get around.)
But I'm getting ahead of myself. On to transportation! And things to see! If you've got MIT on your list of colleges, you've got to know that public transportation (and any form of locomotion that doesn't use just your feet) is your friend here.
There's so much ground for you to cover and so much stuff to do while you're here that you'll need convenient ways to get to those places. What's more, not all of them are at MIT. Even if you don't have a general feeling of IHTFP at a given moment, there's plenty of reasons for you to venture away from campus and discover an even greater paradise that lies all around you. (Ha, gotta love ambiguous acronyms.)
Here's a few places you might enjoy in the Cambridge/Boston area, listed in no particular order and referred to by their stop on the T:
Boylston Station: This stop on the Green Line rests on the intersection of Tremont Street and Boylston Street. It's the home of the Boston Common (and nearby Public Garden), Emerson College, the Wilbur Theatre, and the Blue Man Group.This place, as you can tell, is all about entertainment and relaxation. I had the good fortune to see John Oliver of The Daily Show perform some stand-up at the Wilbur Theatre several weeks ago. Mezzanine seats, surprisingly, can be relatively cheap. They wouldn't allow photography during the show, but just imagine John Oliver standing right there:

Yes, right there, in all of his British glory.

You can also take a bus to find some other places along Boylston Street, like the Boston Public Library and the Prudential Center, a large shopping complex with plenty of places to go. But to be honest, they're closer to the next destination…
Hynes Convention Center: Accessible by the 1 Bus or by taking the free Boston Daytime shuttle across the river and walking along Mass Ave, this stop is within walking distance from the Berklee School of Music and a Best Buy store with three(!) floors.You'll also find several good places to eat. Into Asian cuisine? There's a pan-Asian restaurant, Island Hopper, nearby. My wing in Next House actually went there right at the beginning of the school year for dinner.

(As I checked out their website, I learned that they do delivery. I think I may take advantage of that…)

Not too far away from this stop, you'll also find the Christian Science Center, a remarkable work of architecture. Unfortunately, you'll either have to take my word or Google's word for it, since I forgot to take pictures…

Next on my list of things to do: decide if it's worth it to walk to Fenway Park (home of the Red Sox!) and the House of Blues all the way from Hynes, even though Kenmore Station is a much closer stop.

Hey, speaking of stops that begin with a K…

Kendall Square: Home of a food court (with everything from sushi to Sbarros), a nearby Legal Sea Foods restaurant, the MIT book store (which I'd highly suggest that you visit, if only to look through the small but interesting collection of books), and the Kendall Square Coop. Though there's also a Coop store in the Student Center, there's much more to find at this location, including some software, plenty more MIT merch, and even textbooks.You'll also find some food vans here with falafel and other related foods. But don't worry: some of the other bloggers tell me that ordering food from a van isn't as sketchy as it sounds.

Technology Square is also nearby, and you can find a few other eateries, along with some nice, modern-looking buildings. But since a picture is worth a thousand words:

Okay, these are benches and trees and a bit of a building at Technology Square, but you probably didn't even think there'd be any trees here.

But I would be remiss if I didn't mention the free shuttle to the CambridgeSide Galleria, where you could easily spend all of the money that you didn't spend on college stuff and midnight pizzas. It runs 7 days a week on roughly a once-every-20-minutes schedule, so if your idea of unwinding involves shopping, go to town.

You can get to Kendall Square by taking the Tech Shuttle, but in case you need to head out there in the evening and can't be bothered to walk much, you can save yourself all that trouble by taking the 1 Bus from 88 Mass Ave, getting off at Hynes, taking the Green Line to Park Street, then connecting to the Red Line.

Yes, I actually did figure that out. And I also did it. Because walking is overrated.

Harvard Square: Also on the Red Line is Harvard Square, which, as the name implies, is home to Harvard, the other really well-known Cambridge school. But more importantly, Harvard Square is where you'll find my favorite burrito place ever: Chipotle (sorry, Chris Peterson.) Just walk right along until you reach Brattle Square, and you'll find it.In the general area, shops and eateries abound, and each location has a bit of character. Just the other day, I saw a novelty gifts and gags store (that somehow also sells candy). They have a few nerdy things, too, like Sigmund Freud action figures:

There's probably a button you can push that makes him karate chop your face with Id / Ego / Superego-ness.

Harvard Square itself is a gathering site for street performers, and the streets that crisscross the area closed down last Sunday, allowing a few carnival food stands and musicians to set up along the sidewalks.

If you wander a bit from the beaten path and head into the suburban area, though, you'll be fascinated by the houses, and, dare I say it, the horticulture. If you need a relaxing walk, head through Brattle Street, and watch how the hustle and bustle of the Cambridge/Boston area becomes more serene.

By the time you pass by Longfellow Park, you'll know exactly what I mean. There's also plenty of parks on the aptly-named Garden Street, and I took one picture I'd like to share from there:
There's plenty of other places to go, too – I've barely scratched the surface – so if you can spare a moment, live like a native! You won't regret taking some time to explore the world around MIT, so try not to get too wrapped up in it!
12 responses to "Living Like A Native"