Interactive Introduction to the Institute (i3)
(n.) – a DVD you will receive with your next big mailing (scheduled to be sent out early May), after you choose to matriculate. The DVD is a compilation of student-produced videos introducing each of the 17 (this year!) dorms at MIT (counting New House as 6 different dorms – New House, iHouse, and 4 cultural houses).
The DVD comes in a nifty little graphic-intensive booklet with all the gory details of housing options, cost, dining hall, housing lottery, REX (when you come to campus and check out the dorms for yourself), the highly controversial Residential-Based Advising, and more graphic advertisement for each of the 17 dorms.
As there would definitely be a lot more questions about the MIT housing system as you guys actually get these booklets, I would defer actually blogging about choosing a dorm later on (and I'm sure Paul would have a lot to say about this as well).
But anywhoo, I want to give you a "sneak peek" of some of the 2008 i3 videos already floating around on the Net, if you're curious. :)
We shall begin, of course, with iHouse – my dorm! =p
< shameless advertising>
Welcome to the highly innovative, oft-mentioned, MIT-homepage featured, administration-acclaimed International House.
< more shameless plug>
Video bought to you by yours truly…
< /shameless advertisements>
(note: the ending is actually cut off, for some reason by Youtube, meh)
(psst, Steve is my roommate, and so is Zach – you might remember him from everyone's favorite – Mastering Physics =p. the bed with the stuffed lion is mine, lolol)
Some other ones!
BAKER HOUSE – AWESOME "baker kart"
RANDOM HALL
And if you're curious what the booklet that contains your i3 DVD looks like…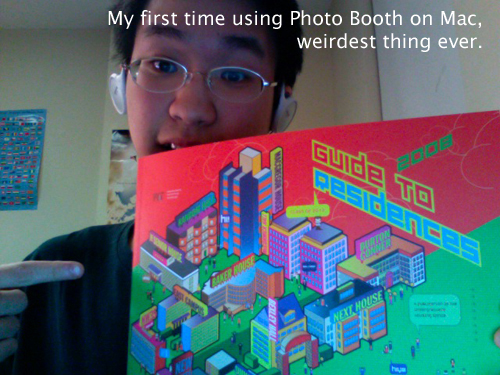 (I stuffed the DVDs into a lot of those booklets on Thursday!)
BE PUMPED! woo!
18 responses to "INT to the INT to the IN(s)T"