just kidding about the rap. More like a 118-line poem. (below)
—
So when I signed on to be a blogger, I made a small promise to myself that I will never go one month without blogging. It has come pretty close a couple of times, but alas, I've broken that promise by two days. :(
OK I know you guys are all sick of the whole "I'm hosed!" talk, so I'll skip that. (please refer to back entries of any of the bloggers if you are curious on a more in-depth treatment of the topic)
Since I've been gone, I've…
-Helped run MIT's first Model United Nations (MUN) conference for high schoolers.
-Ordered my Brass Rat!
-Went to a college MUN conference (at Hah-vahd). (I was Fiji, by the way – oh and Ahmed went too!)
-Started ESP's SAT Preparation Program's by administering a Diagnostic Exam. This is my third semester directing the program! o___o
-Graded 450 SAT answer sheets MANUALLY (no Scantron :( ), read 450 essays, entered them into the computer, and generated class schedule. (with the help of our SAT Prep teachers!)
-Conducted SAT Prep sessions (they run on Sundays and this Sunday will be the 4th class (out of 7) in the program!) – directing the program for so long had made me start to use the program as a yardstick to measure how far into the semester I am…wow, this semester passed so fast it's like crazy.
-Got tired of working in a biology lab, so went completely in the other direction and is taking on an Anthropology UROP. We are drafting submissions to the United Nation's Universal Periodic Review program, which measures the progress of human rights in indigenous populations in countries around the world.
-Applied to some exciting summer opportunities!
-Went on a retreat with iHouse. (and welcomed our newest (22nd) member to the House! :D)
–Met Yo-Yo Ma. (via the Burchard Scholar's Program. Paul did too! so maybe we'll blog about it sometime :) ). Oh, and this was at the Silk Road Ensemble Concert this last Sunday at Boston Symphony Hall.
-Taught and volunteered for Spark! (Spark is another program that ESP runs – it's a mini-version of Splash that I parenthetically mentioned here – although in the entry it was the Stanford Splash, not MIT Splash – but you get the idea).
-Suffered through one round of midterms (and pulled one all-nighter for 7.05 (that's biochem) – promptly collapsed afterwards)
-Is trying to decide whether 66 units or 54 units sounds more reasonable.
-Watched Diarios de Motocicleta for Spanish class and wow…such a good movie. (btw, I spend at least one hour every night preparing for 21F.704! (Spanish IV). Who says Spanish is easy? -____-)
What's coming up?
-Going to The Hague, Netherlands next Saturday for World MUN!
-I need to film the iHouse i3 video tonight, being Housing Chair.
–Need to dominate the classes that I'm in now…(spent too much time on extracurriculars so far…haha)
Many of the things I mentioned I'll go into more detail in future blogs (like for MUN I'm going to do a big post that combines the conference we ran, the Harvard conference, and the conference in Holland together). Stay tuned and I'm trying to be less busy! =p
—
Okay, these are the things I actually wanted to blog about:
1. Amino Acid Tag!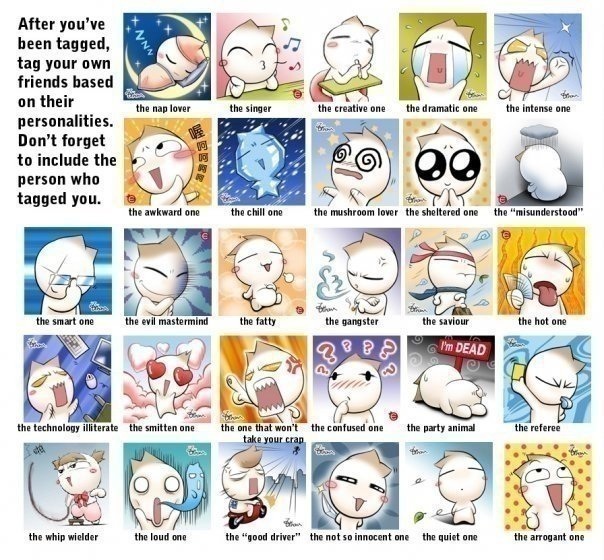 Seen this going around on Facebook? :) (or versions with Pokemon, Korean characters, Hong Kong characters, Taiwan internet comic characters, Mr. Happy…etc. etc. (my favorite is the Sanrio one that's going around, haha))
Because I'm sad and have no one to tag, I decided to tag my best friends, the amino acids that I'm learning about in 7.05 (Biochemistry – Keri and Jess are also in that class). I pulled an all-nighter studying for the first test that we had, and started writing things down at the delirium of 6:12 in the morning, when Michaelis-Menton, isoelectric point, chymotrypsin, Lineweaver-Burk plot (all words that spell check doesn't recognize) are all jumbled in my mind.
After coming home from the exam and taking a long nap, I produced…
(click on the image!)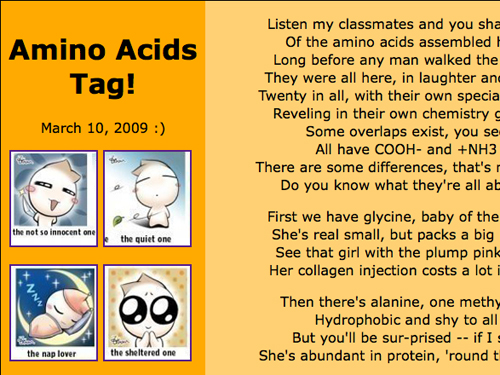 2. Random Daily Life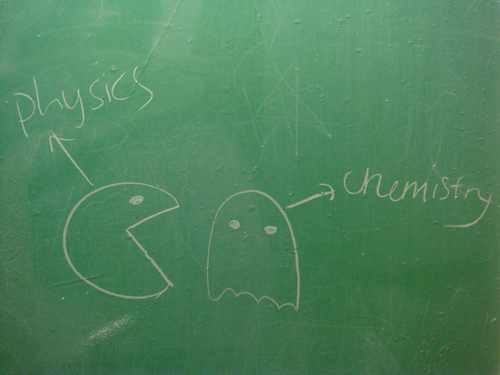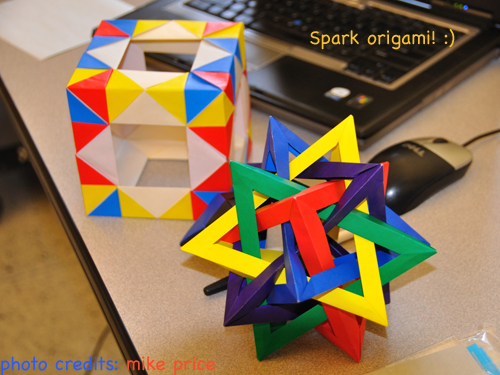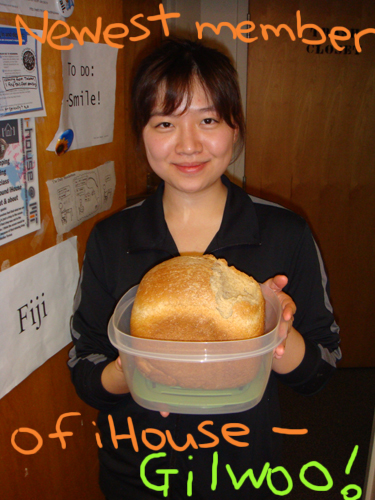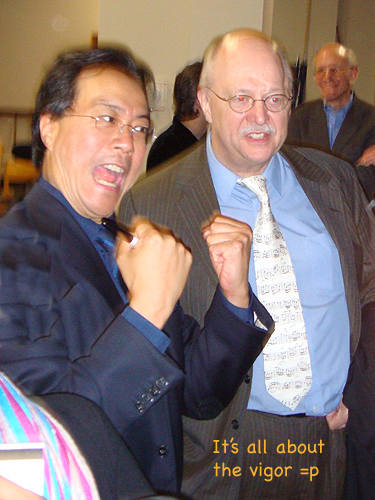 3. Since EA 2012, RA 2012, EA 2013, here's something to listen to while you wait. :)

ps. The Korean version and the Chinese version of the same song.
Haha okay before you bash me on this…there's a story to this song. So even though I was born in the United States, I've never actually lived here (my parents took me to Taiwan when I was still a toddler). I transferred to an international school in the middle of elementary school, and my parents were really worried that my English was not up to par during that time. Thus, they took me to America in the summer of 1997 and I spent most of the summer in Las Vegas (where my mom's relatives are). That was also the summer when I went to Disneyland for my first (and only) time.
So…on the drive to Anaheim, I was in the backseat with my Black Cassette Walkman (probably as thick as of 5 or 6 iPhones put together now – but my most prized possession at the time – I actually used it all the way till middle school, when it flat out wouldn't function anymore and cassettes were getting hard to find), a cassette of '60s-'70s Oldies songs (they were – and still are – my parents' favorites), a Carpenters cassette, and some random mix tape of the top pop hits in '96. Now thinking back, one of my clearest memories was that there were at least two songs I couldn't stop rewinding and replaying. One was Carpenter's Top of the World (optimism starts young, you see =p), and the other was, of course, Lemon Tree.
What's most remarkable is that after that one summer, I literally never heard this song again till 2009, when a few weeks ago I heard this playing on the background of an advertisement that I happened to come across on Youtube. I immediately recognized the melody but had completely forgotten the name or even the lyrics! (then, of course, I turned to my trustworthy midomi.com =p) And alas, I couldn't stop playing this song for like the next three days >"<.
It's funny how these blasts from the past find you sometimes.
I know it is stressful and many of you have been waiting months on end for this closure, but I wish you all the best. Stay happy! :)
"I wonder how, I wonder why, yesterday you told me about the blue blue sky…" :D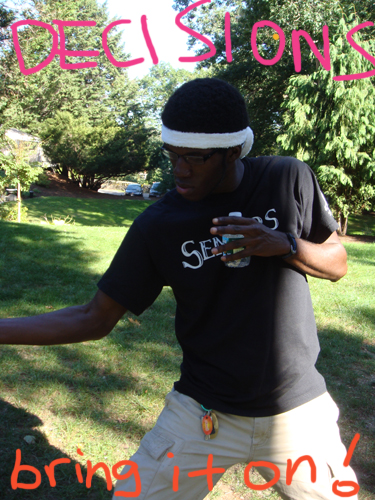 44 responses to "Just a Yellow Lemon Tree…"