There are times when I feel incredibly lucky to exist in close proximity to so many creative and amazing individuals, and right now is one of them.
I present to you: A BOBA MACHINE LOOK AT THIS MIRACLE THAT HAS DESCENDED TO EARTH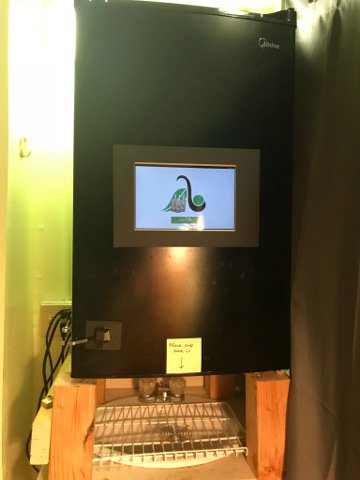 The machine is the brainchild of MIT's very own startup Lambda Tea, and the three wonderful human beings responsible for its creation are Catherine Zeng '20, Robert Henning '20, and Jingwei Ma '20 (pictured below from left to right).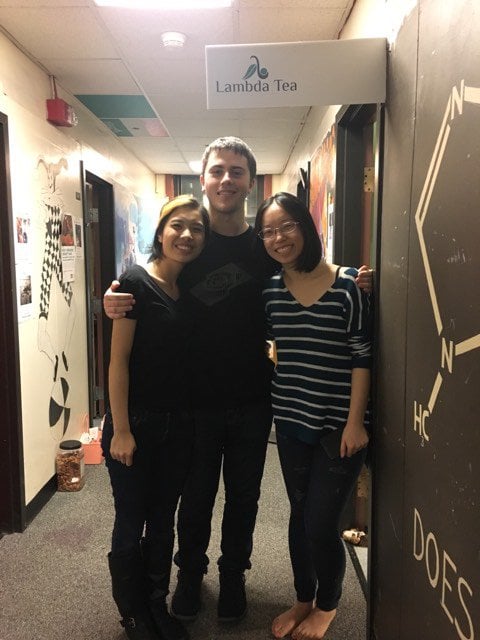 When Jingwei invited me to Lambda Tea's grand opening, my second reaction was, "Wow, a boba machine is literally the most useful thing ever, why hasn't anybody thought of that?" (My first reaction was, of course, "HOLY CRAP BOBA MACHINE") So after their grand opening and some debugging, I asked them some questions about how and why they decided to create basically the best thing ever.
The Lambda Tea team originally received funding from Sandbox (an MIT seed-funding initiative for its students) for another idea they had ("like Uber but for contracting work"), but they didn't really believe in it enough to follow up on it. Then one day, Robert happened to be in Chinatown and was walking by Tea-do (one of Boston's very few boba shops) when he realized that the job the shop workers were doing could very reasonably be mechanized. After all, boba is just a drink, and drinks are made with certain proportions of certain ingredients. Making a machine that mixes and vends boba would be far cheaper and less labor-intensive.
So for the last month, the Lambda Tea team worked every day from 12 – 2 (AM) to create their machine. They wound up going through over 50 recipes and had some amusing situations with drilling through a refrigerator, but eventually put together a fully functional – and very wonderful – boba machine. The machine itself is a refrigerator which has a Samsung Galaxy tablet mounted on the front. The tablet itself is connected by USB to an Arduino, and the interface is run on an Amazon Web Services server. Customers buy boba through an app, which allows you to Venmo money to Lambda Tea's account. Once the account confirms that the money has been received, the machine will vend your boba for you!
Lambda Tea plans to expand beyond the grounds of East Campus and ask some of the clubs at MIT to use their boba for fundraisers, a development that I am personally pretty excited about. In the meantime, current students should drop by First East at East Campus to try some Lambda Tea boba. Can confirm it's the BEST.