By Chris Merrill '12
All throughout today, the day after CPW, I kept taking my keys out of my pocket and looking at my recently-purchased lanyard. Now, when I should be writing a persuasive essay for my AP English class (for all those who have forgotten, an essay is the English version of a pset), the situation isn't any different.
It's a brand new, red and silver and black MIT lanyard; on it are the words MIT Engineers, a picture of black-colored beaver swimming gracefully through water (abstractly represented by cardinal-colored ripples), and a mass of keys about the size of a tangerine. It's nothing really that special—there were many more exactly like it at the Coop, and I bet they're a common sight on campus—and there shouldn't be any reason for me to like it this much. And yet… It really is something more, something special.
After CPW, I have almost a complete outfit of MIT clothes—a shirt, a baseball cap, and a sweatshirt. All I'm missing is some pants, maybe some shoes. But these clothes aren't the feel-good objects they should be. Wearing a shirt, a sweatshirt, a hat—heck, even my non-existent MIT shoes—inspires in me minimal pride (though it does cause some bemusement as I walk into the local U that I take classes at in the morning). These clothes are really something that tell other people that I got into MIT.
This lanyard reminds me that I am going there next year, that the amazing people I met and the awesome experiences I had during CPW aren't just a memory.
This lanyard holds the key to my soon-to-be home, even if it lacks keys to any of the many residence houses.
I'm not going to say that I'm going to love every moment of my life at MIT—that's just setting myself up to be disappointed—but as the hackers in lobby 7 eloquently expressed, "IWHTFP" in each and every one of the possible meanings. The four or five months from until I move into Cambridge will quite possibly be the longest in my life. Being part of a community that hacks the campus while simultaneously hacking away at psets (I know, I know, It's called "tooling") is an experience that will most likely never find it's equal in the past 18 years of my life, for better or for worse.
Again fiddling with my keys, I think about the highlights of my weekend. My arrival was pretty simple—unlike most people, I live within 50 minutes of the domes—and registration passed without incident. Sitting in a chair in the student center lobby, I subtly remind my parents that they aren't required to stay, if they really don't want to. Picking up the hint, they quickly schedule a financial aid appointment and head back to Vassar St. and their parked car. A little bit later, my host awakens and arrives to escort me to my sleeping spot for the next four days.
Along the way I meet someone I had spoken to for a while in an online AIM chatroom for accepted students, and I have now officially met the first real person from my class. Once my luggage is settled, my sleeping bag and pillow unpacked, and my backpack filled with essentials, we head out to begin tasting the fine wine that is MIT. An exciting day results, and everything is going swell until later that night.
All the people from the chat had decided to meet up at Anna's Taqueria at 8:00 that night, and in the beginning it seemed to be going well. Looking behind me, I see a wooden ledge (perfect for sitting) below an angled concrete roof. I put my arms back and push myself upwar–*bump* goes my head as it impacts the ceiling, and I fall back down to earth feeling slightly embarrassed. I at first thought it was a normal bump, until one of my compatriots exclaimed "Chris, you're bleeding!"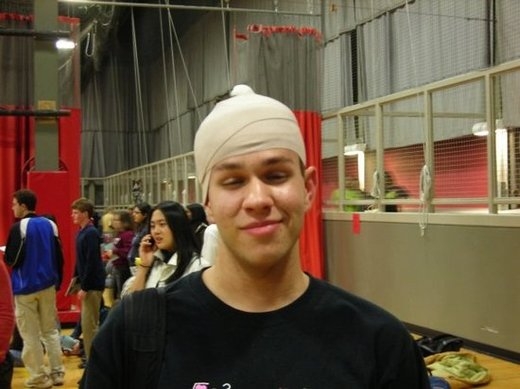 Why, oh god why?
A few ounces of overly-dramatic blood, one ambulance ride, and four staples later I was in a taxi (my first!) on my way back to the campus, head wrapped up in what might be the funniest-looking bandage ever utilized. I tried as much as possible to hide and ignore my newfound distinguishing mark, hiding it beneath an MIT baseball cap, and 24 hours later I was able to finally remove the headwrap.
Not that I was any less recognizable — at least one person still noticed ("Weren't you the guy who had that headband thing on because he…" "Yes…"). It was a good way to start some conversation, though, and showing people my staples always prompted a reaction.
The next interesting thing I participated in was a game of underground capture the flag played on Saturday night (Random Standard Time). The first few games were strictly by-the-rules, but due to a sudden simultaneous and unannounced decision by both teams a significant amount of cheating took place in the third game. Lasting over an hour and 10 minutes, the tiebreaker round saw the utilization of numerous technicalities and almost developed into a full-blown fistfight near the end, when the red team was shown to be the better cheater of the two.
While there were many more awesome events, including MTB and the Battle of the Bands, any attempt to fully include them all would take up more pages than an advanced calculus textbook.
Barely able to scrounge up a few hours of sleep, I awoke and packaged my luggage up again—not quite able to fit all of my new t-shirts inside. I said goodbye to my host and a few of the others I had met in the house, and headed out to be picked up by my parents. As we drove away, I stared out the window of the car—feeling that for all that I was going back to my house, I was leaving my real home.
34 responses to "Lament for CPW (Guest Entry)"