One of the things that I try to do here is to write a little bit about all the activities/groups that I'm involved in at MIT. However, since I seem to always be falling behind in my classes and getting royally owned by incomprehensible orgo mechanisms and whether EMS produces a G to A mutation or a C to A mutation, I'll let someone else tell the story this time :)
This is a guest blog from Jia '11, who's the Public Relations Director of LTI (Leadership Training Institute) – which I've also been involved in actually just starting from this semester. I'm the Expansion Director for LTI (pretty much the guy that facilitates LTI International – like spreading LTI to Mexico), and one of the reasons I joined is that I've always thought that this organization contained an excellent vision.
LTI seeks to introduce the concept of leadership to high school students and to empower them to be effective leaders capable of making a difference. An interesting parallel is that actually MIT also places a huge focus on student leadership and provides many opportunities for students to explore leadership (FLP!, Leadershape, and iHouse! =p).
By teaching leadership, college students also get a further understanding of what it actually means by working with these younger students.
It's an interesting concept, and I feel like LTI had really blossomed over the last 2 years since its founding.
Meh, I've talked too much, so I'll let Jia take over. :)
—-
Hey!
I'm Jia Zhu, a sophomore biology major at MIT. Although my year and a half at MIT has been eventful to say the least, one particular part of my MIT experience has defined my views about service and leadership in a developing world, LTI.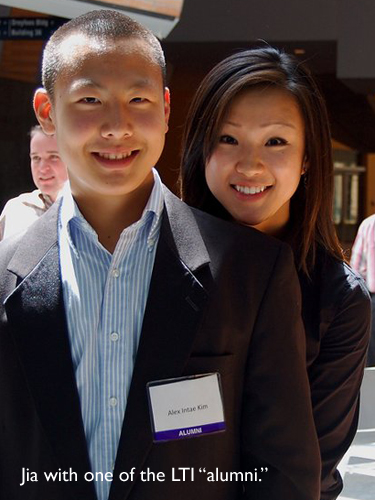 Hi Everyone, this is Jia. Jia, this is Everyone.
MIT's Leadership Training Institute is a student-run leadership and service program for Boston-area high school students. The mentoring program has since expanded into Mexico and China and looking to expand into El Salvador, Brazil, and South Africa.
I started in LTI as a mentor my freshman year. At the mentor training/bonding sessions before the spring program, the new members had to participate in numerous icebreakers and team building games. I remember how red my face became after I choose to perform a much botched up version of the robot in front of everyone. The program helped me discover that inspiration comes from unexpected places, such as a crazy dance icebreaker. I had the time of my life getting to know other motivated and passionate students who truly wanted to make a difference.
When the actual mentoring program started in the spring, I met the most diverse and inspiring young adults. Although I was technically the mentor, I learned equally if not more from the students in the program. Communication, understanding, career development, leadership styles, international development, and a long-term sustainable community service project are just some of the lessons taught in the LTI curriculum. During one session, mentors developed an exaggerated comical skit to showcase how to not interview. The students mimicked a rebellion during a hunger lunch in which half of the students were given dirty water and rice and the other half were given a three-course meal. For a final project, a pair of students organized a volunteer team to eradicate graffiti in the Revere community. Most memorably, the mentors, executive board, and students of LTI developed a community on the basis of leadership, friendship, and service.
Last spring, I helped a student who wanted to make a difference in his community write and direct a play to combat drug and violence in his neighborhood. I learned how to relate and communicate about topics completely foreign to me. I learned that to truly inspire others, I may just have to show everyone just "how I get down." LTI's curriculum combines self-reflection, service initiatives, and often crazy games to develop the leadership qualities that can create future leaders and sustainable service projects. I helped make one student's vision a reality in the hopes that his success will motivate others in his community to continue the "Pay it Forward" service initiative. All of us want to change the world, and we all realized that there's no better way to start than to help one devoted person at a time develop his or her vision.
Here's a LTI student blog entry from a high school student who is currently in the spring 2009 program:
"My favorite part of LTI was probably when I caught a real egg with a pair of tongs. I can't catch a ball with two hands, so I felt pretty sweet when I managed to save myself from having to be covered in egg yolks for the rest of the day. I've enjoyed learning about everyone and their experiences, methods of coping with problems, and overall outlook on life…I have grown so much from LTI. I like thinking about my future in a less "stiff" manner now. Before the program began, I was set on certain jobs, but now I see that I can take the studies I'm interested in to different types of levels. I've actually learned that this type of field can be integrated into leadership and helping others."
Although we all often get lost in the craziness of MIT, LTI has helped me relax every once in a while and realize why we are all here. We're here to acquire the knowledge and skills to make a difference in our community, nation, and possibly the world. This program has definitely helped me make a head start on that process.
If you want to learn more about our work and opportunities within LTI, come check us out at CPW in two days! See you there :)
"Build Your Own Sundae!"
THIS THURSDAY, April 16, 5:00-6:00 PM!
Room 4-146
Build your own giant ice cream sundae with MIT's Leadership Training Institute! Come learn about community service and our mentoring program with local area high school students. Explore international service opportunities in Mexico, China, and South Africa!
Further Reading:
Main LTI Blog
When LTI sent a team to Mexico…
(this was over last IAP – really interesting read!)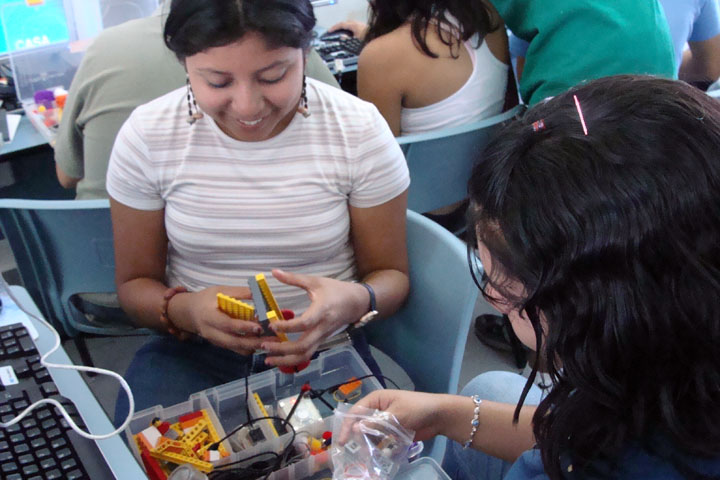 Kids working with Picocrickets in Mexico.
7 responses to "Leadership Training Institute"