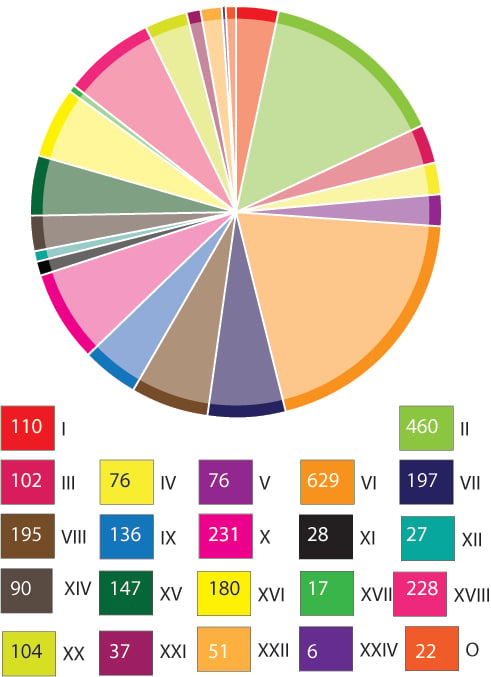 source: http://web.mit.edu/registrar/stats/yrpts/index.html (fall '09-'10).
O is "undeclared sophomores". Forgot to list CMS though (16 students). =/
Hahaha it's actually a pretty hard to read graph, but it's sequential by major number starting from the top and going clockwise.
Taken from here:
Sometimes, it seems like MIT people only speak in numbers. You'll hear sentences like "I have 6.001 in 10-250 at 2:30, then my Course 9 UROP in Building 46." This is part of MIT-speak. Here's a primer.

Each of MIT's majors – known as Courses, with a capital C – is known by a number (sometimes given in Roman numerals). These numbers are in approximate order of the founding of MIT's course in that area. For example, Courses 1 through 5 represent MIT's original five majors:

Course 1: Civil & Environmental Engineering (founded as Civil & Topographical Engineering)
Course 2: Mechanical Engineering
Course 3: Materials Science & Engineering (founded as Geology and Mining; Geology is now a part of Course 12, Earth, Atmospheric & Planetary Sciences)
Course 4: Architecture (founded as Building and Architecture)
Course 5: Chemistry (founded as Practical Chemistry)
A full list of the Courses can be found here.

Each class – or course, with a lower-case c – in each department also is designated by a number. Hence, the introductory calculus class in Mathematics – Course 18 – is known as 18.01. Similarly, an advanced astrophysics course in the Physics department – Course 8 – is called 8.971.
Here's how the course numbers evolved.
More on each major: Class of 2013 Major Advising Site
Here's what all the numbers stand for!
Course 1 – Civil and Environmental Engineering
Course 2 – Mechanical Engineering
Course 3 – Material Science and Engineering
Course 4 – Architecture
Course 5 – Chemistry
Course 6 – Electrical Engineering and Computer Science
Course 7 – Biology
Course 8 – Physics
Course 9 – Brain and Cognitive Sciences
Course 10 – Chemical Engineering
Course 11 – Urban Studies and Planning
Course 12 – Earth, Atmospheric, and Planetary Sciences
Course 14 – Economics
Course 15 – Sloan School of Management
Course 16 – Aeronautics and Astronautics
Course 17 – Political Science
Course 18 – Mathematics
Course 20 – Biological Engineering
Course 21A – Anthropology
Course 21F – Foreign Language and Literatures
Course 21H – History
Course 21L – Literature
Course 21M – Music
Course 21W – Writing and Humanistic Studies
Course 22 – Nuclear Science and Engineering
Course 24 – Linguistics and Philosophy
CMS – Comparative Media Studies
STS – Science, Technology, and Society
WGS – Women's and Gender Studies
—–
If you find yourself bored at home with nothing to do this break, LEARN MULTIVARIABLE CALCULUS!
If you don't know by now (and you should know), MIT has this really awesome site called OpenCourseWare, where MIT posts the course material for A HECKLOAD of its courses for students all over the world to self-study (and also serves as a great repository of past exams for us students who are taking the live lecture version of the subject during the term). Over the years, they've been filming live lectures and putting them online, which is super cool because they're the exact same lectures that we had here! (be sure to also check out 8.01 with the globally acclaimed Professor Lewin)
During my freshman year, I took 18.02 (a requirement here for all students – Multivariable Calc) with Professor Denis Auroux, who is a simply outstanding professor. I was actually IN THE SAME CLASS as this set of video lectures from Fall 2007!
Sadly, Professor Auroux is on leave at UC Berkeley now, and the froshies this year didn't get to have him for 18.02, but his lectures are nothing short of legendary (how many classes have YOU been in where students gave standing ovations during the last lecture?! – see the last lecture of the series). For other Auroux related fame, just youtube "A Lovely Phone Call" or facebook and youtube "Auroux." :P
I won't be blogging again till 2010, so a very happy new year to everyone! ^______^V
49 responses to "MIT Undergraduates by Major"