On Friday, May 22, I put on some waking-up music and started packing down my room. My finals were done, and move-out day was tomorrow.
I only lived in East Campus G212 for half a semester–just barely two months. Temporary as it had been, my room was a home and a safehouse. With a west-facing window, the sun slanted in past the Green Building in the afternoons and filled the high ceilings with a gentle in-betweenness, half out and half in, half exposed and half enclosed. Occasionally, loud voices and running footsteps, from the stairwell on the other side of the north wall.
The door was always unlocked and often open, leaking music into the hallway. Friends wandered in at odd times; sometimes to say hi, sometimes to share a hug, sometimes to tool in the comfort of silent company. I spent many hours there alone, and just as many not: nights with food, drink, and the chatter of sixteen Toons; afternoons working on group projects; evenings of popcorn movies or quiet conversation. A friend once told me that my room felt welcoming, and I knew I'd done something right.
It was emotional, then, to strip these four walls of my existence. Photographs make a poor substitute for the sensation of interior space, but I grabbed a few anyway.
north wall: aerospace postcards, AeroAstro patch, feathers, prayer cards, buttons, necklaces, swiss army knife, keys, Friendly Toast postcard, tambourine, photos, posters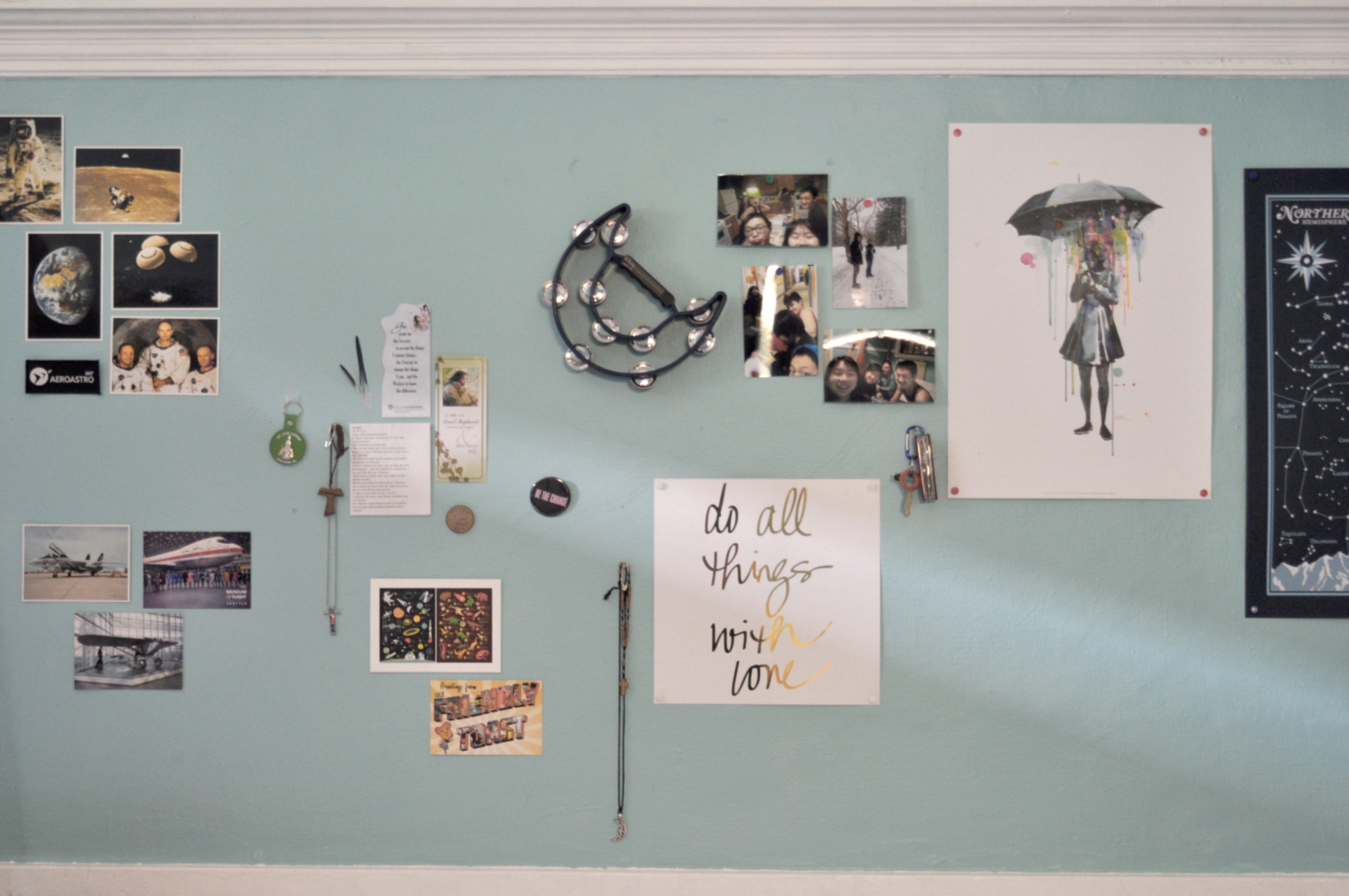 desk + window under loft: zip-tied power strip, airplane pushpins, rental applications and receipts, computer, lamp, speakers, watch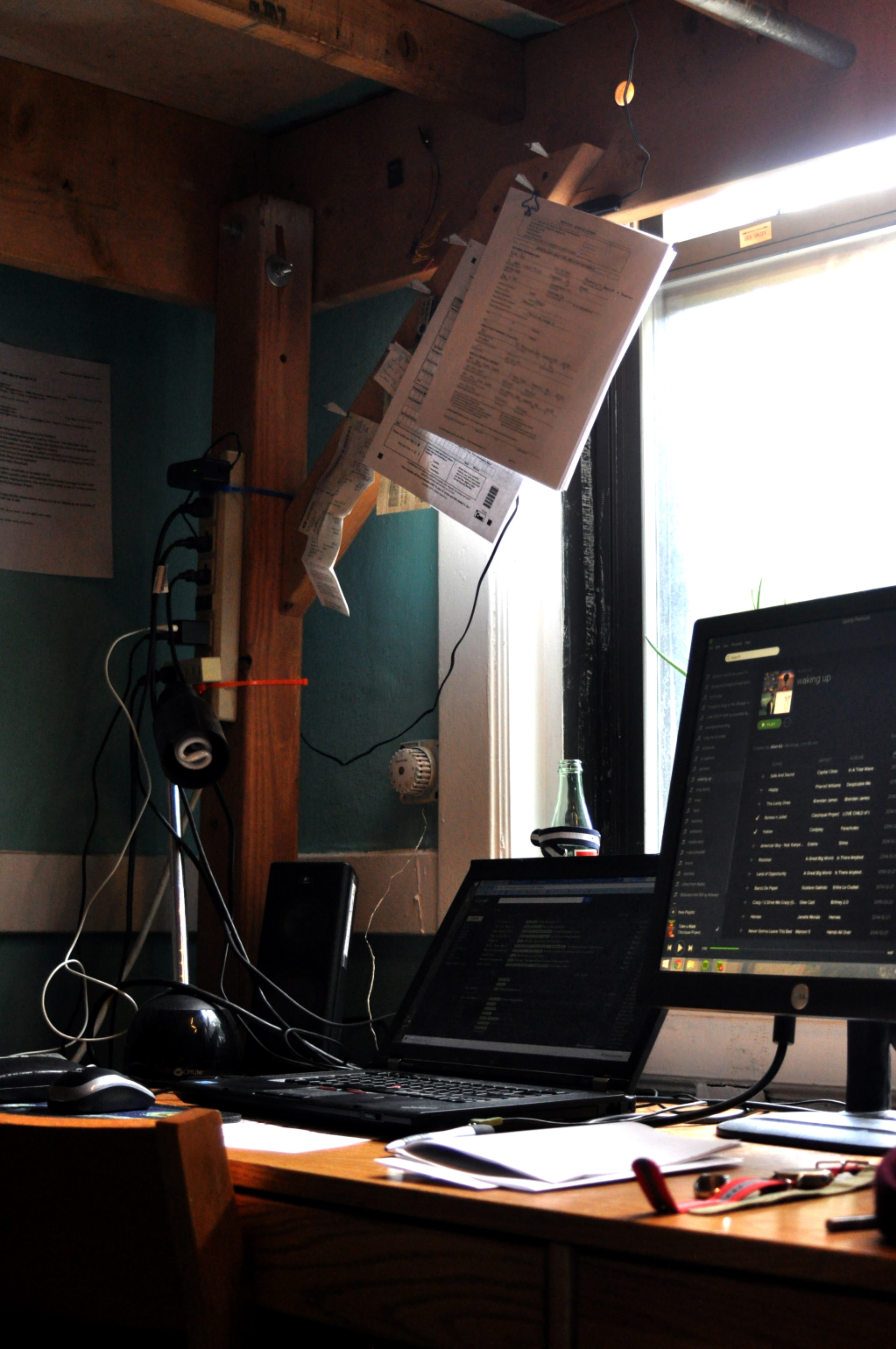 support wall: letters, cards, friendship bracelet, a portrait done by a friend, an email from Petey about my CMS.400 final project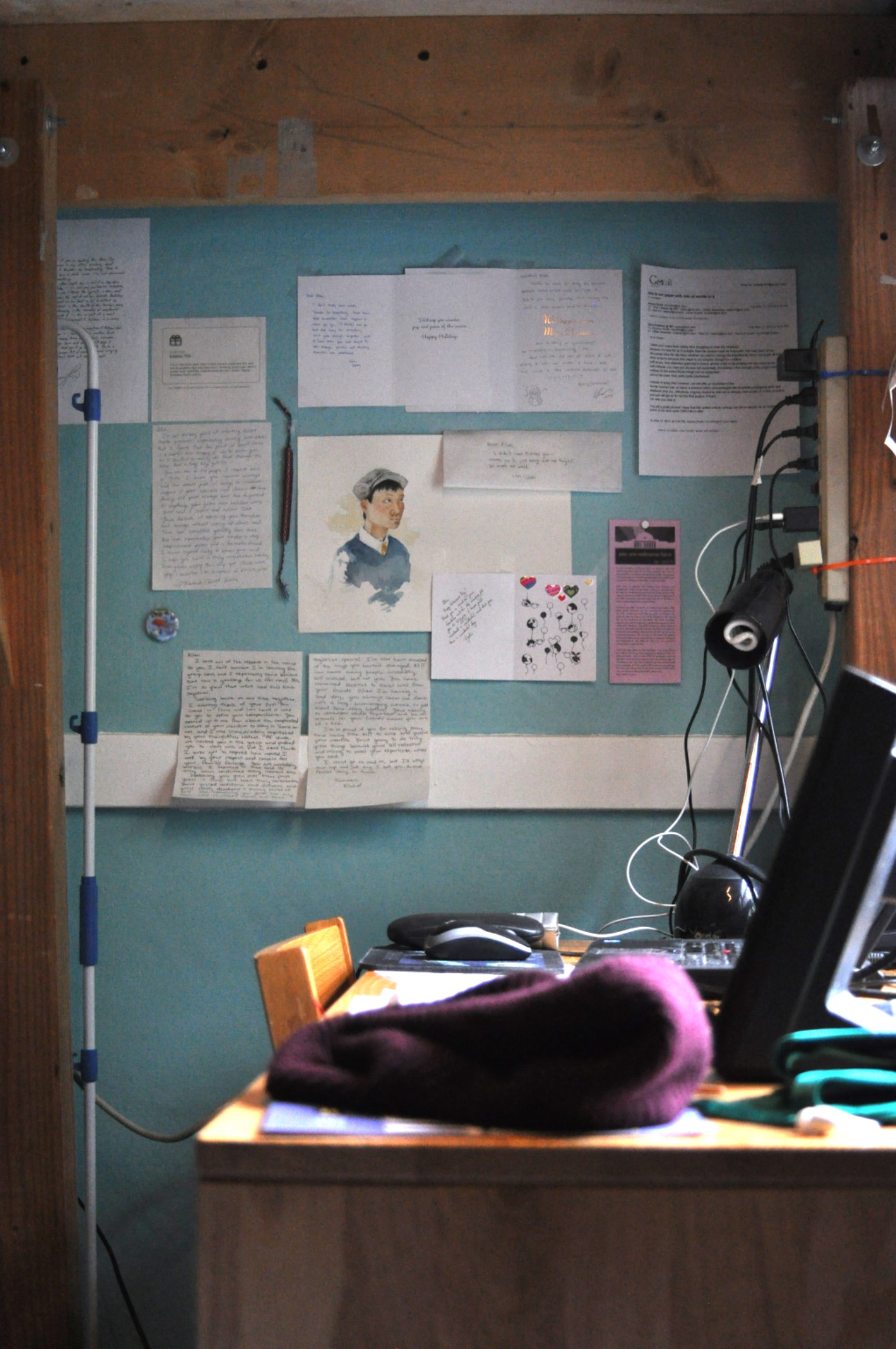 It will be a while before I return to MIT. Following in the footsteps of many other admissions bloggers, I'm withdrawing from MIT next semester, with plans to return in spring 2016. Over the summer, I'm interning in structural analysis at Northrop Grumman in San Diego; then, I'll be spending 4.5 months in Seattle working for Amazon. It will be the longest time in my life (since preschool, anyway) that I have spent being a non-student.
I anticipate that learning to be a non-student will make me a better student when I return. I hope that I will return with a better sense of what's Out There in the Real World, and also a better sense of What I Don't Know That I Don't Know. I'm looking to find a better understanding of myself: my motivators, my work, my interests, my dreams. I'm trying to shape myself into a better person. For now–one day at a time. Eat three meals a day, sleep at least seven hours a night, exercise two to three times a week.
I probably won't be blogging much while I'm away, but I'll be on social media. I may resurface here occasionally with news from the outside. See you soon.
Twitter: @allank_o
Tumblr: xeaphyr
Email: ask-allan [at] mit [dot] edu