One of the requested entries a while back was for me to post some pictures of myself. I don't have that many pictures of myself, and most of them are terrible, because I am really bad about flinching and shutting my eyes during camera flash, so I usually end up looking ridiculous. But I'll put some on here anyway. Some of them have appeared on here before, but they're now compiled into one entry.
Me at Clayton '08's "Gentlemen's Club" 19th birthday party, which is why I'm dressed up. July '05.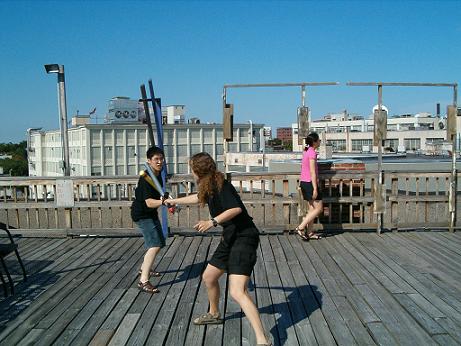 Me in fierce boffer combat with Dan '08 on the Random Hall roofdeck. Summer '05.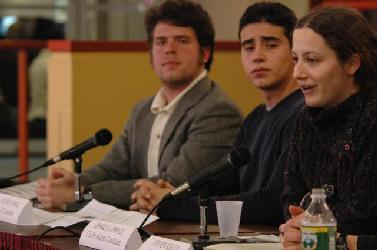 Me at the Undergraduate Assocation President/Vice-President candidates' debate. I've been through two UAP/VP elections (with a 50% success rate), and the debate is one of the few parts of the process that I actually enjoy. This pic looks much better than the closeup one. March '06.
This is actually a good pic, though I bet my mom would disagree (she was not fond of my green hair). ;) It's from the previous year's UAP/VP debate, the one where my ticket actually won. Maybe it was the hair? March '05.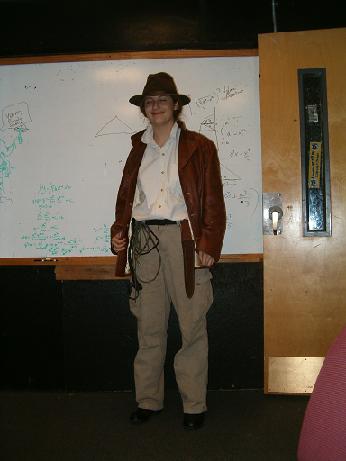 I dressed up as Indiana Jones for a friend's post-Halloween costume party. Beth '05 and Yelena '06 helped me put together the costume in under an hour. November '05.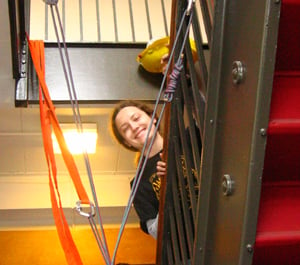 I don't remember if I was about to start rappelling down this East Campus stairwell, or if I had just finished. I also don't remember which IAP this was. Either January '05 or January '06.
My attempt at an avatar me, complete with my trenchcoat and the lucky necklace that I'm wearing in the UAP/VP '06 debate.
A more wishful thinking version of me. "Me in fearless crusader mode."
I hope that this has now satisfied my readers' stalker curiosities. :)
3 responses to "Pictures of me"