By Emily Zhao '12
Hey, my name is Emily. Sorry this guest entry is coming late! I had a great time at CPW, really. But my SD card corrupted, dumping the gajillions of photos I shot before 3:30pm on Saturday. I can't get over this. Fortunately, the videos were preserved.
When I hopped off the airport shuttle, I immediately felt a sugar rush. The weather was great, students were tossing a frisbee, and music was blasting in the background. I got my plane buddy Philip '12 to pull Tim the beaver's tail. The picture was lost (grr), but here is another, courtesy Kevin '12.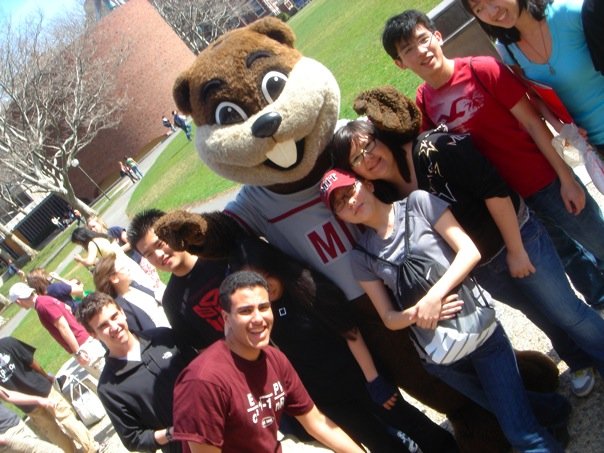 Tim and prefrosh.
Sometime that evening, I found myself sitting front and center at the CPW Opening Ceremony. Three members of Alpha Phi Alpha opened with a stomp.
At first, I think all the prefrosh were stunned (well I certainly was), but then we loosened up and it was hilarious. The MIT Logarhythms also performed. They were amazing. I managed to videotape their cover of "Here In Your Arms" (solo by Kevin Schoenfelder, I think). The sound quality of the recording, of course, inferior.
After ice breakers, the prefrosh hopped over the the activities fair. There was bubble tea, guitar hero, ROTC, and breakdancing! I was able to preserve some of this eye-candy.
After the roof party on Baker, I managed to find my way back to Sidney-Pacific for the night. My host Tina Lai '09 and suite mates were really awesome. They were members of a sorority called Kappa Alpha Theta, temporarily housed in a graduate dorm.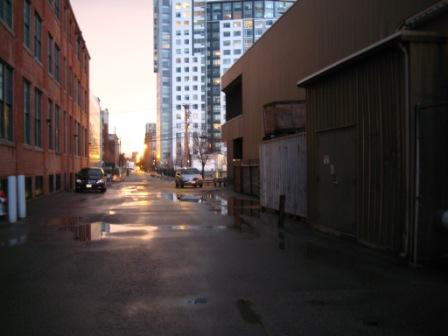 The road to Sidney-Pacific.
I spent Friday being more academic. I was really impresseed by the Course 4 (Architecture) Open House. I learned about MIT's architecture program (building projects around the world, thesis projects), but I also learned about architecture in general (ecologically friendly design, sustainability). On a tour the studio, I met some students busy working on projects (but willing to share their insights).
We were very fortunate this year: CPW 2008 coincided with the C-Show (Dishoom!), put on by MIT's South Asian American Students (SAAS). I was encouraged to attend by Tina (my host). My favorite was the parody of Justin Timberlake's "Bringin Sexy Back", "Bringin Turbans Back". The bhangra team was also spectacular.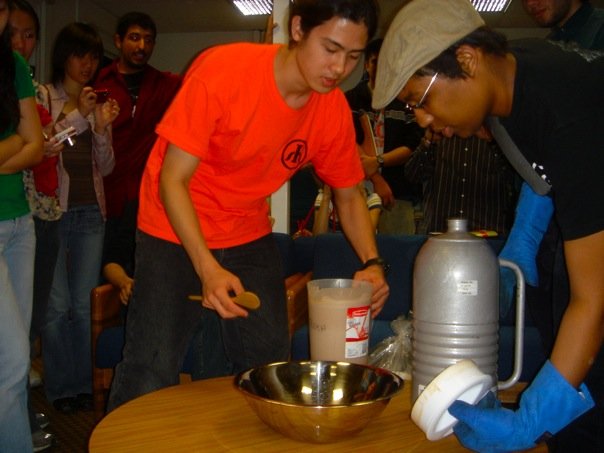 Liquid nitrogen ice cream at Random House was really yummy.
Saturday afternoon, I found myself rushing to an A Capella concert. Seven groups performed, and all of them were really great. I hear there are lots of a capella groups on campus, so even with my subpar voice talent, I think I'm going to try joining one.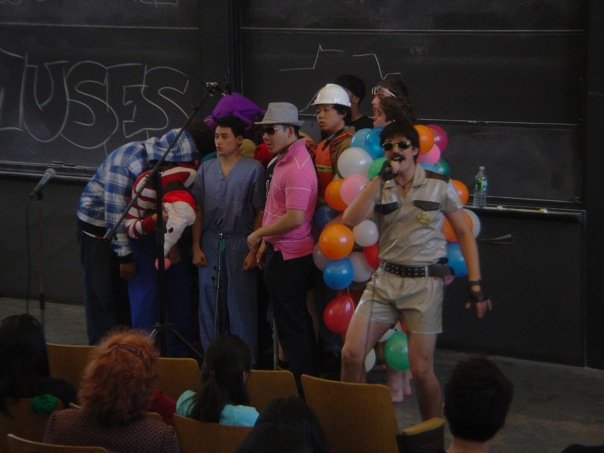 The MIT Logs again; this time decked out hilariously.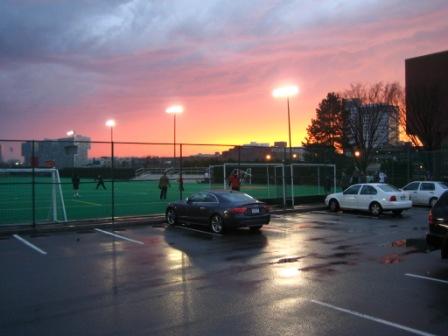 A beautiful sunset after the rain. I love Boston.
Zeta Beta Tau organized Battle of the Bands in the student center. It was a pretty crazy experience.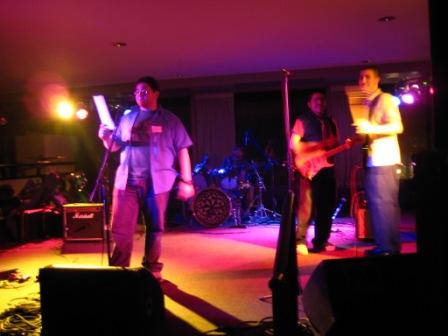 When I left, I was half deaf. A group of us prefrosh sat down on some couches and tried to have a conversation, but then we realized that we couldn't hear each other.
We decided to climb Kresge instead. Photo courtesy Melody '12.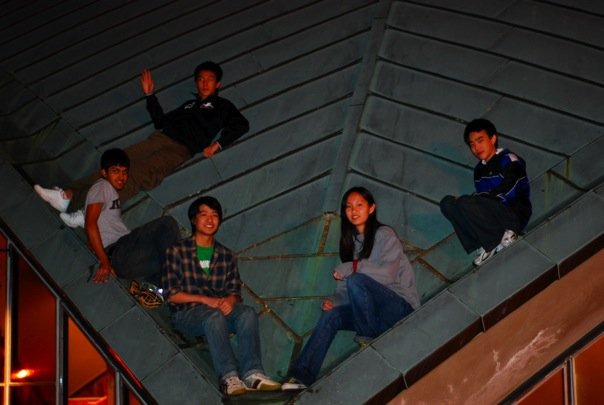 I'm not entirely sure this is condoned. Just to get everybody in trouble, clockwise from left is Alex, Ashu, Andrew, me, and Philip '12.
Phi Beta Epsilon hosted a party that night. It was pretty fun dancing on a roof with a great view of the Charles river and the Boston skyline.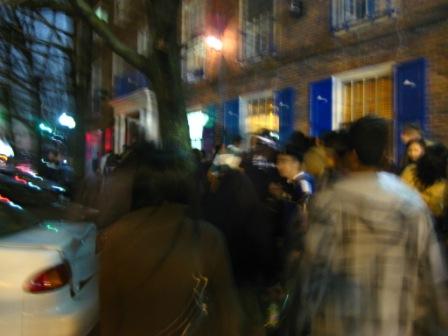 I took some pictures outside the frat house, but they're kind of blurry.
Since it was Saturday night, the last night, none of us wanted to go to sleep. We trekked to Simmons instead.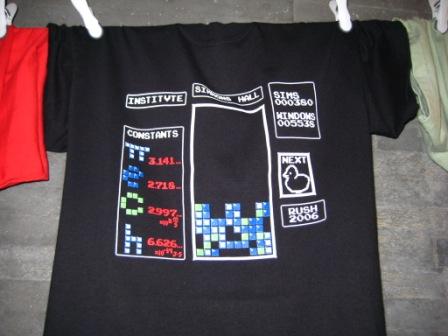 Crazy t-shirts. Tetris! I love Simmons Hall.
We found the room filled with playpen balls. Some of my friends fell asleep.
I was one of the last ones to check out on Sunday. I had to take the Boston T to the airport, but it was really easy.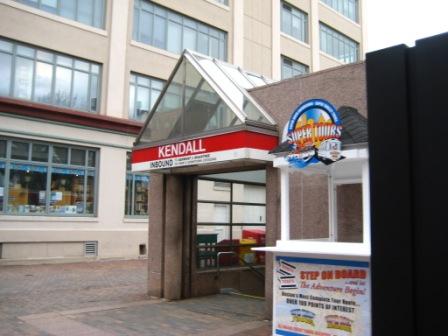 Boston public transportation is amazing.
In summary, CPW was a great experience that confirmed for me everything I thought MIT would be, and more. The academics were impressive, the student body had a quirky (and amazing) personality, all the performances were top rate. I can't wait to become a part of it all.
7 responses to "Of Dancing and T-Shirts (Guest Entry)"