Seeing all the parents converge on MIT campus for Family Weekend reminded me of my parents, who are one continent and one ocean away. So, on a side note, really take the time to appreciate your parents while you're still with them. This is especially true for all you high school seniors who are leaving for college a year from now. Your parents might be nagging at you about your SAT scores now and there's still technically one year left before you have to say goodbye, but they'll be gone before you know it (really.)
Anyways, all this reminded me of all you Early Action applicants, who are probably cranking out application essays, having interviews, and/or worrying whether your SAT scores are high enough right now (or, at least, I hope you are – just not the worrying part).
Therefore, I decided to tell you my ED story.
Last year, around this same time, I was pretty much in your shoes. I've identified a college that I was very passionate about way back in August, and knew I wanted to ED it, no questions asked. I was done with the testing and other requirements fairly early, so I spent the majority of my time re-reading and re-examining my applications (while wondering why in the world my interviewer hasn't bothered to call me yet).
I wrote out my essays, I polished them, and I fine-tuned them to a point that I was able to recite it backwards (I'm serious). I had several of my teachers read over my essays, and I actually wrote 13 drafts for my main essay. This is like a world record for me, since I am basically the master of churning out pointless fluff "insightful" essays for AP testing. Simply, I just hate writing multiple drafts for a single essay.
Predictably, l became paranoid about my application very quickly.
I wanted it to be totally perfect. 100% perfect – not 99%, or even 99.99% – 100. At one point, I actually went online and searched for the "right" orientation of stapling pieces of paper together (the staple should ideally make a 45 degree angle to the left side of the paper, so it's basically slanted, sloping up to the right) because I didn't think I should staple my papers together recklessly (afterwards, I discovered that it's generally not a good idea to staple any part of your college application, actually. Many colleges scan additional sheets of paper that come in, and staples are a huge hassle.).
When I clicked submit online 2 hours before the deadline, I felt I had the complete package. I had the stats, I had the essays, I had the recs – I am going to college.
A month and a half later, I was shocked when I received a deferral letter in the mail – and this is not due to blind confidence either, as I really felt that my application was strong enough in terms of academic merit to get into the college I was applying to.
I started asking myself these questions – were my SAT scores not high enough? Did I not do enough activities? Was my essay too boring? Finding no answers to my queries, I plunged myself headfirst into Regular Action applications. Not to sound corny, but it was after doing the MIT application that I realized what was wrong in my Early application.
I was trying too hard to be different. I was trying too hard to be the "person that adcoms like." I wasn't being myself. I re-read my Early application, and I realized that I sounded like a cookie-cutter student that was trying too hard to flaunt his academic abilities. I was trying hard to impress, trying hard to be unique, but I hardly recognized the person that the application tried to convey.
Realizing this, I completely took out the 13-draft essay that took me three solid weeks of revision and wrote an essay on the same topic, using the tone I liked and the angle I wanted to convey it from, not the tone and the angle that my teachers had suggested. After proofreading it carefully for grammatical errors multiple times, I sent it in without consulting another adult. I wanted this new essay to be mine, I wanted it to be from myself – not from my GC, not from my teachers.
The biggest piece of advice I want to give you guys as you guys approach not only the EA application, but all the future applications that you might encounter is to just be yourself in whatever you do. When you write your essay, don't write with a specific audience in mind. Don't say the things that you think the admissions officers "want" to hear. When you do the interview, don't try to second-guess your interviewer's questions and remarks. When you describe your activities, convey your true passions. Don't say that you totally loved Student Government when you hated all the lunch meetings, and don't be shy to share the ups and downs in your life – even if it may be something as simple as loving the fresh smell of grass after a spring rain. These things are what makes you different from the thousands of people applying to the same school as you are. It's not just about the four digits in your SAT score or the numbers after the decimal point in your GPA. Even a robot can be trained to take tests or do algebra, but what is it that makes you different from a test-taking machine? Quite simply, what tickles your heart and motivates you to overcome the challenges that you've faced in your life?
I wish you guys the best of luck in your college application experience. And for those really committed to coming here, I hope MIT is a wonderful fit for you :) I'm still discovering reasons to love MIT each day. Take a look:
Amazing Guest Lecturers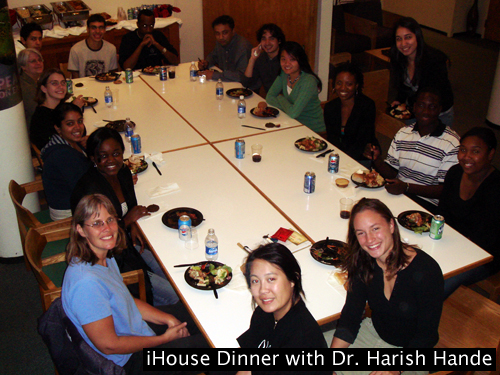 Dr. Harish Hande is a pioneer in bringing light and electricity to rural locations in India through affordable solar panel systems. iHouse had the honor of inviting him to dinner and learning about his developmental solutions for underprivileged countries.
Diverse Talents
Last Saturday I went with my friends to Sigma Kappa's Late Night – an annual charity talent show hosted by the sorority to promote research for Alzheimer's Disease…
…and saw some really amazing acts –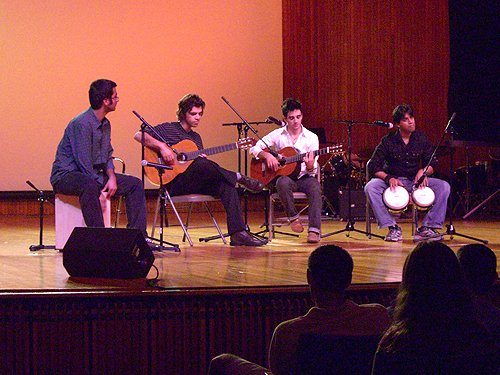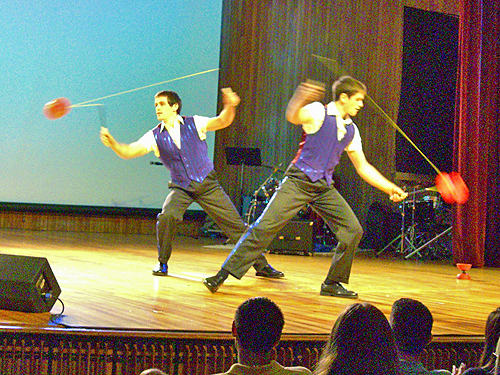 One of the most incredible things about MIT is the wealth of talents that is represented in the student body. Everyone comes here with a story to share, and it is very rewarding to discover the stories of your fellow peers. We may hail from the different corners of the world, but we are all connected by a love of learning and a deep conviction for our passions – be it playing the guitar, acting in a circus, or inventing robots. Explore the stories of those people around you – you will be pleasantly surprised (I still am, almost on a day-to-day basis).
Unity
MIT is United. We may be taking classes from Course 1 to Course 24, but we are never too busy to help the person beside us in a pset that dragged on for too long or help him study for a test that seems too difficult.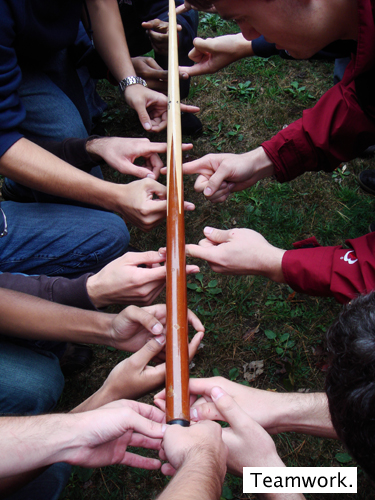 I went on a retreat with my fraternity, SigEp, last weekend, and we played this game in which the objective is to lower a stick propped up by the index fingers of all the players to the ground, with the catch that no one can lose contact of the stick in the process. A couple of days after we returned from the retreat, some of the older brothers volunteered to host a study session for the froshies in anticipation for the 8.01 midterm. It is interesting to note that one of the key points in the "Helium Stick" activity is to constantly look out for one another, especially the people who are about to lose contact with the stick. In the same way, the people at MIT offering help to one another is in tune with the same spirit. I'm not referring to just my fraternity brothers offering to prep me in 8.01, but also the guy in my 18.02 recitation that patiently explained the concept of directional vectors to me, the girl that offered to sub in for my SAT class when I have to be gone for the SigEp retreat…the list goes on and on.
Anyways, this entry could quite viably be two entries, so I think I will pause here. Before I sign off though, check out this cool picture from our retreat…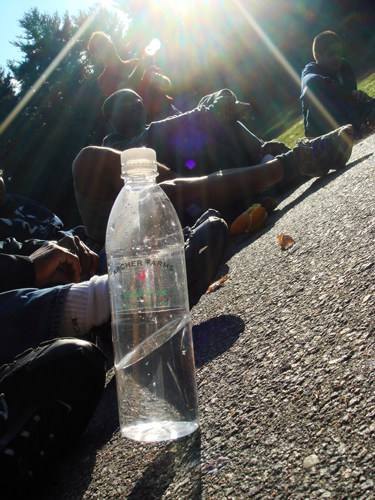 …and some excellent food.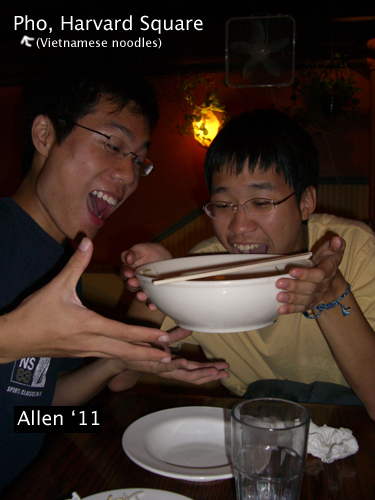 So best wishes from George '10 and me to all the Early applicants! Share your stories, explore your options, and dare to dream. George and I have every confidence in you. Right, George?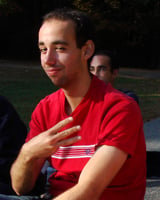 Right.
Here's to you all. Cheers!
52 responses to "What Makes You Tick?"