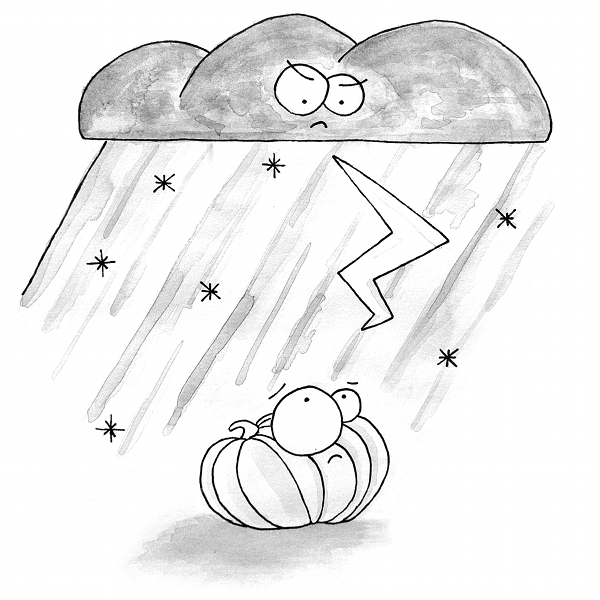 If a 5-kg pumpkin is tossed through a snowstorm such that it reaches the peak of its trajectory one meter above the roof of the Green Building, which is 90 meters tall, with what velocity does the pumpkin meet the ground in McDermott Court? How much time, in seconds, does the airborne pumpkin have to come to terms with its identity* before landing? You may neglect wind, viscous drag, and the altered aerodynamics of cold, wet pumpkins for the sake of simplicity.
This past weekend's wind and snow left over three million homes and businesses throughout the Northeast without power but promptly turned into a miserable deposit of slush when it hit Boston. Sometime after midnight on October 30th the slush mixed with the remains of over 100 shattered pumpkins in McDermott Court below the Cecil and Ida Green Building.
The Green Building, MIT's Building 54, was built on stilts in 1964 to circumvent Cambridge's height limit. At 21 stories and 90 meters the Green Building became and remains the tallest building in Cambridge. Every October, First West, the smallest hall in the East Campus dorm, drops some large number of pumpkins—two dozen last year, over 100 this year—off the roof in front of lots of hosed, enthusiastic, and, this year, really cold, fellow MIT students.
On the top is my footage of the event. On the bottom is Isaque '15's version, which is much higher quality. Full screen and watch both for maximum experience. Happy Halloween, and best of luck to those of you applying EA tomorrow. =)
* Curiously enough, the only thing that went through the mind of the pumpkin as it fell was, "Oh no, not again." Many people have speculated that if we knew exactly why the pumpkin had thought that we would know a lot more about the nature of the Universe than we do now.
25 responses to "Pumpkin Drop"