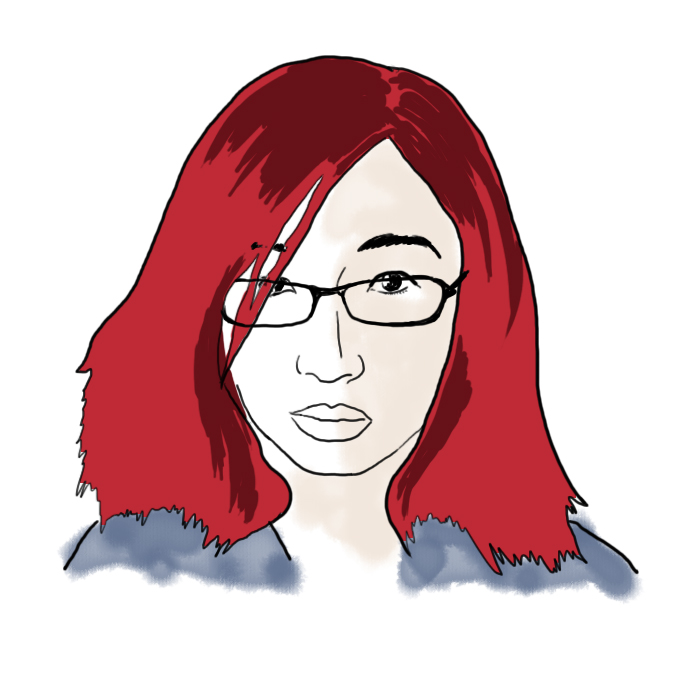 A valiant attempt at creating an entry that fits as many categories as reasonably possible.
Thanks to the miracles of modern transportation, I'm wringing out this week's MIT roundup from the wrong side of the Mississippi. (Internal aside: The previous sentence sounds like it was written by a cattle rancher. This distresses me. I own no cattle.) Tucked away in the American prairies and folded under a blanket of metropolitan sprawl, Saint Louis is best known for the transformation of the hyperbolic cosine function into a national symbol of westward expansion, Barack Obama's favorite pizza, Yan Z., frequent superiority in the World Series, frequent superiority in the cooking of ravioli, frequent superiority in being more dangerous than other cities, Yan Z., frequent superiority in jazz, Yan Z., and frequent superiority in being the hometown of exactly seven early action acceptees to MIT this year. Congratulations!
In order to ready the potential '13ers for the ceaseless rounds of free food that will be slung at them as soon as they bare their unfed faces on campus, the local alumni association sponsored a luncheon today for the acceptees and their genetic prototypes (a.k.a. parents). I was in attendance to take pictures of food- I mean, answer questions. All in all, the afternoon was filled with nutritious discussion worthy of repost on the blogs, which inspired in me the idea of reposting the discussion on the blogs (marvelous logic!). Thus, I present these following questions of great import, as well as answers of great export:
How accessible is campus dining?
In my realm of discussion, campus dining is a porcupine in a petting zoo of tamer subjects (like the arts at MIT or eating desserts at MIT) : it's difficult to approach, prickly to handle, and hasn't evolved significantly in the last 30 million years. Also, I prefer to avoid it completely by (1) grocery shopping on a weekly basis and (2) occasionally reverting to a hunter/gatherer lifestyle (hunting down leftovers from special events and gathering victuals from study breaks and group dinners, that is). Sadly, such glamorous dining habits are not universally feasible on campus. In four of the twelve dorms, residents are required to pay $300 per semester for a 50% discount in any of the four residential dining halls, which are only open during dinner hours. Breaking even with the dining system is about as easy as breaking through a wooden door, which is why I chose to live in one of the non-dining dorms and carry the key to my room door.
Common alternatives to residential dining:
1. Buying groceries and cooking for yourself or in a group. All the dorms have microwaves, stoves, and fridges, as well as at least one member who knows how to prevent the fire alarms from going off.
2. Buying food at the Student Center, home to Subway, Dunkin' Donuts, Cafe Spice (Indian), Sepal (Middle Eastern), Shinkansen (Japanese), Cambridge Grill, and Anna's Taqueria. Additionally, the campus is peppered with soup-salad-sandwich cafes and food trucks.
3. Joining a fraternity/sorority/independent living group that provides a full meal plan (dinners and access to breakfast/lunch supplies for a set price per semester).
Convenient details can be found here. Currently, the campus dining system is a breeding ground for complaints and receives quite a bit of coverage in the Tech. Having said this, everyone gets fed one way or another, even when I'm not around to take pictures.
What will AP tests do for me?
AP tests will help you achieve physical and spiritual separation with your money. As for achievements that are slightly less Zen, 5's on the AP Calc. BC exam and the AP Physics C exam will get you out of corresponding introductory classes at MIT. A 5 on one of the AP English tests will grant you exemption from the Freshman Essay Evaluation (FEE), which is a pain in the collective neck of the freshmen class. Exemption from the FEE gives you the sweet freedom to take any writing class that you want. Other AP scores are like raisins in cookies: nice to have around, but mostly useless.
At the beginning of the year, MIT offers Advanced Standing Exams for students who wish to pass out of introductory biology or chemistry. This year, the biology exam had a 31% passing rate, while chemistry boasted a whopping 7% (figures courtesy of The Tech). I offer this as evidence that MIT freshman subjects require a deeper level of understanding than do most advanced high school classes.

How did you like your classes this semester?
Viewed from the flip side of finals week, my classes look great, like Oprah Winfrey these days. Sure I complained about biology once in a while and was consistently asleep for about 10 minutes of every linguistics lecture, but I've learned how to cure cancer (theoretically) and rewrite Dave Barry jokes using the International Phonetic Alphabet, so I'm a better person now.
Academic highlight of the semester?

I say with no hesitation and thus no punctuation even when needed such as right here that Introduction to Solid State Chemistry was the greatest class I have ever beheld in my brief academic career. Professor Sadoway fully deserves his five-star ratings on his YouTube lectures.
(Amusing story: I was feebly attempting to conceal my camera while taking this shot, but it turns out that the video camera in the lecture hall was pointed directly at me. As a result, everyone in 3.091 who watches the online video lectures witnessed my tourist-esque behavior.)
Coming to MIT with a paltry year's worth of non-AP, non-honors high school chemistry just a shade above the difficulty level of baking-soda-and-vinegar vocanoes, I should have been grossly underprepared for a class that covered everything from Schrodinger's wave equation to zwitterionic properties to polymer engineering (not to mention the sheer intimidation factor of a class of over 500 students). As it happened, inexperience worked to my advantage. Unjaded by the confidence of prior knowledge, I ended up working harder and studying longer than basically everyone I knew. Never before had I found chemistry to be even vaguely fascinating, so my newfound enjoyment of the material was mildly mind-shattering.
In the end, I got the 3rd highest grade in the class* and landed a paid research project with Professor Sadoway's research group next semester. Empirical evidence shows that, on occasion, effort pays off even at MIT.
(*Information obtained from TA informally. Generally, MIT doesn't rank students; in fact, this semester I've only received exact, numerical grades in one class so far.)
I mentioned this anecdote for two reasons:
1. To invalidate the assumption that having minimal prior knowledge in a subject will necessarily prevent you from succeeding in it. (In other words, don't worry if you feel as if your high school classes are like Bambi to MIT's Godzilla. (In other other words, it's okay if your high school science classes sucked.))
2. To suggest that MIT introductory classes can be immensely worthwhile and challenging even if you learned the same subjects in high school.
What are your plans for IAP?

IAP, or "Independent Activities Period" in unzipped form, is the temporal broom closet in which you cram all the hopes and dreams and wildly ambitious schemes (hey, that rhymes!) that you never had time for during the regular semester. Want to learn how to speak in Tagalog while spinning a Chinese yo-yo at the same time? Save it for IAP. Planning to visit your friend in Random Hall that you haven't talked to since Orientation? Make an IAP date. Trying to dip into Java programming, amateur orienteering, or chocolate tasting? Take an IAP class. Need to atone for your past cynicism by helping prefrosh see the bright side of MIT life? Save that one for CPW, actually.
A quick rummage through my junkyard of IAP plans produces the following:
1. Working on a paid research project with Group Sadoway. Along with Ambrose '12, I'll be investigating the design of solid-state polymer batteries for performance in high temperatures, which is useful because liquid electrolytes tend to randomly explode.
2. A 6-unit class in Mechanics II, because double the mechanics is double the fun! However, I've always been wary of having fun in excess, so I might end up dropping the class if it turns out to be too hefty of a time investment.
3. Hummus taste-off. Enough said. Should I have to describe this in more detail, I may start weeping tears of joy.
4. Mystery hunt, MIT's epic-scale, campus-wide, interactive puzzle challenge. I'll probably be a devoted spectator on the Random Hall team, which is usually one of the more formidable contenders.
5. Weekly Dim Sum runs. My personal goal is to introduce at least three new people to the gutteral, gristly gourmet experience on each trip.
6. A pilgrimage to Pour House, an MIT favorite in Boston that serves half-priced burgers on Saturday nights.
7. Taking a Sport Taekwondo class.
8. Helping Katelyn '12 move into my room (yep, that's Roommate #3) since my former roommate decided to ditch our hovel and live a monastic life of solitude in a single down the hall. Katelyn, if you are reading this, I propose we celebrate your moving-in (inmoving?) by preparing a homemade dumpling feast with turkey meatloaf and carrots and oyster sauce and vinegar and tamarind chutney. Also, you should grate up some confetti.
9. Helping Abby '12 decide on a mural to paint on the wall outside my room. So far, I'm gunning for one of M.C. Escher's scroll-sized prints. Any thoughts from the blogosphere?
10. Collaborating with Aviv '09 on the Random Hall History Project. Earlier this year, Aviv contacted me about collecting photos and anecdotes for an online database of the long and illustrious history of our beloved dorm, a proposal that immediately went onto my mounting heap of IAP tasks.
11. Starting a website with Donald Guy '12 in which we empirically prove that everything in existence is the Stata Center (at least from a visual/artistic standpoint). This sweepingly ambitious vision was inspired on a cold December evening as Donald and I were leaving Simmons Hall. My attention was snagged by some object or another that resembled MIT's famous wonder of Seussical architecture, and I remarked on this aloud, to which Donald responded: "Everything is Stata." A proverb was born.
12. Blogging, reading, sitting in on the occasional programming class, and generally reacquainting myself with effective methods of chillaxing.
In actuality, I'll probably end up doing half of the above and sleeping through the rest.
Back to the MIT Prefrosh Luncheon: How was your salad? Was it bigger than your head?
Truly, this is a question of extraordinary relevance. I opted for an unbalanced pot-pourri of spinach leaves, fried shrimp, mango, and strawberry, with emphasis on the spinach. Carrot and onion served as nothing more than charming footnotes of vinegary flavor. The sheer breadth of the bowl dwarfed my cranium, but the salad was underwhelming.


Dang, sorry that salad didn't work out for you. How was the other food?
Unexpectedly, the bread basket was a tour-de-force of texture and warmth, seamlessly integrated into a soft, crusty lesson in The American Bread Experience.
I was fortunate to have seated myself next to Max 13's mom, who brimmed with excellent motherly questions and also allowed me to photograph her main course. If memory serves me faithfully, this is grilled salmon with rice and asparagus stalks.
For the dessert course, I rotated myself to another table and chatted with Julia '13, who stunned my lens with a bright ruby sorbet.
Derailing unabashedly from the track of MIT admissions relevancy, I had a pulled-chicken Banh Mi sub for dinner five hours later and nearly decided to scrap my IAP plans and book a flight to Vietnam.
(New Year's Resolution: 12.1 megapixels.)
Next time, I'll try to cover Bizarre Questions That You Wonder About But Rarely Ask, so feel free to vent your curiosities via comment or email. In the meantime, happy calendar reset!
85 responses to "Questions? Answers."