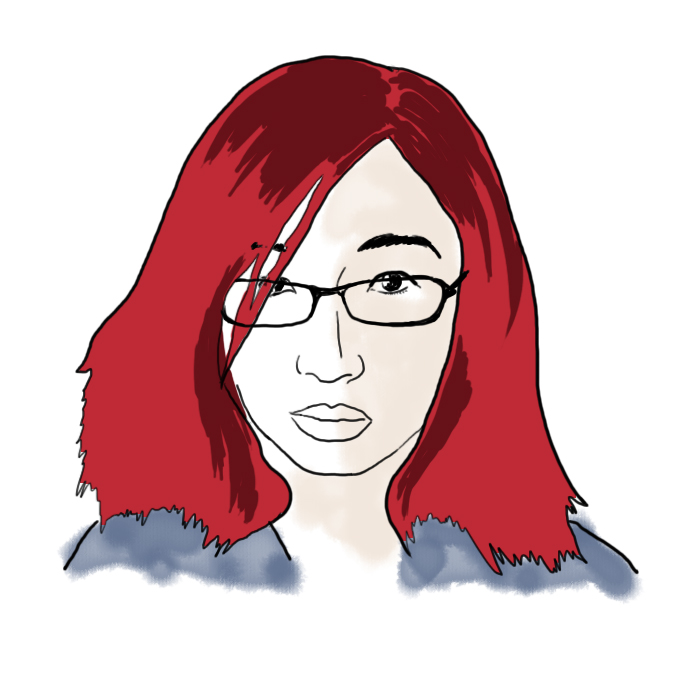 Relativity Special (and vice versa)

by Yan Z. '12
I took a test today that relied on practically everything I have ever learned from Sesame Street, which is mostly just one thing.
Today, I felt: angry and heartbroken.
Because: the first question on my Special Relativity test required me to add (and subtract!) numbers with 5 significant figures, and the professor did not manage to include a free copy of Matlab on the formula sheet. No kidding. I opened the test book, glanced at the first page, and felt my face melt into a puddle of inconsolable horror at the sight of more Arabic numerals than I've seen since the SAT II's, which was like 29483 years ago. Unable to bear it any longer, I turned the page, and went on, shuddering in a rising tide of despair. With the precious rind of spare time remaining after I finished the next three problems, I took out my extra pen and whittled an abacus out of the armrest of my chair, with which I hoped to compute the difference between .02932 and .39328.
A wise person once said that arithmetic is like arthritis: it cripples your dreams and contains the letters a, r, t, h, and two i's*. Or is it three? I can't add, remember?
*Cross-curriculum insight of the day: Homophones are the limit of consonance as consonance approaches infinity. Someday, I plan to teach a literature class that has a math prerequisite.
It wasn't until 6:30 pm that I discovered that I had scored 40 points higher on the exam than predicted. (Or was it 50? I can't subtract either.) I'm like the Dow Jones of test grades these days. Also, I'd like to thank the proud sponsors of Sesame Street for their generous contribution to my math education. Never will I forget that seven always comes after Big Bird.
Additional thanks goes to the Physics department library and the irreproachable views of Killian Court glowingly spread outside each window, watching over the study desks like guardians of sanity. Waves and vibrations, sunsets refracting through Windex'ed glass panes, provided the counterpoint to a dry, overbaked textbook with too many pictures. By pictures, I mean "diagrams." By "diagram," I mean "a sine wave with an arrow pointing at it."
It's now 1:46 AM, and I've exceeded bedtime by a couple of hours. To first order, I'm sleeping as I type this. (Definition of MIT, #129: The ability to Taylor expand your states of consciousness around an equilibrium point, usually to convince yourself that you've slept recently.)
18 responses to "Relativity Special (and vice versa)"