My most vivid recollection of a July 4 celebration came from a book that I read in middle school.
The Westing Game, by Ellen Raskin.
Basically, the book is about a bunch of strangers coming together to live in an apartment, only to find that they're all related at the end to a rich man. The mysterious rich man (who never shows his face) instructs the heirs that the race is on to claim his treasure, and leaves behind a series of puzzles for the heirs to solve. At the end of the book, after much intrigue and humorous dialogue (the book is quite entertaining, actually), the fireworks go off over Lake Michigan, in celebration of America's birthday.
As a US citizen, this is actually my first time ever seeing Fourth of July fireworks/celebration, because I've never really been in the States during Fourth of July. (or if I was, I was in little-town Maine for Mathcamp and the valleys of Ojai, Cali for SSP, so I probably didn't feel the Fourth-of-July-ness).
I had a truly "American" Fourth of July.
I was on foot (the American way of travel – look at how much Americans jog!) the entire day, I went to Quincy Market for chowda for lunch (the American meal), and listened to patriotic songs at the Hatch Shell at night (the American musical tradition).
That, and a few other things. Hope you enjoy.
3. Get to the Hatch Shell early and get a wristband for the night's concert! (they go out fast, so get there before noon, at the latest). After you have a wristband, leave (and come back around 6 or so).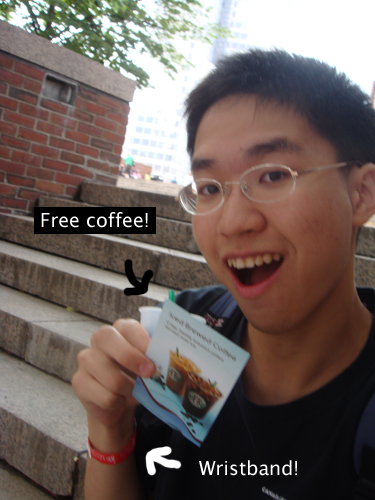 2. On the same note, July Fourth is a wonderful day for free stuff. FREE toothpaste, FREE Starbucks Iced Coffee (unlimited trials!), FREE pork, FREE cereal, FREE Pillsburys….celebrate Independence Day with FREE goods!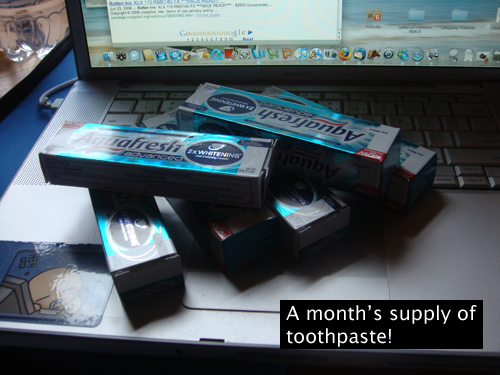 1. For good measure, take FREE pictures with Blackberry mascots. Especially if this one has Facebook on it. :)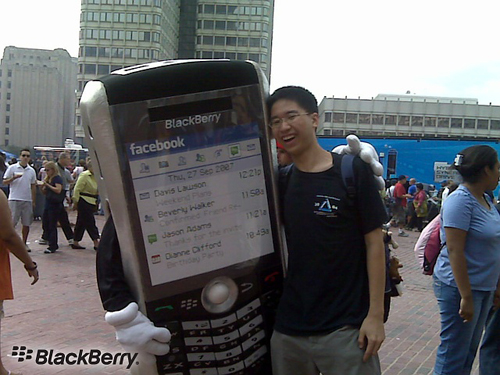 0. Just a taste of the festivities! :)
The National Anthem and the flyover with F-15s! (this is also the very first time I've ever stood for the US National Anthem, lol. I've never heard the US National Anthem played live on American soil before).
Tchaikovsky's 1812 Overture performed live! with cannons! and fireworks!
There were SO MANY of these sing-a-long thingies. Be happy I didn't put up take me out to the ball game or casey at the bat. =p
The uber-famous Boston song I'm Shipping Up to Boston that I actually heard for the first time (I think someone danced to this on America's Got Talent though…). I didn't like the original because there was too much screaming in the vocals, but I like this instrumental version!
Rascal Flatt's Life's a Highway performed live. I've personally never heard much about them save a few random songs on the radio, but judging from the crowd's response – they're pretty popular, I guess.
—
As for fireworks, I believe that fireworks lose their magic once it's captured via images or video, so come to Boston and see it for yourself! I was pleasantly surprised the fireworks lasted for so long (nearly 30 min!). My favorite was the American Soldier set of fireworks, for those that also saw the fireworks and know what I'm talking about. To use a cliche, it's no understatement to say that there really was "magic in the air."
Hope you also had a great Fourth of July. Remember, the early bird gets the worm, er, wristband, and Starbucks always taste nicer when it's free. :)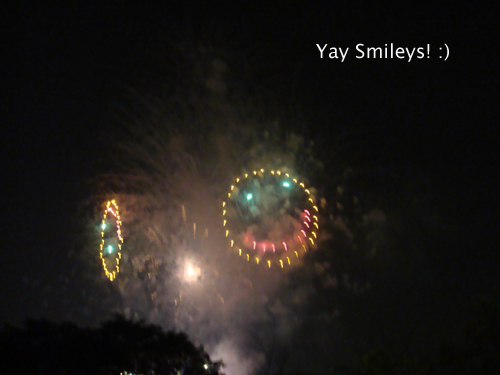 24 responses to "Remember the Fourth"