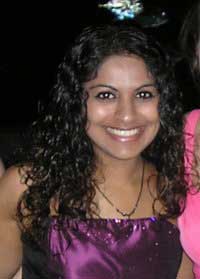 Name: Anjum Sharma
Hometown: Perkasie, PA
Degree and Minor: 15 with a minor in 14 [layman's terms: Management Science with a minor in Economics]
What's next: Working as an analyst for Lehman Brothers in NYC for their Global Real Estate Group in the Fixed Income Division.
Favorite MIT Class: 8.20 Special Relativity because Professor Jaffe was an amazing lecturer who is incredibly passionate about his work and about teaching and the topic is highly interesting and something I'd have been completely unexposed to otherwise.
Favorite MIT Professor: Terry Heagney for 15.281 Managerial Communications because he was always willing to help us with things completely unrelated to his class and made himself incredibly available as a mentor. Learning from his vast industry experience was also very valuable.
Favorite MIT Event: Tie between Boo's Cruise and Senior Ball. Everyone was just so happy at these events and it was amazing to get together with everyone in the class.
Random MIT Memory: Trying bubble tea for the first time with Matt McGann and the rest of the advising group freshman year. I didn't like the way the bobas tasted so I started shooting them out of my straw at random targets on our walk back to campus from Chinatown. I got into a shooting competition with another one of the advisees and it made the walk highly entertaining. What's funny is that now I'm addicted to bubble tea and would never imagine wasting any of the bobas again.
UROPs: Freshman Year in Course 9 [Brain & Cognitive Sciences department] with Prof. Ken Wexler's lab. We studied the language acquisition process in children of various age groups. Junior Year in Course 15 [Management Science department] with Prof. Nittai Bergman. We tried to find a way to analyze how various networks are formed amongst CEOs and other top executives in Fortune 500 firms.
Living Groups: Freshman year in MacGregor House "I Entry": technically part of H Entry, but Chris Pentacoff (who lived across the hall from me) and I made the 2-1 suite break off from the rest of H entry and begin our own colony. "I Entry" exists to this day with me as its former CEO and Chris as Chief Engineer. In sophomore year I lived in Baker House, 2nd west. Junior and Senior year in Alpha Chi Omega.
Activities: Alpha Chi Omega (social chair Senior year, recruitment chair Junior year), Dance Troupe (treasurer Sophomore Junior and Senior years), Panhellenic Association (publicity chair Junior year), Mentor Connection (Junior and Senior years), Orientation Leader (Sophomore Junior and Senior years), Women's Orientation Committee (Sophomore year), MIT Bhangra Team (Freshman and Senior year), Boston Garba/Raas "Rangma tali" Team (Sophomore year), Mars Gravity Biosatellite (finance manager Sophomore year), Associate Advisor (Senior year), Baker House (judicial committee officer Sophomore year), South Asian American Students (culture show choreographer Senior year), Hindu Students Council (secretary Sophomore year, publicity chair Freshman year), Sloan Undergraduate Management Association, Undergraduate Economics Association. Otherwise I like to golf.
2 responses to "Senior Week: Anjum Sharma"