5/4 Update!:
You Know You've Been Doing Too Much Bio When…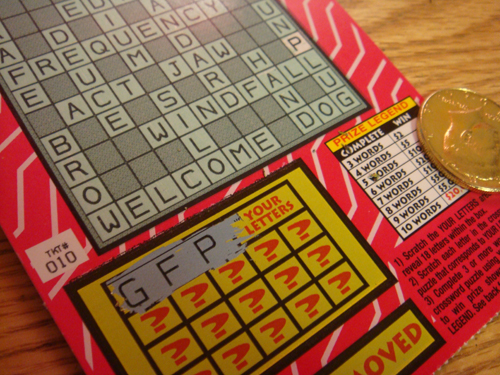 …the first thing you think about is a certain protein used in recombinant DNA that makes C. elegans glow prettily in the lab.
—-
5/1 Update!:
Premed Boulevard presents With One Test
With one test,
I kissed the A goodbye
With one test,
Adieu to five point oh
I can study my heart out
With one test
My fate and class grade is sealed
With one test
I'm the good student
Or the slacker who doesn't work
When I study I'm hardcore
I can take any test
No words can tell the stories psets tell
Watch me when I work, you can't write that down
You know I tool, it's there in black and white
When I take a test, you'll give me a A
Yes, with one test I am so ashamed
Just one test sets my head inflamed
Silent music starts to play
One test just today makes my world so gray
With one test my world's upside down
I feel like I'm gonna drown
To GPA yet to come
Still out there yet to come…
Silent music starts to play
One test just today makes my world so gray.
With one test I am so weary
I'll return to my tooling hell
I'll say, "I'm not gonna sleep!"
This time I have failed, I have failed for good
I am back to having all those B's
With one test, I will flee!
ps. I've been taking a class this semester where the semester grade is comprised of 4 exams. I've been getting A-'s in the exams in that class, but for some really dumb reason, I lost a bunch of points on this last (3rd) test, and now I absolutely need an A+ on the next test to bring up the average. And if you're at MIT, you know that "getting an A+" is not something you can say you want to do and achieve with complete ease. Oh well :(
—-
4/29 Update!: Since I don't anticipating photoblogging MUN till after my LAST EXAM before finals (YESSSS) next week, this blog will have to be the outlet of my ramblings till then =p
Just like last year, I went today to help stuff the i3 DVDs into the booklets that ya'll who committed (if you haven't – seriously – just do it. One small click of your mouse = 4 years of joy* and jubilation*. Guaranteed.)
* Conditions apply. Effect reported for a significant cross-section of the population but may not entirely apply to each individual in the sample size. The claim is reported for a 95% confidence interval only. However, the author makes no guarantees on the confidence interval or whether a survey was conducted to assess this statement. Experiences may also vary across time intervals. Statistical studies have shown that said effects diminish rapidly after fifth week of term, although demonstrate a statistically significant increase during Orientation, CPW, and long weekends. Generally speaking, effect studied shows a global positive level throughout duration of study.
Just kidding 'bout the disclaimer – MIT is really awesome, even though sometimes you might have to pull all-nighters for some exams…cough cough*
…. AND I just realized that I never finished the first sentence 3 paragraphs ago. So much for going on tangents. =p
but ANYWAYS! lookee –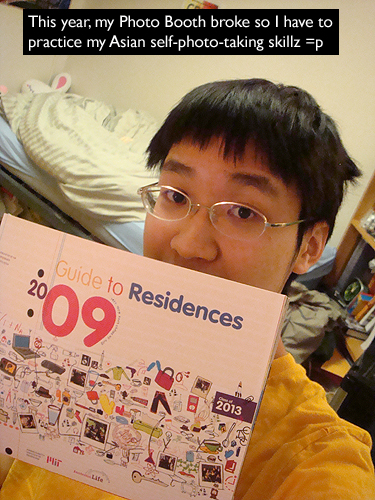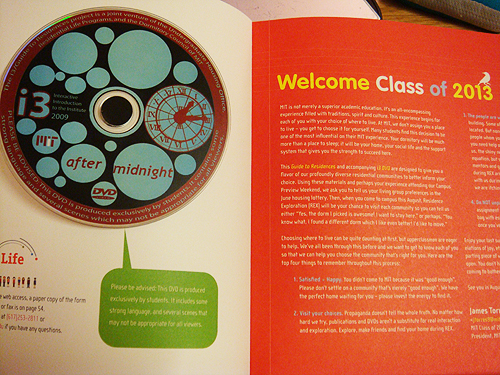 The 2009/Class of 2013 Guide to Residences were packed with the i3 DVDs (student produced DVDs with a 5-minute interactive introduction to each dorm) today and will be sent out with the May Next Big Mailing which would contain everything from academic information, various paperwork, and also instructions on setting up your Kerberos ID! (MIT username =p) Remember, you're not fully a MIT student until you send out your first email through mit[dot]edu! :D
But yup yup. Just to give you a peek of the visual goodness that is always contained in these dorm booklets –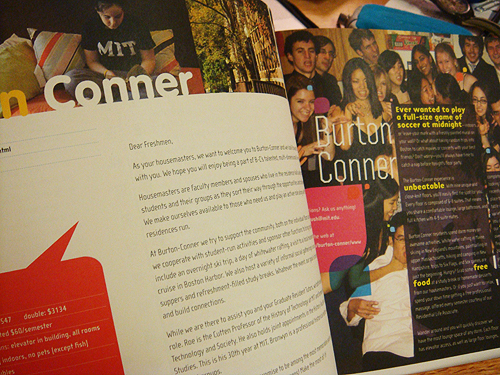 Enjoy!~
And to those that haven't committed yet – commit already! What are you waiting for? ;)
—-
Originally posted 4/24: Adding on to recent "bloggets" – this is going to be a super short blog.
I have a lot to write about – no really, I do – but the fact that I'm writing this on a Friday night when there's AXO Lip Sync (or Youtube AXO Lip Sync to see what it usually entails =p) and the DTYD party – just shows how incredibly hosed I am. ARGHHHH >____>
Oh well.
I really just want to fulfill this small promise, so here it is =p
At the CPW Festival, you may have seen me holding a "Carmen Sandiego" sign and pubbing for AIRMUN. One prefrosh recognized me from the MIT blogs, and since I was pretty surprised and you were the first to do so, I said that I will have a little present ready for you at Meet the Bloggers. Actually, I did have that ready for you, but I don't think you came. :( Since I don't know your name, if you read this and email me at ask-oasis [at] mit dot edu – I'll mail it to you! :)
But I feel that this isn't exactly relevant to MIT Admissions – so I'm going to post the 2009 iHouse i3 video! (I'm going to do anyways later, but might as well do it now =p)
Soon, you'll be receiving a booklet with Housing Information and a DVD introducing you to all the dorms (this will come with the Next Big Mailing that you'll receive in May after you matriculated!). If you want to see some samples from last year's – click! Basically, your DVD will contain over a dozen of these videos – one for each dorm – introducing you to MIT dorms! =p (these videos are called i3 videos because their official name is Interactive Introduction to the Institute)
Granted, they're probably not random as this year's iHouse i3 = =" heh.
And also, since this is going to be my "mind dump" entry –
I just got confirmed to be in San Francisco this summer from the middle of June till the middle of August! I will be working in a community health clinic in Oakland, CA that provides health services to Asian immigrants, especially those who do not possess adequate language skills to go to a English-speaking hospital when they are sick.
I'm pretty sure that I'm going to be going into public health in the future, so I thought this internship would be excellent in providing an introduction to the "domestic side" of public health.
On the side, I'll be living at Berkeley and prepping for MCAT. Any suggestions on what I should do in San Francisco/Oakland/Berkeley? (for fun and FOOD places, haha =p)
27 responses to "My Shortest Blog Ever (update 3 =p)"