So yesterday I saw the first real snow of the season!! (come on, the snow on November 21 wasn't "real snow" – it melted all before noon!)
I was walking out of Lobby 7 after spending the afternoon teaching my last SAT class of the semester, and I suddenly saw specks of white fall from the sky. I asked myself…is that SNOW? And then I felt some white flurry specks of coldness brush my cheeks, and I'm like, "WOW IT REALLY IS SNOW!"
Haha, I guess this is what happens when you come from a tropical country where it never snows. :)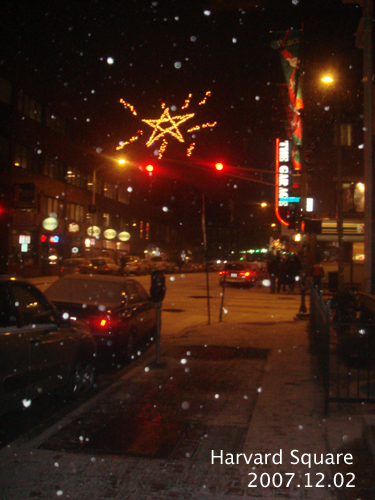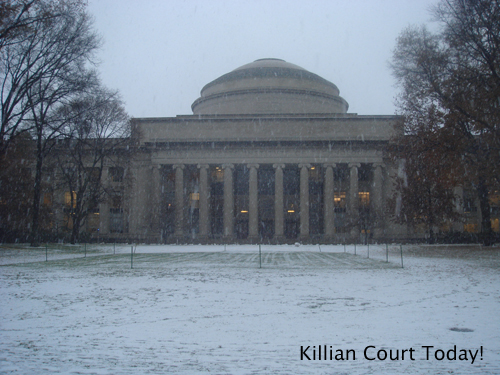 On a equally festive note, my dorm, iHouse, had a holiday dinner on Saturday night! (We're supposed to have a Thanksgiving Dinner, like most of the other dorms, but it was postponed so it became more of a "Christmas" dinner):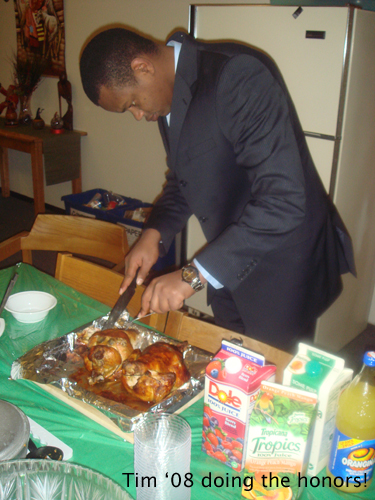 We had a truly "international" dinner.
We had entrees represented from Japan (miso soup), China (garlic noodles), Puerto Rico (rice dish), India (vegetable korma), US (roast chicken), as well as desserts represented from US (pumpkin and apple pie), China (almond tofu), and as well as my critically-acclaimed Taiwanese azuki bean soup w/ rice balls < /shameless plug >. Hey, we're supposed to be International House, after all! =D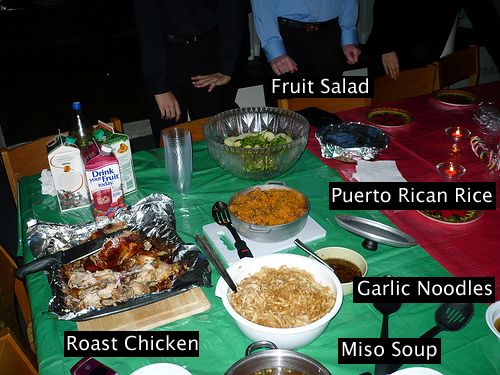 Afterwards, we also had a gift exchange. We were really happy with our gifts: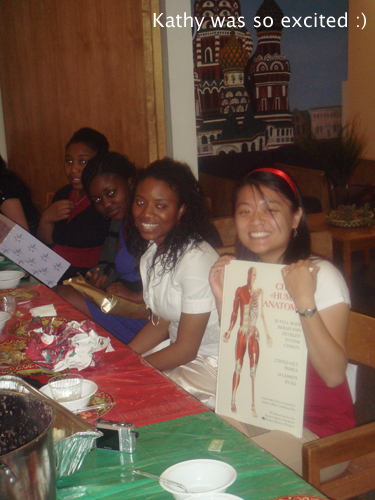 I got a gift card to Boston Tea Stop (the closest bubble tea shop from MIT – in Harvard Square) from my Secret Santa :)
On a completely unrelated note, freshman generally have to take two Physics courses to fulfill the Physics GIR (General Institute Requirements). (Don't you love my abrupt transition?)
Generally, these two Physics courses are 8.01 (Newtonian Mechanics – fall semester) and 8.02 (Electricity and Magnetism – spring semester). Unless you want to be amazing and take 8.012 or 8.022 (Physics For The Truly Insane), you will inevitably encounter TEAL. TEAL is MIT's affectionate synonym for "Technology-Enabled Active Leaning" and basically involves students learning from Powerpoint presentations of the lecture while toting white clickers that submit their responses to multiple-choice concept questions scattered in the lecture slides to the instructor – allowing the instructor to determine immediately the level of student learning [and participation, as those students who are falling asleep cannot effectively click their clickers ;)].
Aside from the technologically-enhanced lectures, another complement to TEAL is that students must submit weekly assignments online through a site called Mastering Physics. The online assignments involve answering physics problems and entering numerical or variable answers through a real-time system that immediately assesses the answer and provides hints if the student does not know how to approach the problem or enters the wrong answer. Since everything is done online, homework can now be due late at night, or on weekends. For 8.01, there are 2 assignments weekly that must be submitted before 11:30 PM on Thursday and 8:30 PM on Sunday. One of the biggest drawbacks to this system is that everything is computerized, and if you miss the deadline by even ONE SECOND, you get a zero for all the problems that you didn't submit before the deadline.
So my roommate Zach and I suddenly remembered that we had a Mastering Physics assignment due last night at 8:10, and this was basically the ruckus that ensued:
Disclaimer: This does NOT happen on a daily basis. =p
8:10
Zach: Do we have a Mastering Physics assignment due today?
Me: Crap, you're right!!
*logs on and attempts the questions*
*everything is fine, until 3 minutes before the deadline*
8:27
Me: Three more minutes! What do you still have?
Zach: The reading question and the one on escape velocity.
Me: Me too! Dude, did you read the chapter?
Zach: I don't remember any of it!
Me: Me neither! Dude, where's my book?!
*retrieves the Physics book from some corner in the room*
Me: Uhh, the chapter is about Kepler's Laws of Gravitation.
Zach: Oh! That's easy! *scribbles something into the reading question*
Me: *writes* "I … found … this … chapter … to … be … pretty … confusing … because … Kepler's … third … law … is … confusing ….."
8:28:30
Me: One and a half minutes!
Zach: Let's see the escape velocity question…oh crap! It has like seven parts!
Me: *clicks in* AHHH.
Zach: *reads* The key to making a concise mathematical…blah blah…find the mechanical energy of a object blah blah blah…assume gravitational potential energy is zero at large distances. I don't know what this is! What are you doing?
Me: I'm doing the multiple choice! Yes, yes, no, yes, no….YESS I'm getting all of these right without reading the questions! It's crazy!
Zach: ARGG ok I'll go and do those as well!
8:29:30
Me: AHHH THIRTY SECONDS. What is the formula for escape velocity?!
Zach: AHHH it's something to do with the square root of something!!
Me: AHHH FIFTEEN SECONDS! Stop doing what you're doing! Press submit!! Press submit!! They'll give credit for the questions that we at least answered!!
*frantically presses "Submit Item"*
Zach: I'm pressing it!! I'm pressing it!! AHHH "Cannot submit homework when there are incomplete parts"!!
*bursts out laughing*
Me: AHHH OK I FOUND THE ESCAPE VELOCITY – IT'S THE SQUARE ROOT OF…
8:30:00
Together: AHHH IT EXPIRED!!
Zach: Okay, I'll just take the time to do this homework assignment over properly.
8:31:39
My screen: "Homework submitted 1 Minute and 39 Seconds late and received 0% of available credit."
Me: So all that work and I still got 0% for the Escape Velocity part.
Zach: Oh well, at least it was fun.
10:27
*two hours later*
Physics Instructor (in an email): Due to a confusion of dates on the course webpage, your Mastering Physics homework had been extended by one day.
54 responses to "SNOW SNOW SNOW!"