What all started as a blatant rip-off of Kris's post on summer reading led to this: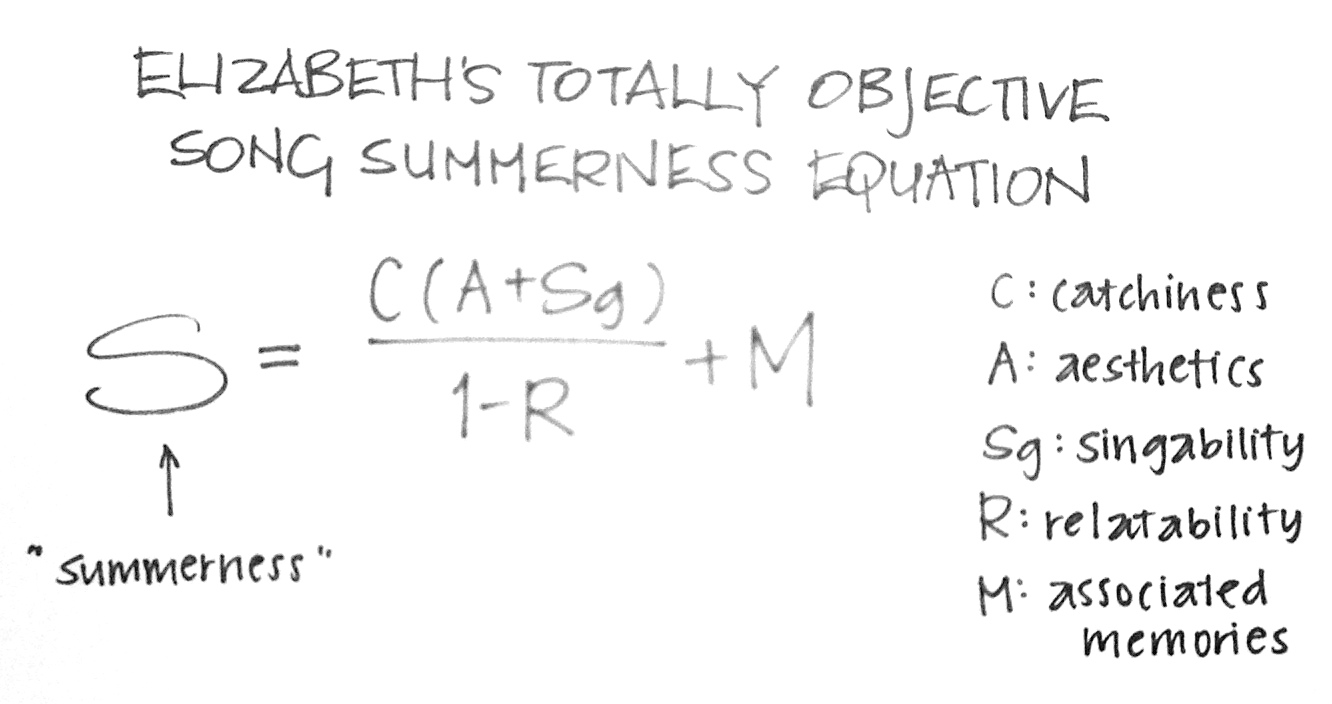 (I call this one Shoot Buttons, I Knew I Should Have Taken a Math Class at MIT)
See, I wanted to write a post on stuff I've been listening to this summer, but I quickly realized (as the list started exploding into a bunch of craziness and hoohah) that I had no governing factors to guide my list-making besides "I'm just going to list a bunch of music that I've been listening to this summer." Thus, I had to come up with my Elizabeth's Totally Objective Song Summerness Equation, which determines a song's relative "summerness" based on qualities of catchiness, aesthetics, singability, relatability and associated memories. It's all totally not subjective at all – I mean, I spent a whole two excruciating minutes coming up with this equation. It also explains why, despite the fact that I do listen to a lot of jazz, classical and instrumental bluegrass, those songs are no where to be found on this list (though you should listen to jazz, classical and instrumental bluegrass because they are good for you).
Also, before I get to the list, a disclaimer: R should not be confused with Rs (can't do subscripts, sorry), which refers to seeming-relatability. Songs with a high Rs value address topics that people would think that other ordinary people would deal with on a regular basis (but which never actually happens in reality). Top 40s producers seem to think that a Rs value correlates to commercial success. And judging from the radio play of "The Lazy Song," "Last Friday Night" and every single Taylor Swift song ever produced (SERIOUSLY. No one lives in a Taylor Swift song world.), the country's music consumers are proving them right and making me real sad. But I digress. The list!
1. "East Harlem" by Beirut: This is by far my favorite song that I've been listening to this summer and my favorite song that has been released this summer and a song that has a very summery feel to it. Not too many memories associated and a low R value with this one, but it's SO CATCHY. I sing it when I do the dishes. SO SO CATCHY.
16 responses to "Summer Listening"