I should have posted this entry five days ago.
Sorry, world.
But as awesome as blogging is, sometimes academics comes first – specifically, I'm referring to my 8.022 pset, my 18.03 pset, my big humanities paper, my 20.020 group final project…and so on. Not to mention, the next issue of MURJ is almost ready to hit the presses, which means the chief editors and production staff – Melis, Dawn '08, Hannah '09, Ivana '11, and me – have been hard at work getting the magazine, which is entirely student-produced, ready to send to the publishers. It's so hosing but so awesome at the same time, and I can't wait to see the issue come out in just a few weeks!
But anyway. As you may already know, last Thursday was Drop Date, which refers to the final day that MIT students can "drop" a class (remove it from their registration) with no penalty. At MIT, Drop Date occurs around the tenth or eleventh week of each academic term…which, as I understand it, is much later than pretty much every other school in the country. Kind of cool.
And with Drop Date, comes Piano Drop!
Piano Drop is a longstanding tradition where Baker House residents drop a piano off the roof of their dorm onto the "testing site" below. According to Matt – who, as a former Bakerite, ought to know – the Drop was first conceived of in 1972 by Charles Bruno '74, "who wanted to bring back the grand old hacks of the past." The drop was performed annually until 1984, followed by sporadic recurrences, including 2005, 2006, 2007, and – of course – this year!
So last Thursday, after my classes were done for the day, I grabbed a few friends and headed over to Baker House to witness my very first Piano Drop. Unfortunately, my camera's currently out of commission, but Ken '11 (one of the ARTalk bloggers and a fellow Simmons resident) was kind enough to let me borrow his rather professional photographs to use instead. You can also check out his coverage of Piano Drop in this entry.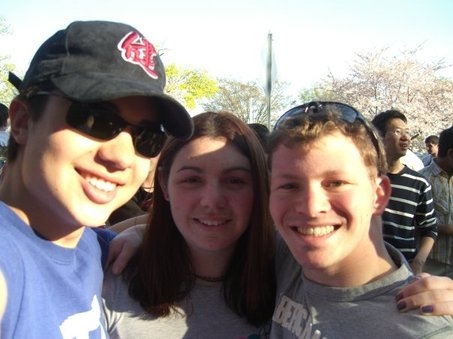 Ken, Teresa '11, and me. ("Don't masquerade with the guy in shades oh no…")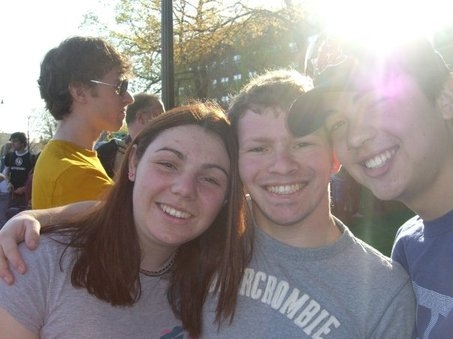 Oops, who let the sun into this photo?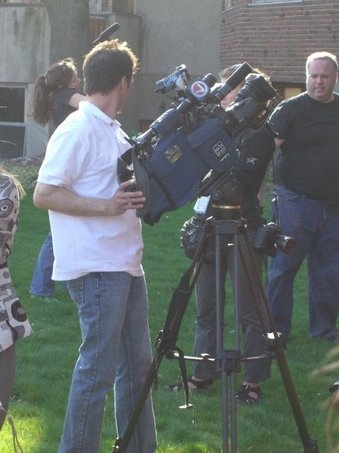 Piano Drop is kind of a big deal. You can read more about it here, as well as a pretty harsh article by the Boston Globe here.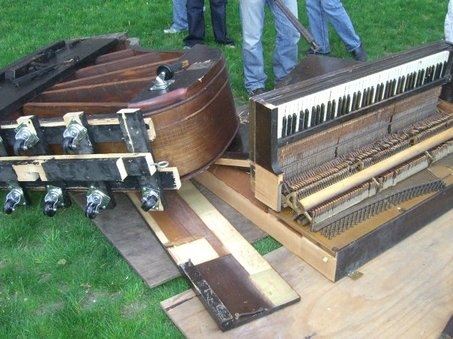 The final result. I do feel sort of bad for the piano…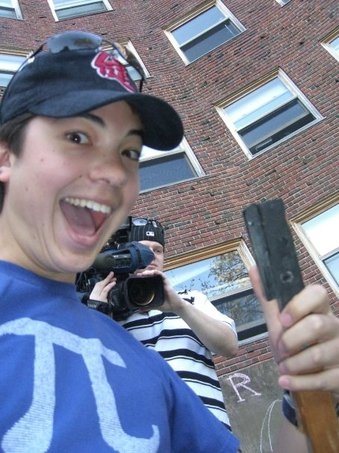 I think Ken looks a little too happy here….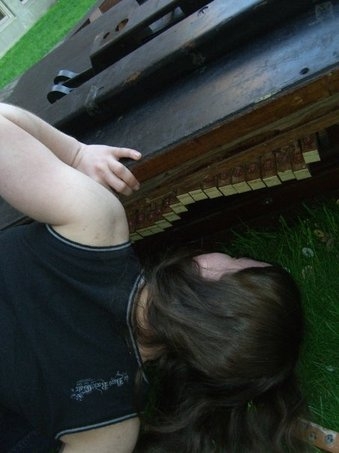 Ooh, what could be underneath? A different Teresa '11 investigates.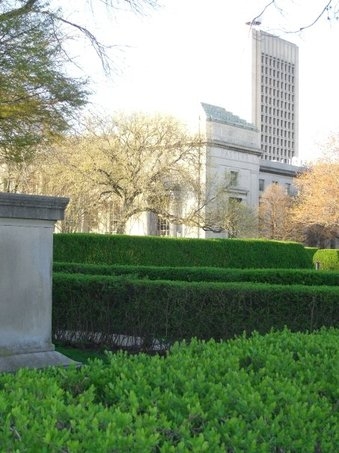 In closing: A glamor shot of the Green Building, with one of the stately Pyramids of Killian Court in the foreground.
Before I get back to work, one last thought for those of you still working on your final decision about where to enroll next year: remember, when it comes to colleges, there are no wrong choices. Only good ones and better ones.
21 responses to "Takin' My Time"