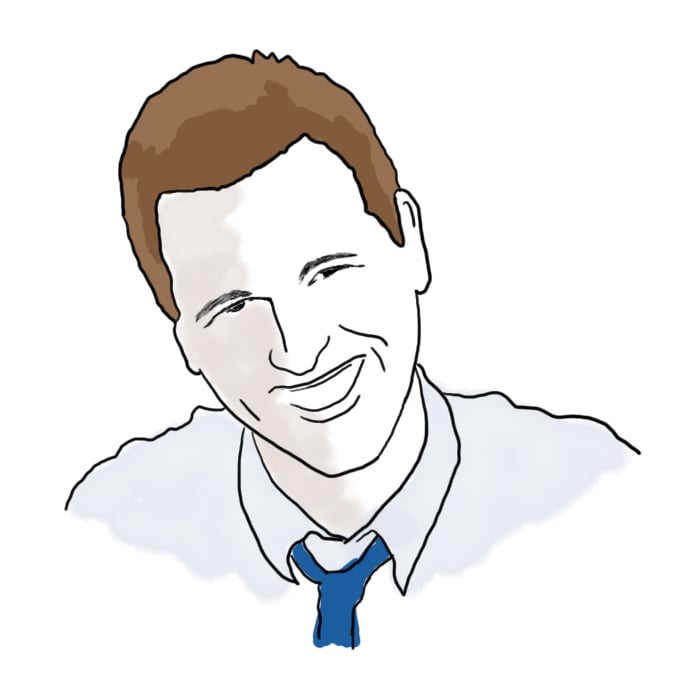 The Beard, The Name, The Response, and EC

by Ben Jones
Why does it say E.Jones on my door when I am B.Jones, and why is it squared?
Okay, here's that "real entry" I promised yesterday. First some pic explanations…
The Beard. As you've probably noticed in the picture above, I'm getting kindof hairy, much to the chagrin of my wife. There's a story behind this: I challenged the other admissions officers to a "no-shave" reading period, culminating with a ceremonious shave on mailing day in March. Only one other has embraced this pact with me: the fantastic and wonderful Juan Salvador Acosta. (You guys should write to Matt and tell him to join us!) I'll post some "beard progress" pictures over the next month. But when you see that picture at the top change to clean-shaven Ben, you'll know that the decisions have been mailed.
The Name On The Door. Why does it say E.Jones when I am B.Jones, and why is it squared? Here's the story on that one… I share 3-107 with Matt some other folks, including Edmund Jones, our dashing and talented Administrative Officer. Though I've gone by "Ben" my whole life, that actually comes from my middle name – my first name is Edward.
When I got to MIT, Edmund and I thought it would be cooler to capitalize on the dual "E.Jones" thing instead of having "E.Jones" and "B.Jones" on the door. Some folks have suggested that it should be 2(E.Jones) instead of E.Jones2, but the truth is, our power really is exponential when we work together.
I think that answers all of the pic questions.
How To Respond To Your Offer Of Admission. I hear from the folks in The Waiting Room that many EA admits have been wondering how they can officially accept MIT's offer of admission (i.e. let us know they're coming). You'll get a mailing after the RD decisions are sent which will have the official form that you'll need to sign and send back by May 1. The reason that we don't have a separate form for EA is that the form contains a survey that won't be ready until after the RD decisions have been made.
That said, you can call us and tell us verbally that you are coming and it will be officially recorded into your file. You'll still need to fill out the other form/survey when it's released, however.
Pictures. Folks have been requesting more pictures, specifically of the campus. I'll get to work on that next week, no problem.
EC. Matt and I (along with a bunch of other admissions folks) had lunch with some EC residents yesterday. I feel compelled to note here how AWESOME EC is. If I'd gone to MIT I totally would have lived in EC. I'm not saying it's the best community, because that's totally subjective – there are so many different people, and thus, so many different communities at MIT – but for me, a quirky, uber-creative guy who likes to stay up late every night and who values tolerance of the differences in people above all else – EC would have been my home. It's like one big family over there – people who really care about each other and who really want to learn from each other's differences. I dig that.
I'll try to dig up perspectives on the other dorms in the coming months…
I'm off to the library to read more apps! Have a great weekend everyone.
22 responses to "The Beard, The Name, The Response, and EC"