Now with my internship going into its 8th week, I figured I should write something about what I'm doing. =p This really has nothing to do with MIT, so be forewarned. =D
Since the middle of June, I have been interning at a fairly large Asian public health clinic in Oakland, CA. During our stay, I shadowed doctors, attended healthcare lectures, designed surveys, debated in health discussions, helped the clinic to fundraise, interpreted for patients, and participated in community health outreaches and even one protest in front of the state Capitol in Sacramento.
Truthfully, despite being a premed, I knew very little about the current US healthcare reform debate prior to this summer (and I'm still learning). Growing up under Taiwan's Universal Health Plan, I really had no sense of the great disparity of wealth and afforded healthcare in the American population. In Taiwan, seeing a doctor for ailments such as coughs and sneezes is commonplace, and I remember that my mom would whisk me off to the doctor for medicine at the slightest sign of a recurring cough or a stuffy nose that refused to go away. I remembered that in middle school, copayments for each outpatient visit to the local clinic was 50 NTD (less than $2 USD per visit, even with all the meds that the doctors give you). Since then, the price has increased to generally 150 NTD (about $5 USD), but this is still an extremely trivial amount to pay for a doctor's visit and getting two week's worth of medicine.
At MIT, I'm covered under the MIT Extended Student Insurance Plan, and except for a semesterly figure on my tuition bill, that's the extent of understanding my own health insurance. (i haven't been to MIT Medical much anyway – the only time when i actually felt bad enough to go to Medical was last fall? when i had severe diarrhea for like 3-4 days and i panicked once i started vomiting and having a light fever. the kind doctor gave me two ginger ales and chatted with me for about half an hour, then sent me home. i stopped vomiting that night.)
Then I come to this clinic in Oakland, and see that 95.2% of our patients are either uninsured, covered by federal/state/county aided health insurance (Medicare, Medi-Cal (California's version of Medicaid), and Healthy Families (children lacking health insurance and fall under a certain income level; sponsored by the state California)).
Fully 97.9% of the patients fall below 200% of the federal poverty level (for those of you who are too lazy to click on the link, i'll spell it out for you. FPI is $22,050 for a family of four (69.6% of the patients are below this income level) and 200% FPI is $44,100 for a family of four (another 28.3% of the patients are below that figure). if you consider the fact that MIT covers full tuition for families making less than $75,000, you'll realize that $22,050 is very, very little money for a family).
Adding on to this is the fact that nearly 80% of the patients are "linguistically isolated" (defined as an individual that speaks an language other than English at home and does not speak English "well" or "very well"), it's been an exceedingly powerful learning experience at times.
One patient held up a hospital bill for $11,000 USD, the cost of a 3-day inpatient stay at the county hospital for treatment. He was uninsured. He expressed to the doctor that if he knew that the bill was this steep, he would have refused to go, even through his condition warranted hospital stay. He was unemployed, and so was his wife. The only option now is to enroll him in Medi-Cal (state Medicaid) and see if the state will retroactively cover his bill.
Another patient waited nearly 18 months to get a routine colonoscopy since the only medical facility where he can get it done is the local county hospital due to insurance coverage. If you had private insurance and is decently well-off, you can get one scheduled for next week.
Yet another patient had a scheduled referral at the county hospital, where she sat in the emergency room for six hours, after unsuccessfully trying to flag down medical staff to obtain an interpreter. She could not speak English; none of the doctors nor the nurses knew what she wanted. She came back to the clinic asking for help. Knowing the overbooked schedules of the county hospital medical staff and the scarcity of interpretation services there (even though this is a federally-mandated law under Title VI of the Civil Rights Act, 1964 and Executive Order 13166 under President Clinton, 2000), the clinic sent one of their interpreters with her, and she was finally able to get seen – but not after waiting another six hours.
Such is the predicament of low-income and linguistically-isolated patients in our country.
Try this exercise: find a friend. Pick one to be the doctor, and the other will play the role of the patient. The doctor and the patient both have limited vocabulary; the doctor may only use words that begin with the first 13 letters of the alphabet (A-M) and the patient may only use words that begin with the last 13 letters of the alphabet (N-Z) (articles and pronouns included). Neither side may use vocabulary that obviously aren't used in everyday speech.
Then, these are the objectives:
Patient: Diarrhea and vomiting for three days, feels slightly dizzy, tries to drink water but keeps on vomiting it up, fever of over 100 degrees, has no appetite, tried taking tylenol but it doesn't really help.
Doctor: Recommends plenty of rest, don't eat anything too heavy, try to replace fluids lost, if cannot keep water down by tomorrow, come back for an IV, will prescribe tylenol with codeine and see if it works better than regular tylenol. Call if doesn't feel better by tomorrow noon.
When I tried it with a friend, this is what it ended up sounding like:
Patient: Poop water poop water poop. Vomit yesterday yesterday, yesterday, today. No sense of straight. Walls slanted. Once water take, vomit soon. No want yummy things. Tylenol take, no work.
Doctor: Be in bed much. Eat light foods. Drink juice, cola, flow from faucet. Day after, feel bad come back for drip-drop in arm. Me give extra good medicine. Call me if feel bad day after.
This sounds funny, but at least we're speaking the same language. Many times, with linguistically isolated patients, doctor consultation visits turn into wild games of charades, adding pressure on top of the doctor's already overbooked appointment schedules.
And these patients are never too far away from you – they share a seat with you on the BART (the SF equivalent of the Commuter Rail in Boston), they made the egg tarts that you've just delightfully bought at Chinatown, and they probably pressed the laundry you brought in yesterday to dry-clean.
This is who the fight is about; this is the population who are on the cutting board of health care reform.
On July first of this year, the State of California caved in to Medi-Cal budget cuts, eliminating many areas termed "optional care" for low-income individuals. Patients solely on Medi-Cal will no longer be eligible for dental, podiatric, and optometric services. This means no more dental check-ups, no more feet check-ups for chronic diabetics, and quite literally, no more eyeglasses. Now, these measures were passed as a response to the California budget crisis, and I understand that the government's hands are tied somewhat, but it's important to realize that there's often a personal side to all of this.
Next time you read about health care reform on the news or follow HR 3200 through Congress, remember these people. Remember the elderly dishwater couple who survive on a salary of $400 a month, hoping fervently that neither gets sick because there's just no more money to spare. Remember the new immigrant borrowing English cassette tapes from her friends after her 15-hour shift just so she can hopefully pick up enough phrases to find a job outside of the factory. Remember the $11,000 medical bill.
Pick up the phone. Get a postcard. Write to your legislators. Follow the news. Become involved.
This is their fight, but it is ours too.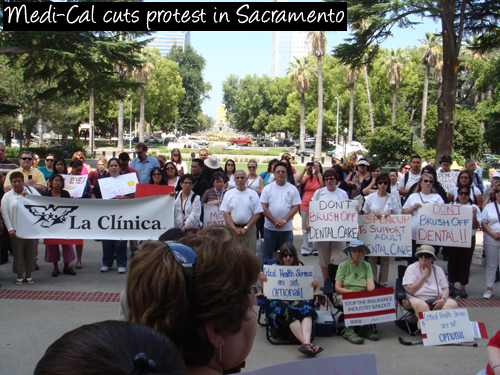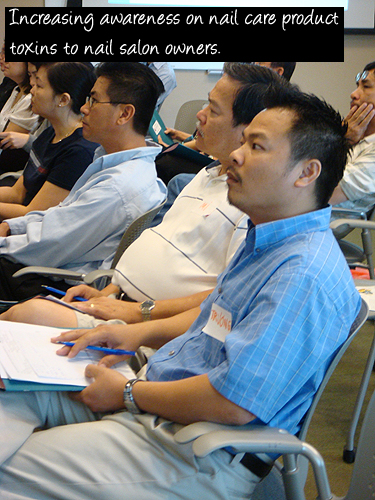 23 responses to "The Challenge of Public Health"