One all-too-common misunderstanding I've encountered about MIT is that "no one" at the Institute appreciates, let alone participates, in the humanities or the fine arts. Well, I don't know about No One, maybe he doesn't like the arts – but the truth of the matter is that MIT students have quite a bit of respect for drama, music, poetry, and all the other "artsy" things you might not expect engineering students to be involved with. In fact, there are over 50 different music, theater, and dance groups on campus, specializing in everything from improv comedy to jazz music to ballroom dance.
I bring this up because, last weekend, a friend and I went to see the one of these 50 student groups in action: specifically, the MIT Shakespeare Ensemble, which was putting on its summer production of Dirty Hands, by the famous French philosopher and dramatic Jean-Paul Sartre. To be honest, I mainly went because my friend Dennis '08 was playing the lead part and kept inviting people to watch him perform. Because really, one of the best parts about college theater is watching your friends be absolutely ridiculous on stage. (And the play was free! Can't beat that.)
Dirty Hands is, first and foremost, a political drama about an assassination – except that the identity of the assassin and his target are known from the beginning. The real question is whether the assassin was acting out of personal reasons, political ideals – or both. Essentially, the play is a framed narrative where Hugo, the idealistic assassin (played by Dennis), having just been released from prison, recounts the events leading up to the murder to Olga (Deirdre '10), his confidant and advocate within the Party to which she and Hugo belong.
As the play unfolds, the audience delves deeper and deeper into Hugo's mind (which is not a very happy place). Along the way, we meet Hoederer (Yoni '10), a divisive but popular leader within the Party; Louis (Eric '10), a Party leader opposed to Hoederer, who gives Hugo his orders; Ivana (Sara '11), a Party saboteur; and Jessica (Bianca '11), Hugo's attractive and cunning wife. The cast is rounded out by Slick and Georges (Sabrian '09 and Brian '11), Hoederer's bodyguards; Prince Paul (Oliver 'G); and Kasky (Arnaldo '09).
Although I don't want to give away the play's ending – you can rely on Wikipedia for that ;) – I had a great time watching Dirty Hands. The set was amazing, especially for a summer show. They even put together a promotional trailer on YouTube (warning: it's PG-13 for about two seconds near the end). I also loved how the director, Kellas '10, used color as a reflection of the characters' personalities and ideologies. For example, Hugo starts out wearing black (because he's an assassin, yo), but eventually is shown to wear yellow to indicate his loyalty to Olga and Louis – in opposition to Hoederer and his bodyguards, who wore blue throughout the play. Meanwhile, Jessica (and only Jessica) wore red to set herself apart from the other characters.
All that said, let me just conclude with a few photos of the play. I couldn't take any during the play, but fortunately my friend Sara '11 (Ivana in the play) let me use some of hers, including a few glamor shots from backstage. Enjoy!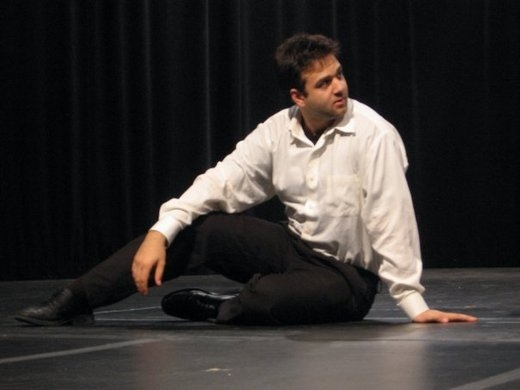 An unlikely assassin.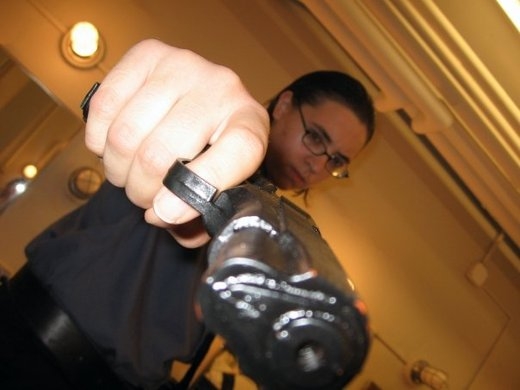 Engineer by day, bodyguard by night, Sabrina is double majoring in computer science and "being a badass."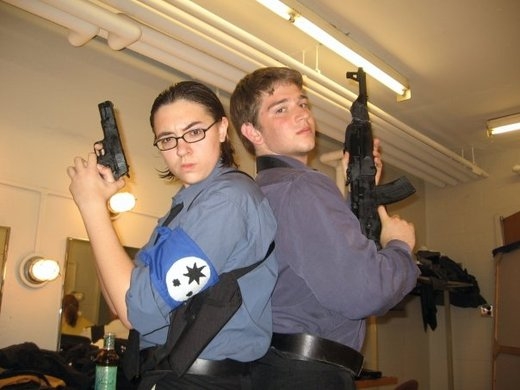 Proper care of your weapon is just one of the many unconventional skills MIT students master.
In Sara's words, "Requisite pensive dramatic mirror picture."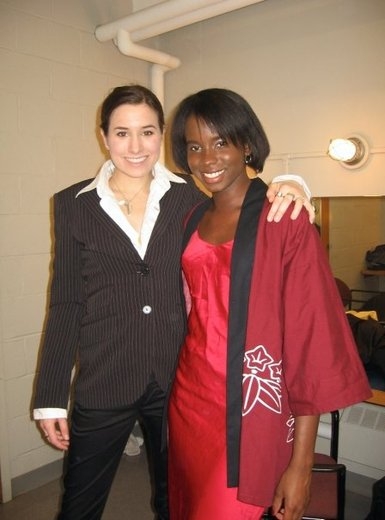 Dirty Hands is the fourth performance Sara and Bianca have performed in together. Aww.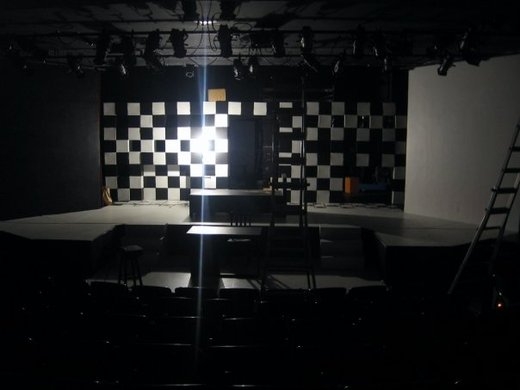 The mind-blowing set.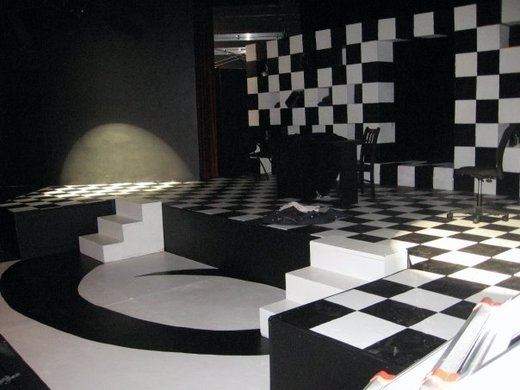 Another view.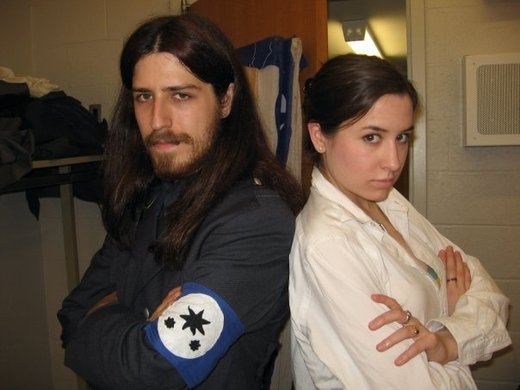 Yoni and Sara want you to join the Shakespeare Ensemble!
21 responses to "The MIT Shakespeare Ensemble"