EDIT, 6/11/06: Due to some server problems, this entry and its comments got lost, so if you commented, please comment again!
Well, commencement is over, and I'm officially an MIT graduate. That's still a little weird, and I'm not sure if I'm going to believe it for a while. Thanks so much to those of you who watched the webcast and saw me get my diplomas — you have a lot more patience than I do! (I was threatening not to go to graduation last night, mostly because I believe strongly in keeping up a tough facade.)
It did not, thank heavens, rain on commencement this year, despite weather reports to the contrary and despite the weather pattern that's been plaguing the Boston area this week. Harvard's commencement was yesterday, and they got deluged; somebody managed to dig the MIT weather machine out of its box today and get it humming before the class of 2006 took the stage. Everybody was really anxious about the weather, both because it sucks to sit outside in awful weather and because alums had told everybody that the graduation robes bleed red in the rain.
My friend Tulasi '06 and I have promised each other since freshman year that we'd wear Manolo Blahniks at graduation, but I'm really glad we didn't hold each other to that one — the ground was squishy! The graduates process from Johnson Athletic Center to Killian Court, too, so I'm glad my shoes were sensible, even if they weren't works of art.
A lot of people wore cool stuff on their mortarboards — rubber ducks, flowers, their name in crystals, the letters of their fraternity, "ILTFP", and even an entire "schooltime" tableau with little playing figurines. My friend Wayne '06 wore a fake mustache, because he thought it would be funny for the official graduation pictures, although I don't think his mother agreed with him.
MIT alum (and, of course, the chairman of the Federal Reserve) Ben Bernanke PhD '79 gave the guest address, and he gave us a lot to think about. My favorite part of his address:
Your training at MIT equips each of you exceptionally well to take full advantage of the personal opportunities that technological innovation and change will create. Each of you, because of your youth, your talent, your demonstrated commitment to learning, and your personal and intellectual achievements during your time at MIT, will soon find, to paraphrase Shakespeare, that the world is your oyster… I hope you find some measure of financial reward. But the world has a great deal more to offer than money, and the key question each of you will face repeatedly in your lives is how to use the talent and the education that you have been given and the knowledge you have obtained… I hope you will not be afraid to be unconventional, to do something that nobody else has thought of before. And remember that the path to success and fulfillment may not be well-marked, the scaling of some predetermined ladder. It may instead be a road without signs and without maps. And remember, it's okay to fail. Really. New opportunities will always arise for those who seek them.
I was secretly hoping that he'd slip in a line at the end like "And in conclusion, I am raising interest rates 500000%!" and send Wall Street into a frenzy, and I could be like "I was there!" But advice of the sort he gave is, of course, always welcome too.
And what entry about commencement would be complete without pictures?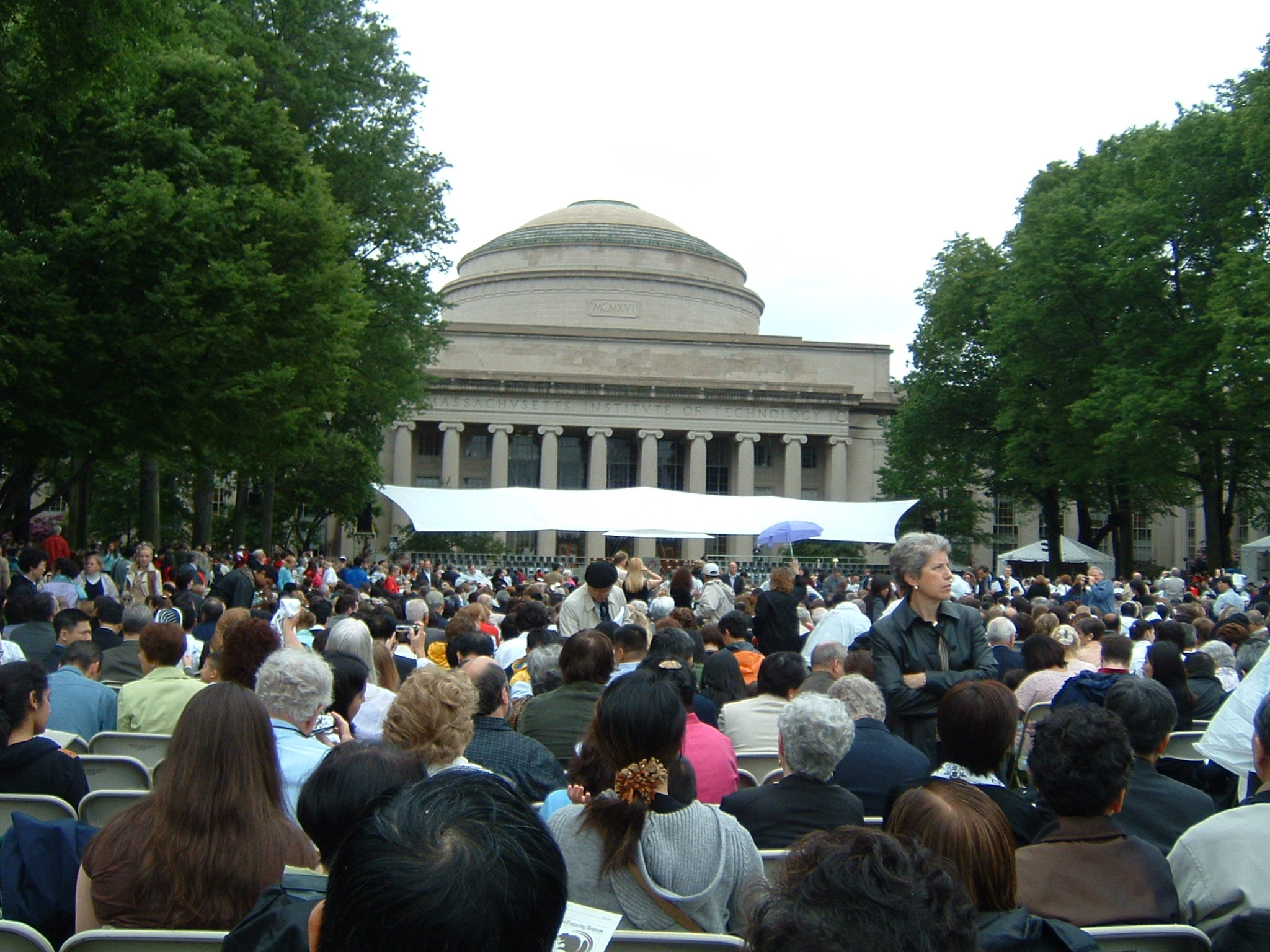 Graduation was held, as always, in Killian Court.
The procession started with important people looking like they were going to a Renaissance festival (seriously, academic regalia is weird) and basically stretched all the way back to Johnson. It was a long line! MIT's commencement celebrates the graduation of about 1000 undergrads and another 1200 masters and PhD students.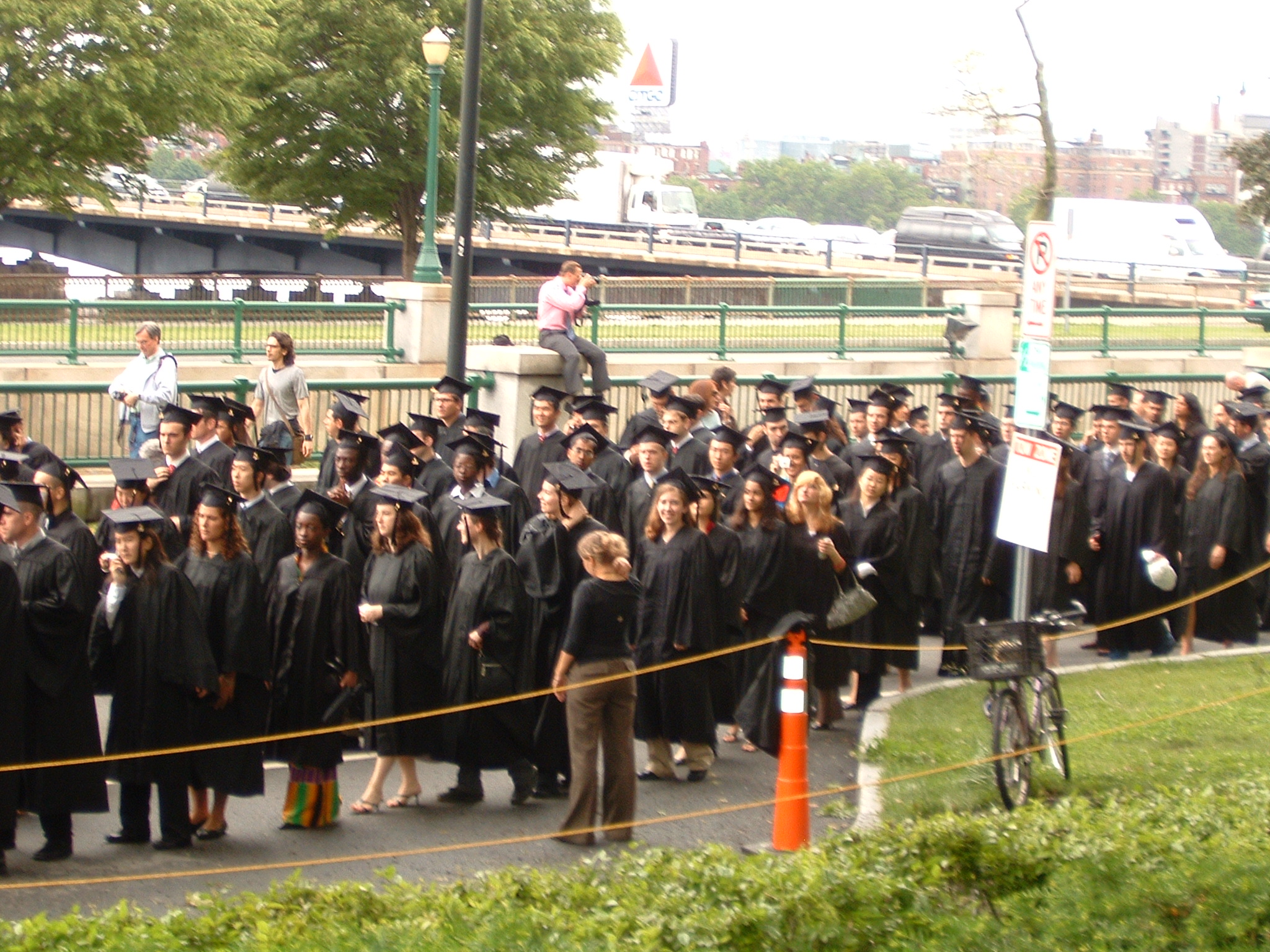 Find me in the procession! (In this picture I am smiling. In the next one my dad took, it's pretty obvious that I'm trying not to cry.)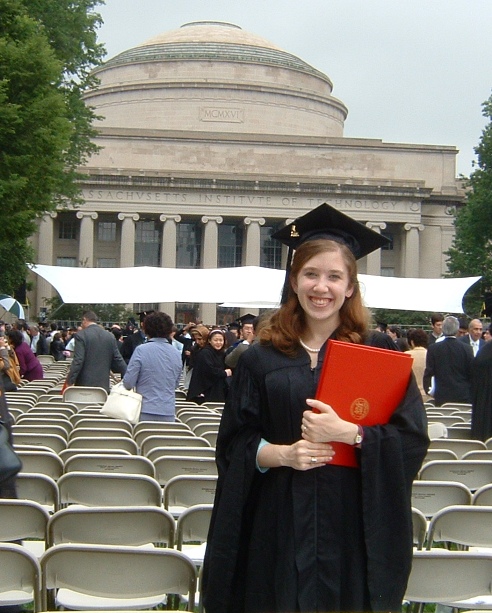 Me the graduate!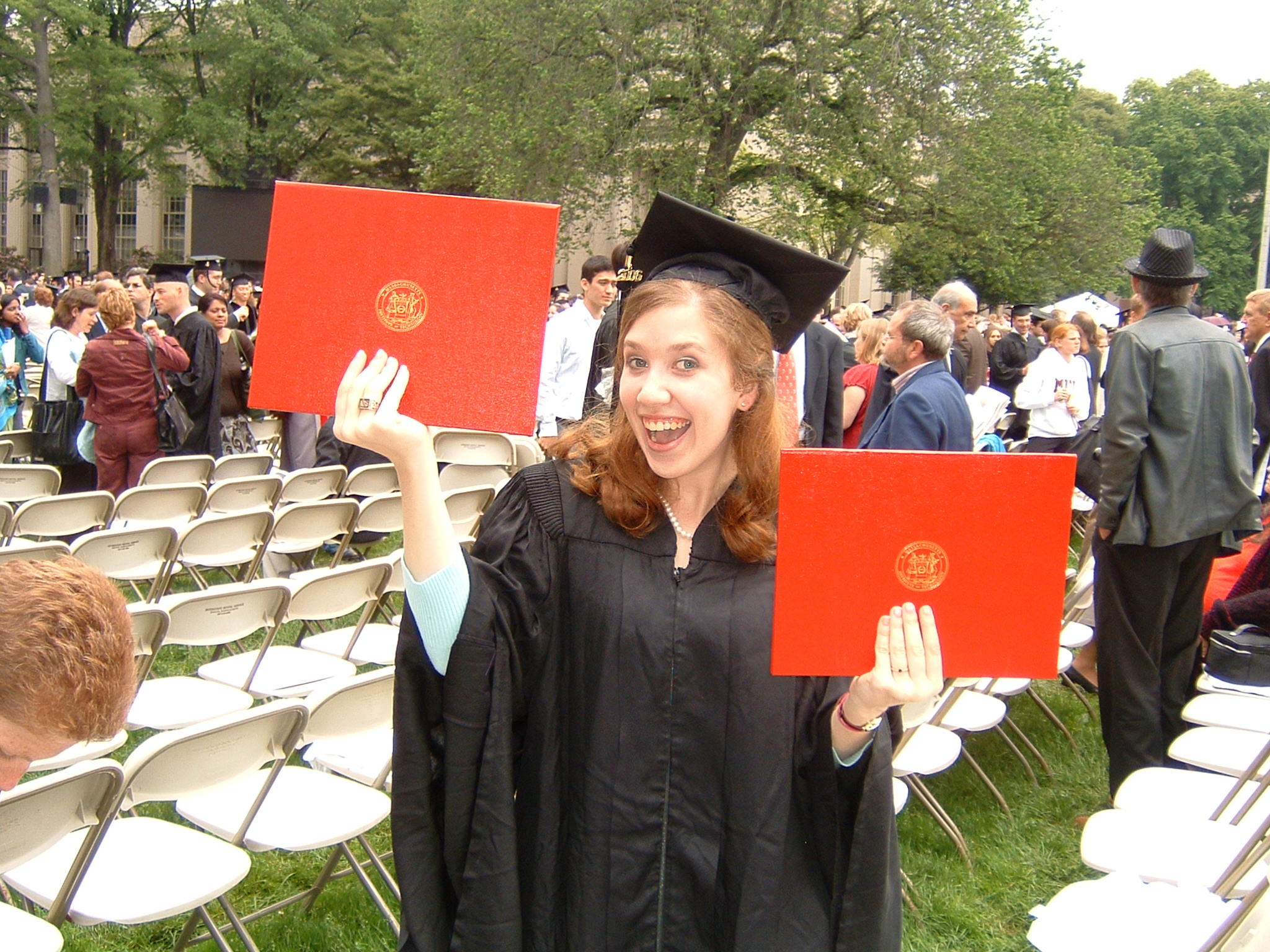 The double diploma dance! I have been promising to dance at graduation with a diploma in each hand ever since I decided I was going to double-major. It was just as sweet as it looks.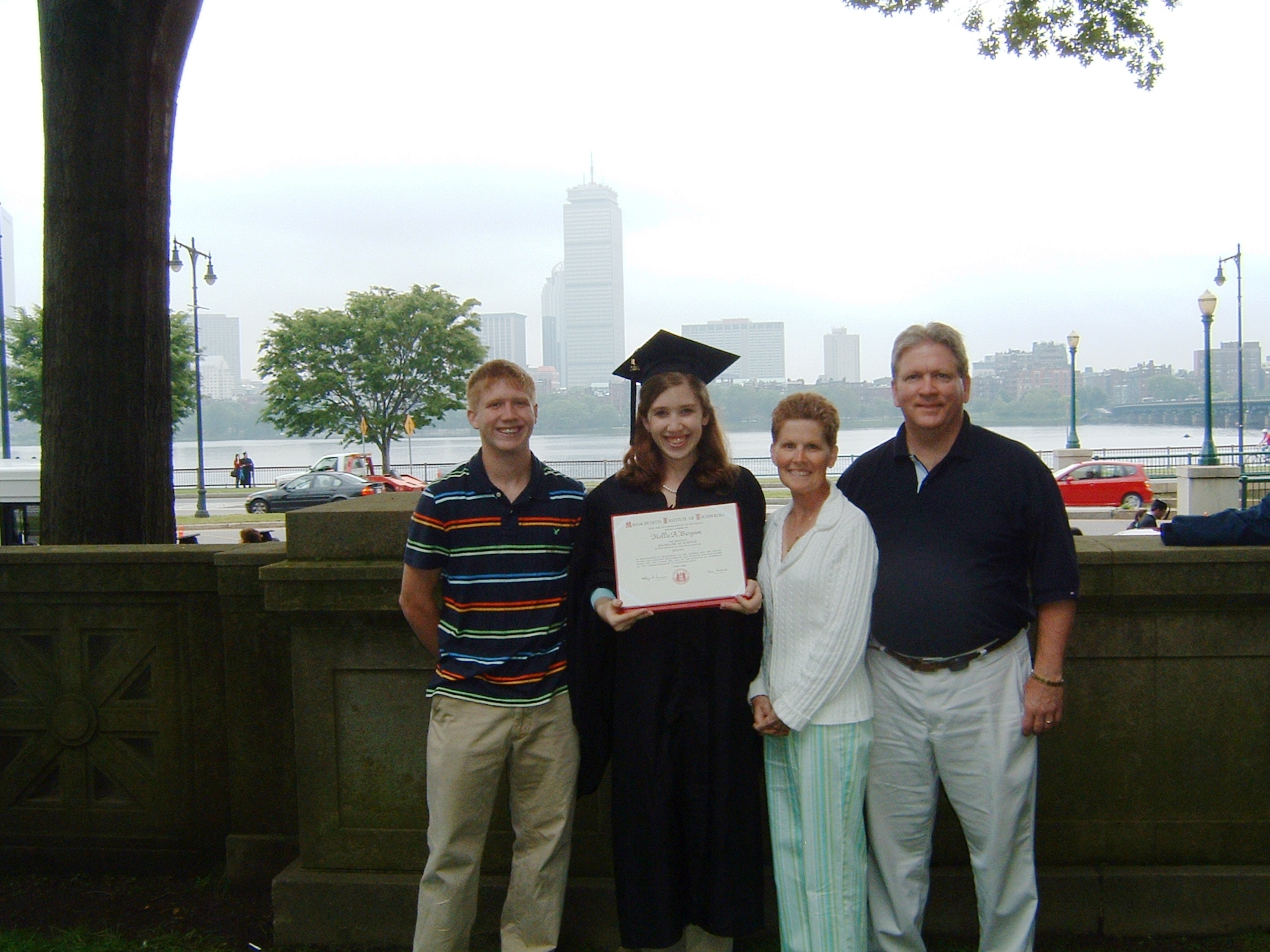 My family came up from Ohio last night to see me graduate, and we're going out with Adam's family tonight for a big dinner to celebrate my graduation and Adam's 21st birthday.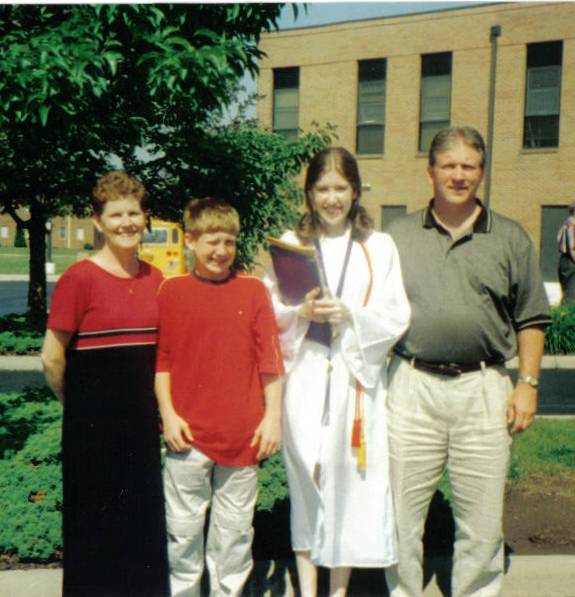 Do we look any different than we did at my high school graduation? (Other than the fact that my brother's about a foot taller…)
15 responses to "The sun comes up, then goes away"