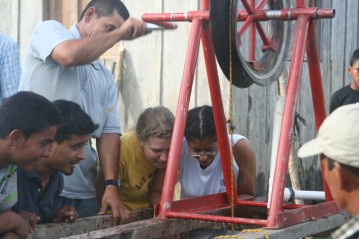 I included this picture in a previous blog. I was tired of working, and it reminded me of the good times at MIT. Well, in Honduras, but related to MIT.
Going to Honduras was a sort of Grand Finale to a class I took in the Fall of 2007 about Development. It's also known as D-Lab I. Right now, I have the chance to take D-Lab II. This class focuses less on the big picture of Development and more on Design; every group of four students chooses one project and follow it through over the course of a semester.
I'm not sure if I have the time for D-Lab this semester or not… I might take it even if I don't, because these projects are pretty awesome. We have 15 to choose from, but here are my favorite 6:
1) Turning Plastic Bags into Rope and Netting — The world uses a trillion plastic bags every year, and many of them end of dotting the countrysides. There are so many hanging around in South Africa that people joke that they are the National Flower. What people could use more of is netting, to catch fish with and to put over beds to keep malaria-carrying mosquitoes off. Can we use plastic bags to do this?
2) A Bicycle Trailer — A previous D-Lab student created a bicycle ambulance for use in rural areas. Can we modify this design so that the ambulances can also be used to carry vegetables to market or bricks to a building site?
3) Bamboo Matchsticks — Bamboo plants grow quickly and their roots stabilize the soil. If we created the right machine, people in rural villages could mass-produce matchsticks. It would provide income for them, and also prevent the deforestation that currently occurs because of matchstick-making.
4) Interlocking Stabilized Soil Block Maker — Making bricks takes a lot of heat energy, which usually means burning a lot of fossil fuels. We can trade pressure for heat. We can also change the shape of bricks; if they are made to interlock, we won't need mortar. This could revolutionize construction in the developing world.
5) Liquid Chlorine Dispenser — Deliver the correct amount of chlorine to personal containers as people get their water from a community source. This purifies the water right before the people drink it, so you don't have to worry about re-contamination in transit. There's already a device that does this, but it's much too expensive.
6) Charcoal Briquette Press — Take bits of charcoal (created from sugar cane or corn cobs or any number of things by a process D-Lab already loves using). Form them into lots of little square briquettes. Make it fast and easy.
Of course, these are just my favorites… the other 9 are pretty awesome as well. Some of them involve using cell phones as a tool, or Braille, or solar heating. This is the definitely the class to take if you want to invent something people really want.
So, what do you think? Should I try to squeeze the class into my schedule? If I do, what project should I work on? Any suggestions for cool projects for future D-Lab classes?
31 responses to "To D or not to D?"