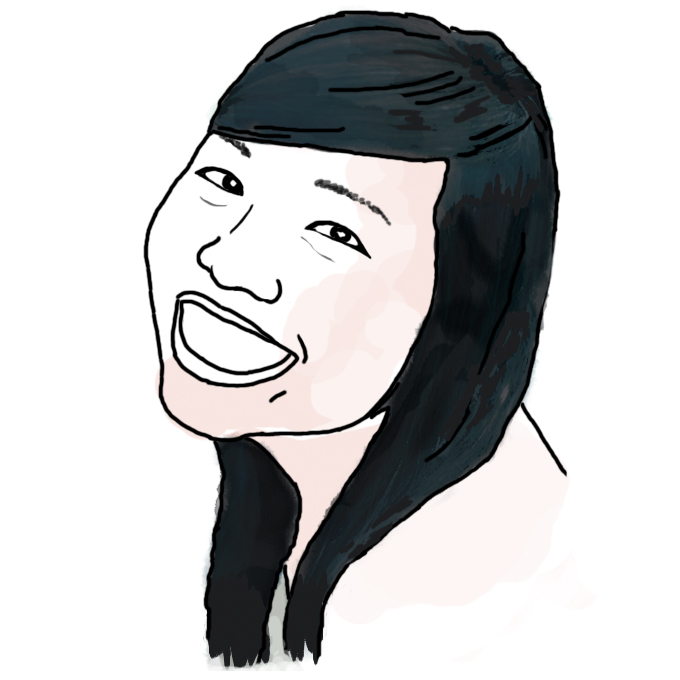 Trip to Bath and meeting an MIT professor thousands of miles away from MIT
After a stressful week of essays after essays, assignments after assignments, I decided to take a break by traveling to Bath in Somerset, UK. I arrived in Bath bright and early around 10am. That means waking up at 5 am and walking to the Cambridge train station in sub-zero temperature, say -10°C (okay, I know I live in Cambridge, Massachusetts so I can take the cold, but still!) Then I took a train to London at 6am and another train from London to Bath around 8am. The most adventurous part of it is probably the 5am walk to the station; it sounds a little torturous/scary but it was kinda worth it. When I saw people cleaning the streets and emptying garbage bins in the cold, when the sun wasn't even up yet, I felt really grateful. For everything.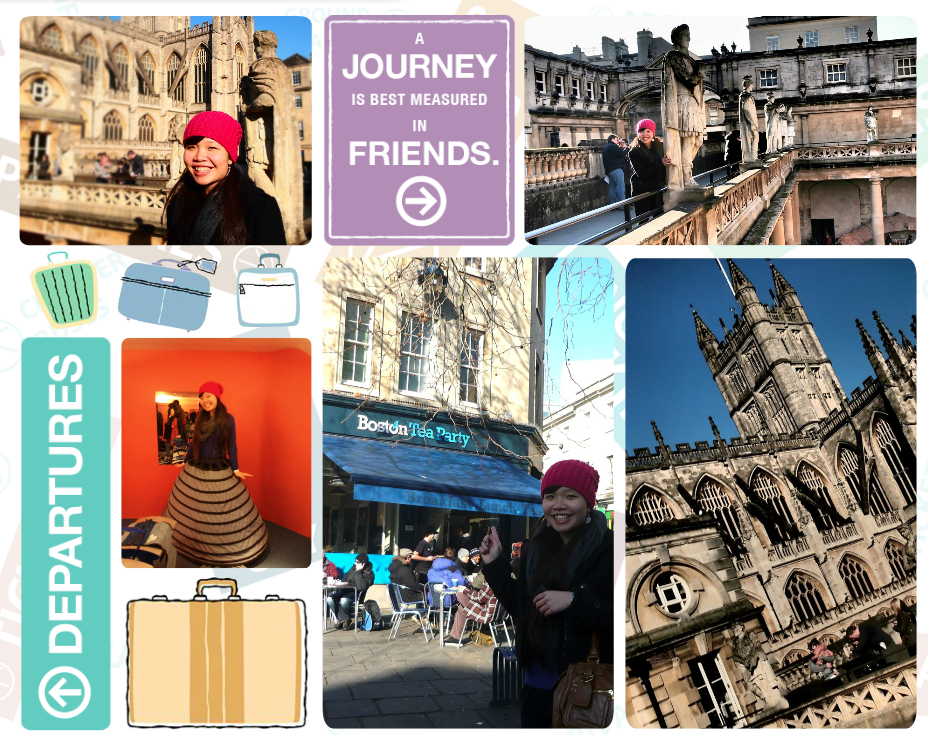 After having lived abroad for 7 years and visited many places, I thought I would get a little lazy and wouldn't make an effort to travel. But every time I managed to drag myself out of my super warm electric blanket (hooray to Mommy who made me bring it to England) and went somewhere new, I was reminded of why I love traveling so much. Was it the unusual calmness of the bustling city of Bath that you can only see in the morning? Was it the break-taking architecture of Bath Abbey? Or was it the company of my fabulous traveling buddies? I think it's the whole package.
The highlights of our trip must be the Roman Bath and the fashion museum. I got a little bit unreasonably excited when I was explained about the formation and chemistry of the hot springs that have been supplying water for the bath for thousands of years (my course 5 friends will be so proud!) But I decided to keep it cool because I was kinda surrounded by friends who are future bankers, economists and media specialists.
The fashion museum was rather entertaining because we could try on panniers, which are undergarments worn in the 18th century that extend the width of the skirts beyond your widest imagination. Yes, I did feel like Marie Antoinette. Yes, I did tiptoe and try to walk really fast in the most graceful manner possible. And yes, I did stumble, only a little bit (I recovered pretty well)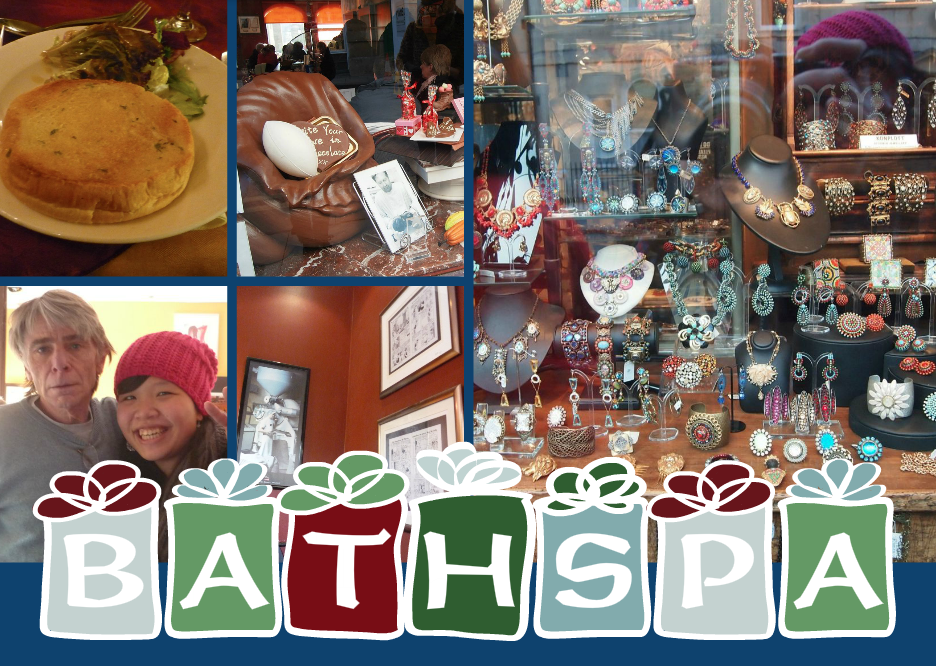 Another wonderful aspect of traveling is making new friends! In this trip, I met a wonderful and charming chocolatier from France. Thanks to my three French classes at MIT, I managed to have a decent conversation with him! He talked to me about his chocolate creations, his hometown and how he met Nicolas Cage here at the store. The whole nicolas-cage-was-here was obviously a joke (or IS IT?); but you know, French humor. And everything else was really interesting! He really liked our feisty group of girls so he decided to give us this little pink pig made out of marzipan as a little souvenir!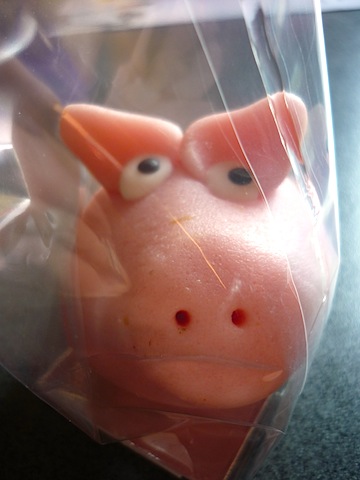 Our day ended with a visit to Sally Lunn's house where the famous Sally Lunn Bun was sold. Sally Lunn was a young French refugee who baked this rich round generous bread, light and delicious, a very popular delicacy in Georgian England. It was an awesome weekend getaway; I was a little sad to go back to Cambridge and face with the mountain of essays and applications. BUT FRET NOT, something really exciting happened yesterday! Drum rolls… I attended a talk by a professor from MIT, here in Cambridge!!! How awesome is that?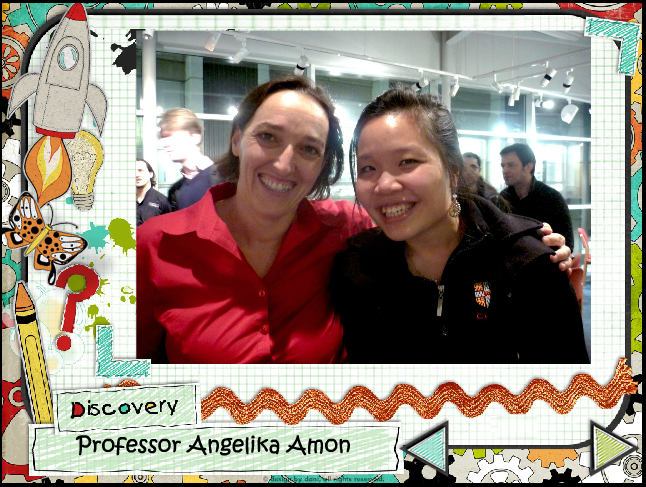 Meet Professor Angelika Amon, an HHMI investigator, who currently works at David H. Koch Institute for Integrative Cancer Research. When I saw a poster pasted on the Department of pathology's notice board about her talk on aneuploidy, I just had to go. Firstly, I just learnt about aneuploidy in cancer in my lecture a few hours ago. Secondly, beaver love. Nuff said.
It was a really cool talk, not only because it was right on the topic I was learning in class, but it really changes my perspective on posing the right questions in scientific enquiry. So aneuploidy is characterized by any deviation from an exact multiple of the haploid number of chromosomes (fewer or more). It's different from polyploidy, which describes the state of having more than 2 sets of chromosomes.
In humans, aneuploidy is the leading cause of miscarriages and mental retardation. Interestingly, it is also a key characteristic of cancer. More than 90 percent of all solid human tumors are aneuploid!! I know both of these facts, but I haven't never questioned why aneuploidy, a condition that is so deleterious in fetus, causing proteotoxic and energy stress, actually leads to cell proliferation and cancer in adults? If we can figure out how the proliferative ability of aneuploid cells comes about, we will gain a much greater understanding of evolution of tumor. And, perhaps, if we exaggerate the adverse effects of aneuploidy, say by inducing further energy stress, to eliminate the aneuploid cells, we can find new treatments of tumor!  How cool is that!!
Needless to say, I was pretty excited by the end of the talk. During the reception afterwards, it's even more inspiring to see Professor Amon talking to other researchers at Cambridge's Laboratory of Molecular Biology who are working in the same field. She got really excited about the findings shared by these researchers that she pulled out her laptop to discuss further about those results she gathered!! Man, I felt incredibly lucky to be able to meet such a passionate and talented individual!!
Thanks everyone for such a fantastic week :) and thanks to my dear friend Thu Hang from Warwick University, who took all those beautiful pictures of our trip to Bath!
3 responses to "Travelogue: Part Une"