You'd think one hack celebrating Guy Fawkes Night would be enough, right?
Not at MIT.
Allow me first to set the scene. As some of you may already know, a little over a month ago, I decided to run for a seat in the Undergraduate Association Senate. As its name suggests, the Undergraduate Association (or the UA for short, because MIT students love acronyms) aims to represent and protect the goals and interests of all undergrads in an organized, orderly fashion. I'll probably talk more about the UA (and other governing bodies at MIT) in another entry, but for now, what matters most is that the Senate was in session on Guy Fawkes Night, blissfully unaware that anything was amiss.
I think you see where this is going. In fact, as music from the 1812 Overture blared, something very strange was happening across campus.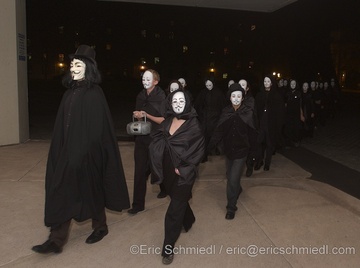 Dressed as V, the enigmatic anti-hero of
V for Vendetta
, hackers marched through the Infinite Corridor, across Massachusetts Avenue, and into the Student Center.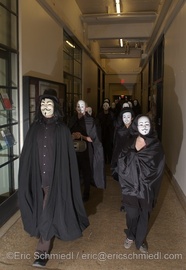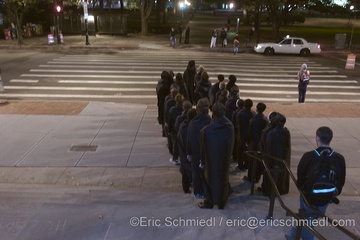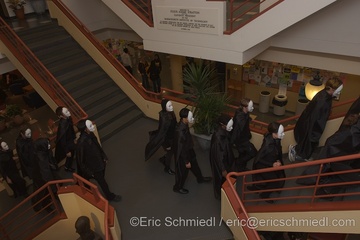 The hackers try to persuade the Senate's Sergeant-at-Arms, Sun Kim '11 (Next House), to let them into the Senate chamber.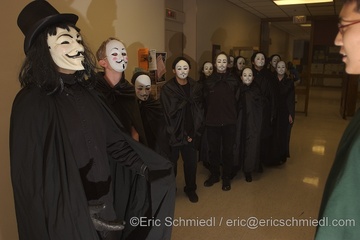 The surprise entrance, complete with the 1812 Overture.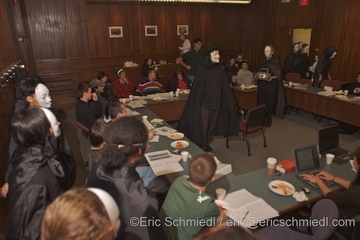 The hackers' apparent leader delivers a short speech.
"Remember, remember the Fifth of November
The day that the wanking was caught
Under no condition should the laptop prohibition
Ever be forgot.
The only verdict is vengeance; a vendetta, held as a votive, not in vain, for the value and veracity of such shall one day vindicate the vigilant and the virtuous. Verily, this vichyssoise of verbiage veers most verbose, so let me simply add that it's my very good honor to meet you and you may call me V."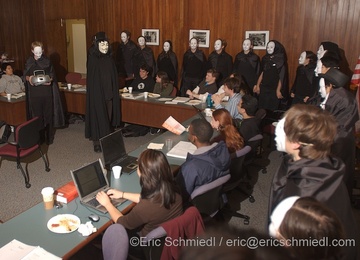 Party poppers!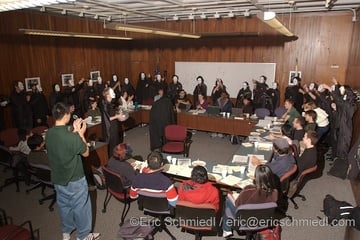 Their mission accomplished, the hackers make a noble exit.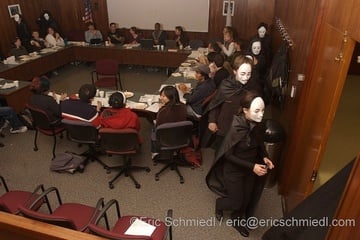 The hack was also featured on the
front cover
of today's
Tech
. Many thanks to Tech Photographer Eric Schmiedl '09 for graciously providing these pictures – and, of course, inexpressible thanks to all the hackers who made last night one of the most memorable Senate meetings ever.
22 responses to "V Storms the Senate"