Well, for one thing, they are all whole numbers. For another, they are all integers. While I'm there, I might as well say that they're real….
Okay, I'll stop being lame. That was just an attention grabber, I'll give you that =p
SOOO it's T -2.5 days for all you Early Applicants! If you were anything like me last year, you will probably be jumping up and down by now, too paranoid to look at the calendar ("oh my goodness, it's ONLY three days away"), but also secretly hoping that The Day will come sooner ("just tell me the decision ALREADY!"). But more on this at the bottom.
Here at MIT, it's rapidly coming down to the end. In a week and a day, I'll be hopping on a jet plane, bound for the tropical island of Taiwan (where it is wonderfully 80 degrees outside. I can envision the warm+humid wave hitting me in the face already – the humidity is not so wonderful). But before that, I need to survive four final exams – which brings me to the topic of this blog.
So far this semester, I realized that I haven't written about my classes yet, so I'll give you a brief rundown of my courses. A lot of the things I'm taking will be highly relevant to all the incoming freshman, since I'm generally taking GIRs (General Institute Requirements), and there's a really really good chance that a lot of you guys who are headed here next fall will also take the same courses.
7.012 – Introductory Biology, 12 credits, GIR for Biology
Co-taught by Professors Lander and Weinberg, both vanguards in their respective biological fields (genetics for the former; cancer, latter), 7.012 is an appealing choice for freshman who want to make an early entrance into biology. Taught by this powerful duo, the course provides a broad, but surprisingly comprehensive, view of cell biology. Topics covered includes basic biochemistry, Mendelian genetics, viruses, recombinant DNA, cellular regulation (with cancer), neurobiology, immunology, and stem cells/cutting edge biological techniques. It's essentially a very genetics-based introductory course in biology.
We (the Class of 2011) are also the first year in which a 5 on AP Biology is no longer taken as credit for the Biology GIR (I know, it sucks for me too. I had a 5 as well). There was some outrage about this, but having gone through the course, I see now that there is hardly any similarity between 7.012 and AP Biology.
You probably spent a fair bit of AP Bio memorizing exotic names of animals during the phylogeny chapter (what is the class name for brittle stars? Ophiuroidea!), figuring out vascular transport in plants, or giggling at the diagrams in Chapter 46 of the ubiquitous Campbell's Biology (yeah, grow up). Guess what? None of that is in 7.012! Think of 7.012 as the genetics portion of AP Bio, but going REALLY deep into it. Not only do you have to know the facts, you also have to know a lot of the theory behind biological experimentation (how do you use restriction enzymes to cut DNA? what do you do about a protein that is produced, but does not secrete from a cell?). Blend in a lot of anecdotes from Professors Lander and Weinberg's research (biology is still incredibly dynamic!), and that's 7.012 for ya.
8.01 – Physics: Mechanics, 12 credits, GIR for Physics
With nearly 600 students in the course (but split across seven sections with seven instructors! not all in one class…haha), this is by far the largest GIR by sheer size (although 3.091 – Professor Sadoway's Solid State Chemistry – comes close). The huge size of this course, however, is attributed not so much to the fact that the course is the most exciting one that you'll want to take at MIT, but rather, it's part of the requirements. If you haven't taken Physics C and scored 5's on both sections (or have equivalent physics credit), you need 8.01 to graduate. Thus, most freshman come in lacking physics credit and enroll in some form of 8.01x. Aside from the few that choose to enroll in 8.012 [Physics for the Truly Insane (and it really is crazy…I came here kind of skeptical about the difficulty of 8.012, but after seeing the work in the first couple of weeks, I quickly retreated into 'ole warm and fuzzy 8.01. =p)], or 8.01L (physics at a slower pace – extends into IAP) – the vast majority take 8.01.
8.01 is taught using the TEAL method, which I kind of explained in this entry. I don't want to beat the topic to death, so I'll let that explanation suffice. The major thing is that TEAL receives very mixed responses from the student body, with people either loving it or totally hating it. I guess you'll have to come and see for yourself! (or get 5's on Physics C! that works too. I regret being lazy in high school now..haha).
12.000 – Solving Complex Problems (Mission 2011), 9 credits
I did a blog on this! So check that out.
The other thing I forgot to mention in the last blog that this course is the first course in the Terrascope program for freshmen at MIT. Terrascope is a freshman learning community, and there's a couple others offered for incoming freshman, including ESG and Concourse. Basically, the aim of freshman learning communities is to offer an alternative from learning from large freshman lectures (all of my science classes exceeded 100 students). Thus, students enrolled in ESG and Concourse have lectures together, do recitations together, and take exams together in their core GIR courses, which are taught by their own staff (not the regular GIR instructors). Terrascope is different from ESG and Concourse in the sense that it gathers a subset of freshmen interested in a topic together (generally something having to do with environmental science or Earth-related issues…see past Mission topics) in two specialized courses (12.000 – Solving Complex Problems [fall] and 1.016 – Communicating Complex Environmental Issues [spring]), but the Terrascope staff does not teach GIR courses (ie. I still take mainstream 8.01, 7.012, 18.02 courses). There is also a freshman learning program sponsored by the Media Lab at MIT that works similarly as Terrascope.
It's hard to condense all the differences in these learning communities in a paragraph, so I'll redirect you here if all of that sounded really confusing. Just know that each Learning Community possesses unique benefits to freshmen, and you can't really compare them side-by-side and say that one is "better" than other. It's all about what you want to get out of the program.
And (wow, that was a LONG tangent), all of this goes to say that 12.000 is the first course that all Terrascopers take. I'll be taking the other Terrascope course in the Spring, so I'll keep you informed about that!
17.40 – American Foreign Policy, 12 credits, GIR for HASS (humanities)
Taught by Professor van Evera, this course provides an engaging overview of American foreign policy since the First World War. Remember the old axiom, "Those who forget the past are condemned to repeat it?" Remarkable patterns and trends emerge if one studies the behavior of states in relation to one another in the past closely. Aside from the evaluation of past policies, the course also offers a more abstract approach of evaluating history through established models (as van Evera put it, "thinking scientifically about history" – after all, this IS MIT). If you are interested about what the deterrence, the spiral-conflict, and the democratic peace models are, come to 17.40.
Additionally, 17.40 also fulfills one course in the HASS requirement. Aside from the science GIRs, students at MIT are also required to take 8 HASS (Humanities, Arts, and Social Science) GIR courses (the idea is one HASS class for every semester here at MIT). There is a lot of requirements about what kind of HASS classes you need to graduate (you can't just take whatever you want), but I will spare you the grisly details for some other time. :)
18.02 – Multivariable Calculus, 12 credits, GIR for Mathematics
Taught by perhaps one of the most popular freshman professors, Professor Auroux (who graduated high school when he was only 14!), 18.02 is a wonderfully engaging introduction into Multivariable Calculus. Like most MIT courses, 18.02 is somewhat different from a conventional Multivariable course. For example, you don't need to know how to sketch a hyperbolic paraboloid (mine looks like a confusion of lines on paper when I last tried). Like other GIR courses that I'm taking, there's a lot of emphasis on practical applications (using double or triple integrals to find flux or work out of a plane or a surface). But the real perk of his lectures, aside from the material presented in an excellent manner, is his ability to make every lecture engaging and relevant, his world-famous Speed Erasing (that enlivened many a lecture, when tired students began dozing off), and of course, his delightful French accent (zero = zay-roh). Words just don't do him justice. You have to be here.
On the last day of class (yesterday), the entire class stood up and gave him a 40-second standing ovation. That's how cool Auroux is.
And just because I feel bad this will be be like the first blog I write without pictures, I'll throw in a random one. (I like blogging with pictures…=p)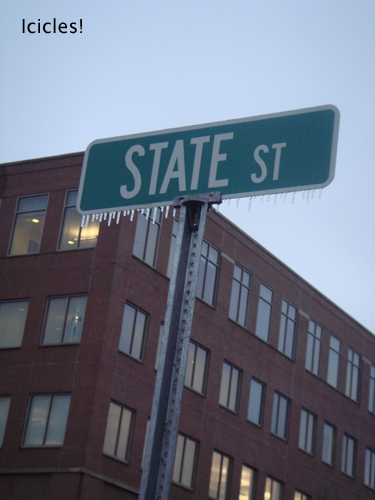 I saw icicles forming on street signs yesterday! Haha – I thought that was pretty interesting. Again, please excuse my easily-amused tropical mindset =p
Okay, now that you have read my rants on my first semester classes, I just want to convey my best wishes to all of you early applicants.
I have just one piece of advice: if it is at all possible, try to read your decision privately. I feel like after all these months of waiting, you should be the first to know your decision, not all 354 of your extended family standing around, huddled around the computer, egging you on ("click it, click it!"). Sometimes, the initial feeling of seeing a college decision is an immensely powerful one (if you don't yet know what I mean – you will in the coming days) – especially if its from a school that you've been anticipating for a long time. Regardless of which way the decision goes, spend the first few moments of seeing the decision reflecting on your journey to where you are. After that, scream out loud, call your great-great-grandmother, dance in the rain (er…snow?), celebrate/rant on College Confidential…do whatever.
Also, be absolutely certain that you want to see your decision before you click that gray box after you input your MyMIT login and password. The decision letter WILL just appear without another warning!
I want to share with you some lyrics from a song by a Taiwanese band that I really enjoy listening to. The actual song is here, but it is in Mandarin. I'll share with you a translated portion that I felt really meaningful last year, when I was also reading my decisions online…(I took the liberty of paraphrasing different portions to make it sound less awkward)
Mayday (Wu Yue Tian) – Resilience (Jue Jiang)
(halfway through the song)
It's actually easier to fly when you're facing the wind.
I'm not scared of the obstacles – even if tens of millions people stand in my way.
I'm just scared of giving up.
(chorus)
I hold on tightly to my resilience, never letting go.
The next destination may be paradise, but even if I end up being disappointed, I will never give up.
My proud resilience and I, we're singing loudly in the wind:
"Even if it seems like the odds are against us, we're going for it – my resilience and I."
(repeat)
Just this time, let me sing it loudly –
Even if I end up disappointed, I will never give up.
Just this time, my resilience and I.
Best wishes! :)
57 responses to "What Do These Numbers Have in Common?"