10 minutes ago I actually heard myself say "I really need to eat and I also really need to do 2.005 but I only have time to do one, which should I do?"*
*Why do I need to do 2.005? Kinda need to try to bring up the score from my last test. Can you say "fail?" I can! Oh, 2.005 is "Thermal Fluids."
8 minutes ago I discovered the answer. MIT subscribes to an AWESOME online food delivery service called CampusFood. Its purpose is to provide a late-night, work-free food experience to desperate tooling college students (you'd better click that "tool" link! Check it, there's an official, MIT-specific definition).
When you get to CampusFood you are faced with two dropdown menus. As an MIT student, your goal is for them to look like this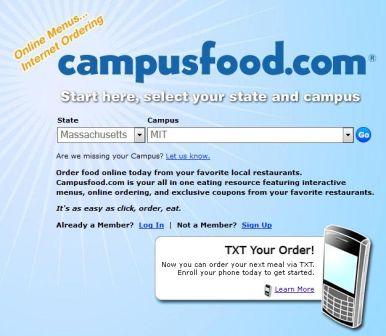 before clicking "Go."
After you click go you are presented with a list of restaurants. The menu bar serves as a handy little filter tool so that you get exactly what you want.

I filtered my restaurants such that they had free delivery and chicken wings. Here were my options:

From experience I know Wings Over Somerville to be quite good, and cheap. I clicked on it and was taken to the ever-important restaurant information screen.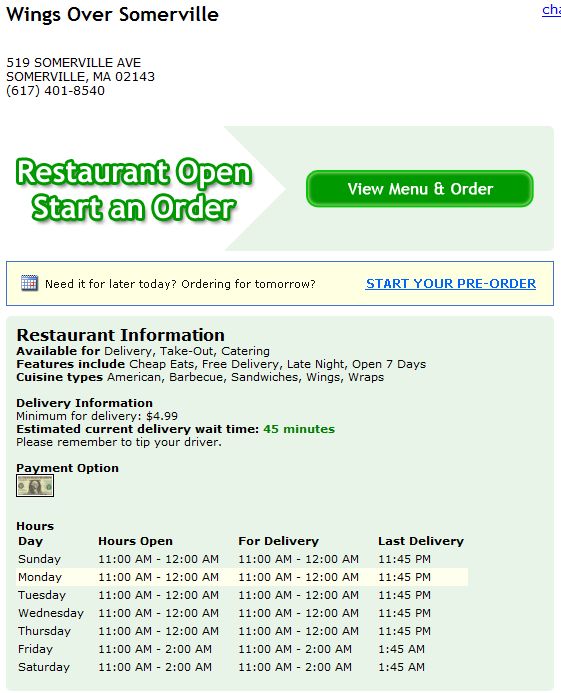 Payment types, hours, address, name, and various other details are listed, with an option to "View Menu & Order."
I "Viewed Menu & Ordered"
The rest of it, well, if you care about it, is easily accessible by you. Feel free to explore and check out the different types of food you can have brought to you when you go to MIT. I ended up ordering my chicken wings and they should be here in about 1/2 an hour.
CampusFood is especially popular when large numbers of people on a floor (5-10) want to make an order because delivery is really small when split between that many people. After your order is finished you have the option of posting "__________ ordered __________ from CampusFood.com" to your Facebook feed. I usually don't do this, I don't really think my friends care what I'm eating for dinner.
Now I have all sorts of time to do homework, worry about bringing up my 2.005 grade, and eat chicken wings at the same time!
33 responses to "What I just did"